EmpXtrack HCM Solution helps you analyze workforce capabilities and optimize the use of human capital.
Organizations rely on consistent and accurate information for strategic decision making and this requires a holistic view of their work force. EmpXtrack HCM helps you to optimize the use of human capital and record and analyze the strengths and vulnerabilities of your employees to increase employee productivity.
We have incorporated global best practices in HCM and offer the following benefits:
Better Manage employee data: We help you capture and record personal and professional details of all employees and improve employee productivity with our Human capital management processes. Learn more about EmpXtrack HRIS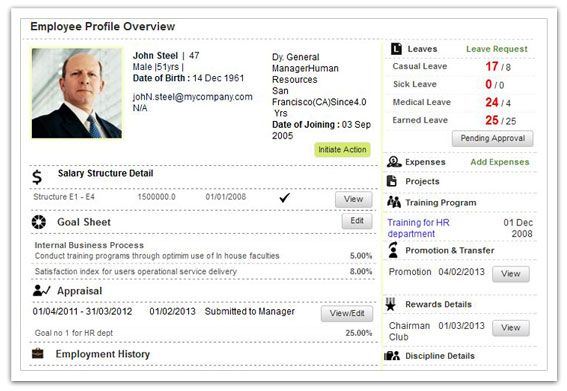 Track salary disbursement: We enhance your payroll process by considering all payment variables like leave, loans, advances, overtime, incentives, bonus, hourly wages and others as a part of EmpXtrack HCM. Learn more about EmpXtrack Payroll module.
Provide consolidated workflows: We enable your employees to use HR services such as timesheet, benefits enrollment and others by using customized workflows. Learn more about EmpXtrack Workflow modules.
Create a positive work environment: We ensure that the voice of employees is heard by regularly conducting online surveys through EmpXtrack HCM modules. Learn more about EmpXtrack Employee Satisfaction Surveys.
Tracking team and employee performance: Managers frequently need to work with several teams multiple employees. We offer workflows specifically for managers by recording employee performance and behavior at regular intervals. Learn more about EmpXtrack Manager Services module.
Find out how our EmpXtrack Performance Management Software, EmpXtrack Recruitment and EmpXtrack Strategic HR solutions work together as a part of the overall EmpXtrack framework, to help you attract and retain the best talent, in addition to trying out EmpXtrack HCM.