Automate your Payroll for all round benefits
EmpXtrack Payroll Software module is designed to handle all aspects of payroll processing for businesses across industries. You can easily meet regulatory requirements with our payroll software's automated support for complex statutory taxation legislations for various countries including India. Our Payroll Software integrates seamlessly with EmpXtrack HRIS and Employee Self Services modules to offer a comprehensive solution that considers leaves, loans, advances, overtime, incentives, bonus, hourly wages, contractor payments etc.
Revolutionary 5 step process for quick and accurate payroll calculations
Setup: Download a "monthly variables" excel sheet, make changes and upload it on EmpXtrack's Payroll software.
Run: Run calculations on the payroll software (just one click to calculate complete payroll for all employees).
Review: Review the calculated salaries, make adjustments if needed and finalize them.
Transfer: Transfer salaries to employees by printing and submitting details to your bank. EmpXtrack can handle multiple banks and will give you transfer letters for each bank.
Disburse: After transferring money to the bank, disburse salaries to each employee as well as salary slips.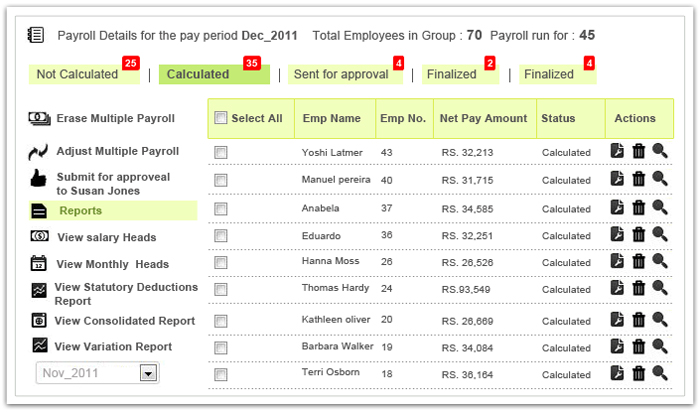 Benefits of EmpXtrack Payroll Software
Considers taxation rules according to your country and provides customizable options
Supports a number of variables such as CTC, Basic, HRA, Incentives, Medical Allowance, Transportation Allowance and Travel Allowance
Allows multiple salary structures for different salary grades with the flexibility to vary the salary for employees in the same grade
Generates cost accounting reports, wage reports (monthly, quarterly and annual) and management dashboards
Manages overtime pay and performance incentives to employees using monthly variable sheets
Creates comprehensive legal and management reports for smooth submission to government authorities
Supports multiple bank accounts for employee salary transfer and multiple payment methods such as cash, check or bank transfer
EmpXtrack Payroll Software has been localized for India and the Middle East – Dubai, Saudi Arabia, Oman, and UAE.
Payroll Software featuring Statutory Reports
Our payroll software offers you an option to use predefined reports that help manage your salaries, statutory compliances and employee records effortlessly. This form allows you to process your payroll in-house and then generate reports regarding salary payouts, deductions, reimbursements, loans, advances and statutory payments, among other records. Companies can therefore employ their own payroll engine and then use our Payroll Software to create detailed records for employee visibility and regulatory requirements.
You may also be interested in HRIS, Workflow Software and Employee Satisfaction Survey modules – all part of the EmpXtrack HCM solution for tracking and employing talent best aligned to organizational goals.