HR departments are often tied up with day to day processes like recruitment, training, performance management etc, that there's no dedicated time left to see the welfare of the employees. And it's a fact that no matter how efficient your business is, if employees aren't happy with your work culture then all your efforts may go in vain.
According to a Gallup study, "Only 30% of employees said that they feel engaged in their job. More than 50% of employees said they weren't engaged, and almost 20% of employees stated that they were "actively disengaged." Though this statistic doesn't sound well, yet all is not lost. Most employers and HR leaders are now on their toes to find ways to boost employee satisfaction and build a happy workforce. After all, employee happiness and satisfaction are crucial for having a motivated and high-performing workforce.
Implementing practical and well-thought workplace practices along with leveraging technology is a smart way to boost employee happiness.
The use of HR software to manage employee-related processes is on the rise. With the innovation in HR technology, companies are able to meet basic requirements to streamline and manage employee processes. But the scope of technology is not limited to the basic needs. Some software vendors have gone beyond, to offer simplified solutions and tools that can be made a part of everyday workplace practices.
Workplace Practices
Here are 7 HR software features that simplify some workplace practices:
TIMESHEET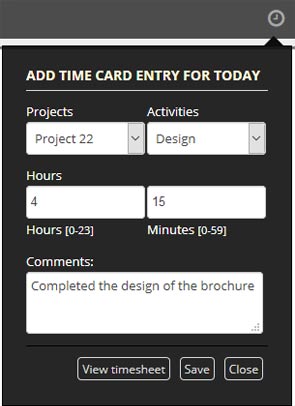 Timesheets are used for tracking project status and record employee time. It records number of hours an employee spends on a project to accurately produce bill or process payroll. Companies that use timesheets regularly enjoy multiple benefits: cost saving, increase visibility on project status, produce accurate client billing, maintain transparent work relationship between client and the company.
Filling timesheets has become easier than ever. The tool can be customized with necessary fields and dropdowns to let employees fill time cards in less than 2 minutes. Why not adopt this easiest way to track, manage, and report on employee time!
Easy-to-use timesheets track employee activities, identify employees wasting time at work and enable leadership to make informed decisions on employees' performance. Regular use of timesheets even helps managers to encourage employees to work productively for every hour of the day.
CHAT OPTION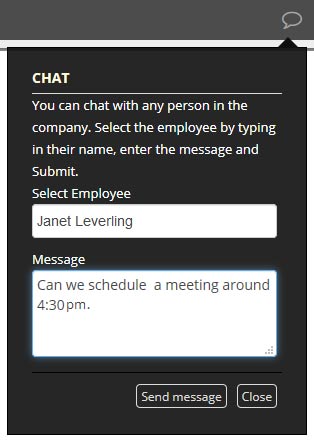 Communication is the key to connect people and encourage collaborative work environment. Employees may interact with each other over phone, emails, or in-person; yet nothing works better than instant messaging. The Chat Option (or commonly referred as messaging tool) tool makes it possible to share ideas and files in real time, or even take up a conversation quickly and privately.
Organizations provide messaging tool to let employees instantly connect with any person in their immediate work circle, whenever needed.
Ensure the chat feature provided by your HR software vendor can also be used by remote employees. Use the tool to create chat groups and control who can view or send messages in these groups.
The Chat Option keeps a team in sync. The idea is to let employees collaborate in open forums or just casually talk or catch up in private messages. This takes away the need to conduct formal and time-killing 'catch-up' meetings. This software features is great for keeping global teams in touch.
QUICK POLL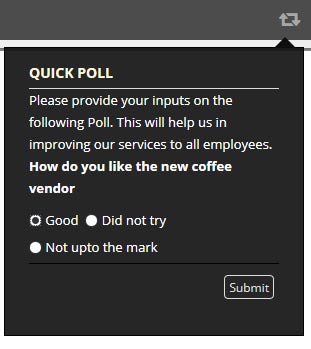 Employees expect freedom of speech and want to share opinions on subjects that matter the most. A 'Quick Poll' option can be used to determine and track emerging trends that impact working individuals and people around them.
Don't like CEO's behaviour? Poll about it. Dislike work culture. Poll about it. Cafeteria doesn't have fresh food. Then don't keep it to yourself. Say it, poll it.
Though it sounds good yet creating and managing results of surveys require a lot of hard work. Paper-based surveys don't work anymore, as employees want to enhance their digital experience. Quick Poll tool is designed to allow HR (or employer) to set up anonymous one-question surveys which employees may complete quickly and efficiently.
Wouldn't it be great if you can create quick polls in just a few clicks? Look for software tools that let you do that. Empxtrack can assist you.
COMPANY DIRECTORY
A Company Directory is a source of basic information about all employees currently working in an office.


In mid to large sized organizations, it is not possible to know everyone personally. Yet people may need to connect with others working in different departments. Whether you want to get in touch with HR Director or Sales Head, browsing through the company directory to get their information, like email id, personal contact number, extension number, their supervisor, employee id, department and more, is quite easy.
MY ATTENDANCE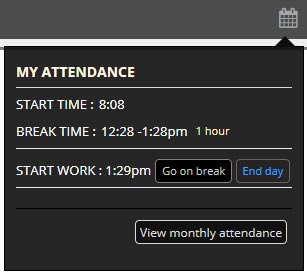 With issues like buddy punching and lost attendance records, companies struggle to find a way to manage employee attendance in the simplest manner.
Marking attendance via biometric systems or in company registers is old-school. In an era when cell phones are almost inseparable from people, employees look forward to having a digital experience when it comes to workplace too. An attendance software that let employees remain signed in from their hand-held device and mark attendance in just 2 clicks as soon as they enter the work premise, is appreciable. Sending leave requests, regularizing attendance, marking break time, viewing monthly attendance and other tasks can be done in less than 1-2 minutes.
PULSE 360 FEEDBACK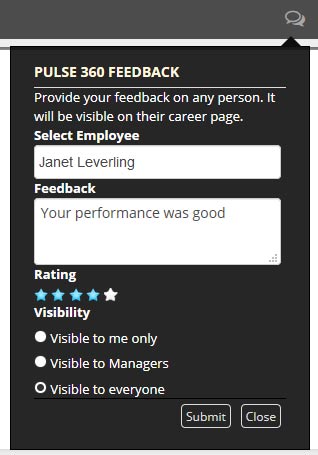 Feedback is never overrated. Through feedback, employees get to know their strengths, weaknesses, behaviour issues, and how their performance is perceived by others in a workplace.
Pulse feedback is a phenomenon that has gained immense interest from both employees and employers in the recent times. Quick feedback cycle is the most popular advantage.
Pulse feedback can be given over the Internet more securely, without using paper or in-house survey software.
A Pulse 360 Feedback option allows employees to provide feedback on any person. It is made visible on the person's career page. There's an option to provide rating, write comment, and control visibility.
QUICK LINKS AND DOCUMENTS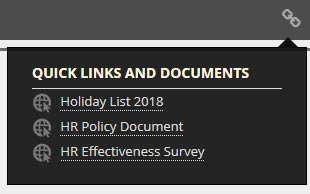 Compliance management is all about ensuring that people follow a set of rules. Employees should know the rules they need to abide.
Provide 24×7 accessible links and documents to your employees. These documents may contain company policies, HR policy document, amendment leave rules, holiday list and more.
Takeaway


In a digitally progressive world, every organization should leverage HR technology solutions to improve employee experience and create a positive, technology-enabled work environment. This keeps the workforce satisfied, engaged and motivated. And a happy workplace boosts workforce productivity, reduces employee attrition and improves chances to attract and retain top talent. Use technology and tools to improve employee experience in the workplace.
Empxtrack supports all the above listed features and workplace practices. The team aims at building a happier, satisfied and productive workforce for their clients. Not all software vendors provide these amazing features. Get in touch with Empxtrack to meet all your requirements and make your workplace even better.