Before you scroll down to read this post and comprehend why have you come here, let us share a few stats (Source) about candidate experience during the recruitment process.
In cases when job applicants have unpleasant experience during hiring process –
» More than 64% of applicants share negative application experiences with their colleagues and friends, and 27% actively discourage others from applying.
» 60% of candidates quit a job application process, if it takes too long.
» 15% of applicants who have a positive hiring experience put more effort into a job.
Why is it important for job applicants to have a positive experience?
This helps attract, engage and retain top talent!
Hiring is a time-consuming process that comes with many challenges. The ability to successfully find and recruit top talent entirely depends on how well your company streamlines its recruiting processes, from applicant tracking to selection.
What causes a dissatisfying experience for the job applicant?
Mentioned below are few shortcomings that adversely affects a company's recruiting efforts, and may even impact the bottom line.
Poor communication: Often recruiters are unable to keep applicants informed at each step with necessary job-related information. They are unable to efficiently manage candidate records and their necessary details during the hiring process which results in poor communication.
No updates on the status of application: Not receiving regular updates can cause frustration amongst job applicants. And this might adversely impact a company's reputation.
Lack of feedback: Unable to provide timely updates on an interview process and rejecting candidates without giving feedback result in a less than satisfactory experience.
Time consuming, complex and arduous application process: Repeatedly filling in information in multiple forms is very frustrating for the applicants.
Lack of information during the job application process: Job roles designed with insufficient information can also hamper recruiting efforts.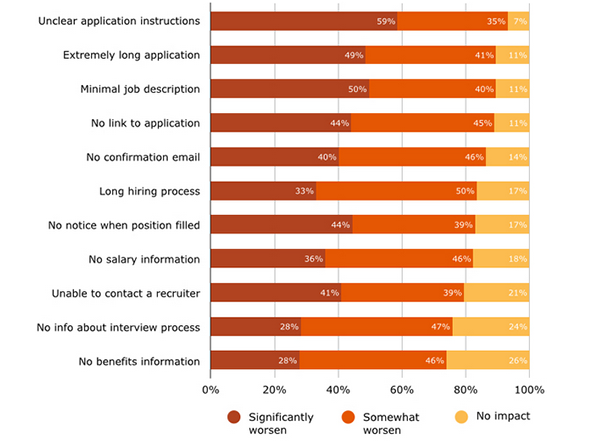 Reasons for poor candidate experience [Source SoftwareAdvice]
Can an automated ATS improve the hiring process?
An automated applicant tracking system can streamline hiring and selection process. It can assist recruiters to store past job requisitions, quickly filter candidate profiles, send automatic response to the applicants, create a database of job posting, link vacancies with job descriptions, parse resumes, and do a lot more while avoiding common applicant tracking mistakes.
Benefits:
» Minimize queries from candidates
» Improve information sharing process
» Automate sending of individual and bulk emails and SMS messages
» Capture and store complete applicant history
» Archive resumes of the candidates not suitable for an open job position
» Link vacancies with job descriptions
» Create comprehensive vacancy details
» Match previous applicants to the newly posted jobs
» Record additional info on the database such as availability, skills test scores and previous interview results
» Minimize errors & reduce recruitment cycle time
» Enable internal candidates to apply for jobs
Want to efficiently manage the complexities of your applicant tracking process with minimal manual intervention? Your organization needs an automated ATS or requires an upgrade to the existing system to map all your growing needs.
Looking for help? Empxtrack Sales team can assist you!