"Choosing to switch to Empxtrack has been a game-changer for us. The efficiency and convenience it has brought to our HR processes are truly remarkable. With this new HRMS in place, everything from recruitment to payroll processing & exit has become a breeze. The user-friendly interface makes it easy both for HR & our employees to navigate and complete tasks with ease. Empxtrack also understood our customization requirements quite well and delivered the system as promised. The support and training provided were exceptional. Our new HRMS has revolutionized the way we manage HR processes, saving us time and improving overall efficiency. I highly recommend it to any organization looking to streamline their HR Operations."
Roopsi Bhardwaj | HR Consultant | IFI Techsolutions Pvt Ltd
This case study is about a leading cloud solutions and managed services provider that wanted to enhance their job application process and provide a positive experience to job applicants. The client was looking for a customized and integrated solution to improve the visibility of available job openings, simplify the job application process, selection process, and optimize the HR recruitment process for maximum efficiency.
ABOUT CLIENT
IFI Techsolutions is a leading cloud solutions and managed services provider that was recognized as a 2020 Microsoft Partner of the Year Finalist. Founded by former Microsoft executives, IFI Techsolutions has earned Microsoft Solution Partner designations for Infrastructure, Data & AI, and Digital & App Innovation Specialization in Windows Server and SQL Server Migration, Modernization of Web Applications and Azure Virtual Desktop.
THE NEED
The client organization recognizes the importance of attracting top talent to drive expansion and ingenuity. Hence, the client needed an intuitive and user-friendly interface of the career page on the corporate website where the job application process could be streamlined.
They wanted seamless integration of Empxtrack applicant tracking system with their existing career page without affecting its design and user experience. The client wanted to ensure that the visual design, branding, and overall look-and-feel of the career page remain consistent.
This would enable candidates to effortlessly navigate through the website career page, pursue relevant job positions, and submit applications with minimal obstacles. Additionally, it would streamline and enhance the HR recruitment and selection process.
THE CHALLENGE
The client was already using Empxtrack Leave, Attendance, Payroll, Goalsheet, Appraisal and Applicant tracking system modules from the past 2 years, and was satisfied. Hence, they decided to share their challenge with the Empxtrack team.
They were looking for integration with Empxtrack applicant tracking system (ATS) into their existing website, while retaining the original design and improving user experience of their career page. The challenge was to seamlessly integrate the ATS functionality without compromising the visual design and user flow.
The integration was required to automate job application processes such as candidate screening, interview scheduling, interview process, feedback collection, and communication. This would enhance efficiency for hiring teams in tracking application status of applicants.
Another challenge was to eliminate the manual intervention from the job application process.
Earlier multiple jobs were listed under different categories, and had a common button to apply for the jobs. Hence, it was difficult for recruiters to identify the specific job for which the applicant applied. To avoid this challenge, the applicants used to manually specify the job role for which they were applying.
THE SOLUTION
Empxtrack team understood the exact concerns and challenges of the client.
The proposed comprehensive solution offers:
Customized career page – As per the requirement, a customized career page is developed for the client. This page shows category-wise job listing, along with a link on each available job opening.

By clicking on this link, the registered applicant can view job details (job description, experience required, location, qualification, company profile and more) and apply for the job. This simplifies the process of browsing category-wise job openings, and submitting their applications for registered applicants.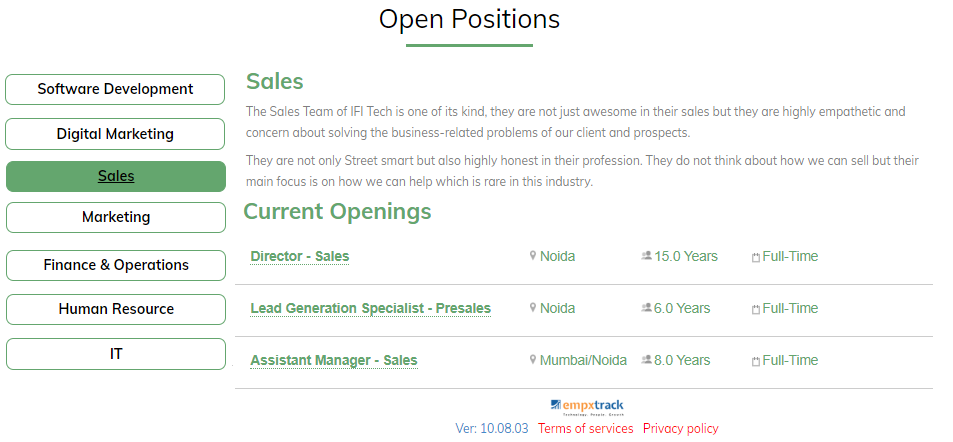 Efficient job mapping – With the integrated applicant tracking system, job mapping has become effective. Recruiters are able to maximize the visibility of open job positions with minimal manual intervention. 

On the other hand, candidates find it easy to directly apply for jobs in just a few clicks. The seamless integration also improves the company's ability to manage and track job applications efficiently.
Ease of tracking job application status – Recruiters and hiring managers easily monitor the application status of candidates through an application status tracker.
IMPACT
With the implementation of a customized and personalized HR software solution, the client has effectively enhanced their internal HR recruitment processes. The improved job application process has ultimately resulted in the acquisition of higher-caliber talent and fostering improved organizational growth.
Few other benefits observed by the client include:
» Improved candidate experience with easy-to-browse job listings, job descriptions, and quick submission of job application
» Mobile-friendly job application process for candidates
» Integration of client website with Empxtrack applicant tracking system (ATS) to automate initial screening processes, leading to significant time saving for hiring teams. This integration enables them to focus on evaluating qualified candidates for the position
» Minimal administrative burden on recruiters and hiring managers, thus allowing them to focus on strategic recruitment efforts and candidate engagement
» Time saving advantage for candidates, by eliminating the need for endless scrolling through irrelevant job postings
Disclaimer: Maintaining the security of our client data is our prime responsibility. The images shown in this case study contain dummy data.