Do you have the right tools to manage remote workers during COVID-19? Are you ready to take up a remote work model and safeguard your employees from the pandemic?

Move your HR on cloud and manage remote teams efficiently while ensuring business continuity.
Rapid spread of Coronavirus has urged companies to implement a work-from-home model. In fact, the urgent need to manage remote workers during COVID-19 has come alive now. Hence, organizations are finding ways to digitalize their work approach by making best use of cloud HR technology.
Though it's the need of the hour, businesses find it difficult to adopt remote working all of a sudden. The absence of the right technology makes it even more challenging. Employers, on the other hand, can use this as an opportunity to plan for the future of work.
As it appears, in the long run, remote working and work from home are going to be the demand of the day.
According to research by Stanford University, people who work remotely are less likely to leave the company for other employment. The study found an overall 50% decrease in attrition among home-based workers. With the work from home model, employees get a chance to maintain work life balance and they appreciate flexibility in work hours.
Remote working has also reduced the excessive stress caused due to long hours of commute to the workplace. As a result, the remote work model is building highly engaged teams with employees who are loyal and more likely to stay for a longer period. Thus, reducing employee attrition.
Major Challenges Faced by an Employer in Managing Remote Workers During COVID-19
» Keeping data visible to employees such that their work isn't hampered
» Collaborating and tracking progress of team members on common projects
» Measuring employee productivity at regular intervals
» Building a goal oriented work approach
» Providing timely feedback and efficiently manage remote workers during COVID-19
» Processing employee salaries on time
» Having open lines of communication among teams
» Mitigating the risk of phishing attacks
» Enabling ways to help leadership in making informed decisions
We at Empxtrack want to enable you to lead the digital transformation by bringing your HR on cloud. Without delay, use cloud-based HR solutions to efficiently manage remote workers during COVID-19. Future of work is here, and so is the need to manage remote teams.
Remote working comes with a variety of challenges. Since remote teams operate from different time zones and locations, everyone needs to adopt flexible ways of working. By all means this is only possible when the organization has the most reliable HR tools implemented at the workplace.
Cloud-based HR solutions help you continue business processes in several ways. Moreover, these HR tools help to meet security requirements, stay connected with remote teams, communicate effectively and do a lot more. Empxtrack, a cloud-based HR solution fosters collaborative teamwork, manages employee performance, empowers employees and managers, and enables HR to achieve strategic company objectives. A complete solution to improve overall experience for employees working from office or remote locations.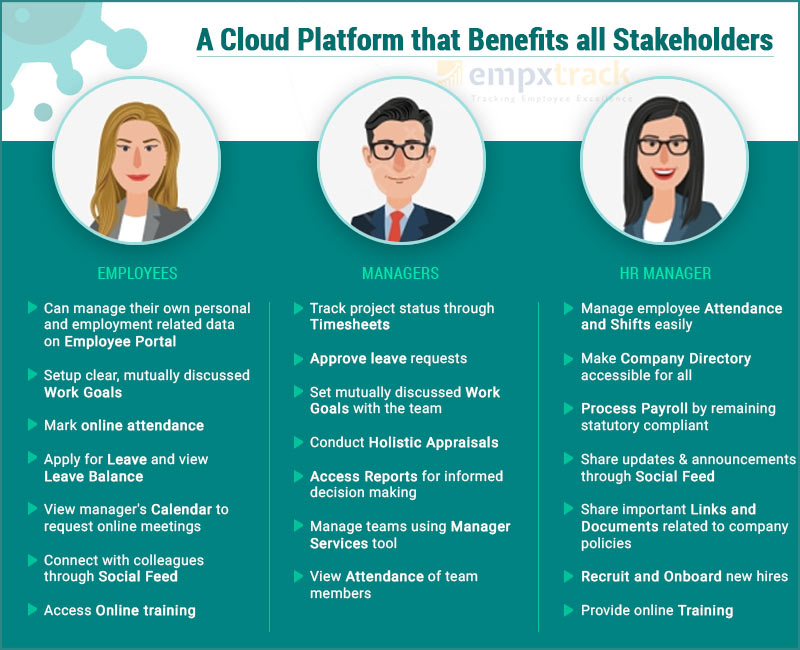 COVID-19 will not persist in years to come. Yet the challenge to manage remote workers during COVID-19 pandemic will stay. Let us support you with the right technology.
Start today and implement Empxtrack. Work from any device anywhere in the world to streamline your HR process, to keep employees productive and to ensure business continuity!
We are committed to protecting the complete privacy and security of your employee data. Be ready to have a great experience with Empxtrack. Get your hands on the right HR solutions to manage remote workers during COVID-19 at absolutely no cost!
A self-service portal at no cost
Process payroll for 25 employees at no cost
* No credit card required