Performance Management has been unsuccessful in many organizations. Traditional annual appraisals and development programs are no longer appreciated by employees and employers alike. The reason – they aren't employee centric, meaningful and do not give tangible results.
58% of organizations rate their performance management systems as "C Grade or below." Statistics shows that only 14% of organizations are happy with their performance management system and over 90% managers are unhappy with the existing system as it doesn't cater to employee development needs. Clearly, there is something wrong and ineffective when it comes to the existing Performance Management processes. Adobe was one of the first organizations to do away with Traditional Annual Appraisals in 2012 and the company opted for Continuous Performance Management along with introducing a concept of frequent check-ins and feedback discussions. No doubt, implementation of CPM has given significant growth in workforce productivity and sudden decrease in voluntary turnover by 30%.
The Big Transition – Continuous Performance Management
According to Bersin, Deloitte Consulting LLP, "Continuous Performance Management (CPM) is defined as an approach that fosters continuous conversations between managers, direct reports, and teams about goals, work progress, and performance to date (in the form of constructive or positive feedback). CPM aims at smoothening the process of ongoing one-on-one conversations between managers and direct reports, periodic performance and development conversations, and real-time collection of performance feedback data within immediate work circle."
In the past few years, there has been a steady shift from competitive evaluation model (where employees are rated and scored on some parameters to evaluate their performance) to ongoing coaching and development model (where an employer is more focused on helping employees become better, perform brilliantly and learn new skills rather than managing scorecards). Employers are now embracing the latter model to meet employee development needs, enhance employee experience, and build a high performing workforce. This has become a clear roadmap to keep the workforce engaged, motivated and happy. And who doesn't know that an inspired and satisfied workforce leads to better business performance and profitability!
Continuous Performance Management Best Practices
Performance Management practices are still undergoing much-needed redesigning. According to the new model, traditional annual appraisals and employee development approach has transitioned into a continuous, real-time feedback and coaching process combined with frequent manager-employee interactions. This new approach accelerates accomplishment of goals, makes performance assessment more meaningful and prioritizes employee's career development than rating and scores.
With annual performance evaluation cycle, the key challenge was to deal with dissatisfied employees due to once-a-year feedback and absence of systematic skill development programs. Employees expected more from their managers than just one or two feedback sessions. Here are the few best practices that made CPM more popular and result-driven.
Periodic Discussions on Goals – At all time, keep employee goals aligned with team goals and business objectives.
Frequent Performance Check-ins and Conversations – Frequent interactions between managers and employees help in identifying areas of improvement in performance and behaviour.
Constructive Feedback – Criticism goes a long way if it is given in a constructive and thoughtful manner. Provide feedback that make employees understand their weaknesses and strengths.
Learning and Skill Development Initiatives – Learning and coaching on ongoing basis gives opportunity to accelerate career growth.
Performance Improvement Checks – Continuously measure performance (through reviews) to identify if the corrective action plans are working in favour.
Continuous Recognition and Appreciation – Keep employees motivated with ongoing recognition for their hard work and effort.
Unlock the Potential of Continuous Performance Management
Over the past few years, numerous articles and discussions have taken place about the significance of transitioning from once-a-year to Continuous Performance Management, and how organizations such as Adobe, Accenture, Deloitte, and Cisco have seen significant increase in overall workforce productivity and development.
CPM initiatives have focused exclusively on development, employee experience, workforce engagement rather than just performance. Some of the benefits that have been realized with implementation of CPM are:
» Increase in employee engagement and performance
» Low employee attrition and dissatisfaction
» Foster culture of continuous learning and development
» Improvement in organizational agility
» Positive transformation in work culture in organizations
Though everything sounds good in theory, the bigger quest is to identify right technology and solutions that enables organizations to implement Continuous Performance Management successfully.
Technology has been a greatest enabler in implementing CPM effectively. Some performance management software vendors have closely studied the concept and significance of CPM to help organizations in adopting it easily.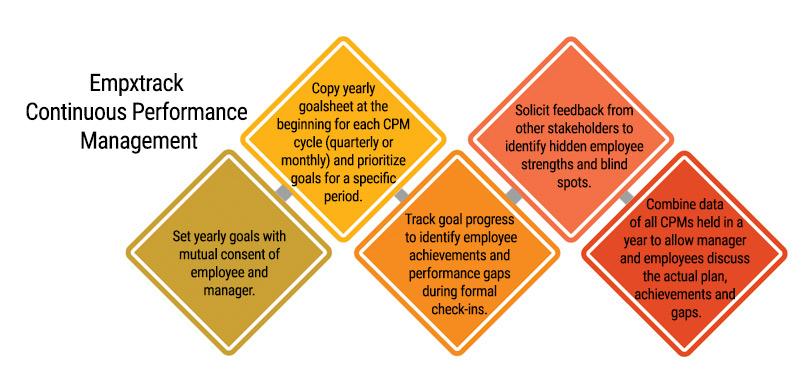 Though technology providers have developed solutions to meet the rapidly growing needs of CPM, organizations are yet to embrace this approach.
What are you doing to retain top talent and improve your performance evaluation methodology? Will Continuous Performance Management be your choice too?