A free of cost HR software trial is a win-win situation for the potential prospects/ clients as well as the business offering it. With a free trial offering, a company can showcase their product features and functionalities, without letting the user pay a single penny.
It sounds good… then what is the challenge?
Absence of pre-populated employee database restrict users from trying possible permutations and combinations to check out the functionalities of an HR software.
Let us try to understand the challenge considering a simple situation. You gifted a newly released PlayStation video game to a twelve-year-old school boy who has never played it before. He excitedly received the wonderful gift. Now imagine, the PlayStation kit does not contain an instruction manual showing how it works. Wouldn't this spoil the boy's excitement as he is not able to play the game? Wouldn't this take him too long to understand the game? Don't you think he may even loose interest in it? It may happen! Since the boy is a beginner, he needs guidance or pre-designed tutorials to learn the game.
Not pre-populating employee database for prospects on a product trial of a cloud HR software would make them feel the same way – clueless on how to get started! They may not have enough time to create employee database, before exploring comprehensive functionalities and use-cases of an HR software. In fact, prospects may even loose interest in the product!
So, how can we avoid a situation like this? Empxtrack has taken care of end-to-end needs of the free trial users and has designed their product in a way that beginners (who are not technically sound) as well as technology experts can use it easily.
Benefits of Pre-Populated Employee Data in an HR Software
Save Time and Effort:
In the free trial offering, Empxtrack has setup a small company with 70 employees and several use-cases to help users save time & effort. Free trial users can quickly start using Empxtrack to see how it addresses their specific business needs.
Pre-filled employee data also saves users from the trouble of entering all the information themselves and they end up saving a lot of work hours.
Better Understanding of the Complex HR Workflows:
Some of the HR functions, including performance appraisals, training management, payroll processing, compensation management, succession planning, and more, become too complex when they are performed manually.
With the help of pre-populated employee database in a software trial, users can check out the actual workflow and reliability of the system, before automating their HR processes. Users can also identify that whether the unique design, workflow and use-cases of the product can address their day-to-day needs or not.
Quick Decision Making:
Availability of pre-populated data makes it easier for trial users to run and view multiple intuitive dashboards and reports in different roles (such as CEO, Heads of Departments, Managers etc.) These amazing features not only help human resource professionals, but also allow managers and the leadership to realize significance of a cloud based HR tool for them.
Managers, HR and the leadership can quickly check the compatibility of product features with their organizational needs and highlight gaps before buying the product.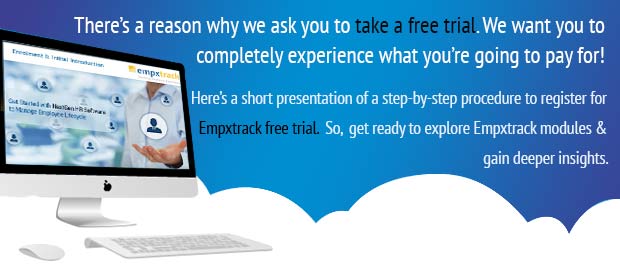 The Takeaway
If you are interested in exploring configurable functionalities and workflows of Empxtrack HR software, please feel free to register for a trial or you can contact Empxtrack sales team for a free HR software demo.
Free trial of Empxtrack HR software allows you to explore functionalities in the areas of performance management, recruitment and core HR. The trial users can explore multiple functionalities and workflows as an employee, manager, HR manager and administrator. Watch this video to understand how you can use various Empxtrack modules, after completing registration and verification process.
Do not wait further and get access to a 14-day free trial for a better understanding of how Empxtrack can simplify your HR functions and help you build a world-class engaged workforce!