This is a shocking statistic; especially with the thousands of dollars that your company loses out on, in hiring and training every new hire.
In my previous blog post, I had discussed the reasons why employees exit their organization. With top motives being:
Personal problems
Miscellaneous reasons (commuting issues, interpersonal conflicts, quality of work, work-life-balance and many others)
Better growth prospects
These reasons apart, let us look at understanding how long the average employee works at their company, before quitting.
Making an employee productive requires significant investments towards hiring, on-boarding and training. Hence, it is important to understand this and make the right interventions.
Analysis of joining and exit dates, of about twenty five thousand employees, made for some interesting observations.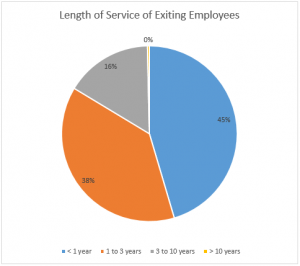 Key observations and implications on length of employee service
– 45% have worked in a company for 1 year or less. Assuming that it takes about 6 months for an employee to become productive, only 55% of your new employees will contribute in any significant way to your company.
– 38% employees, who quit, work for less than 3 years. This indicates that amongst all your employee exits, 83% would have worked in your company for less than 3 years.
– Only 16% of employees work between 3 to 10 years; and less than 1 percent work for more than 10 years.
– Organizations may find it hard to develop managers from within, through succession planning, since a very small percentage of new hires (< 1%) continue to work beyond 10 years.
Length of service variations across industries
Further analysis of the data, by grouping it into 4 different industry verticals, was conducted and it revealed variations in lengths of service.
The percentage of exits tracked were, as follows:
Information Technology (25%)
Manufacturing (27%)
Not for Profit (11%)
Services [1] (37%)
[1] (such as consulting, retail, banking, financial services)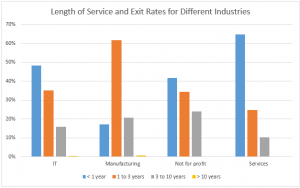 While the industry-specific data trends are similar to the consolidated view, there are some noteworthy variations: –
– Manufacturing has the lowest new employee exit in the first year but a much higher exit rate between 1 to 3 years of service. Which poses the question: 'Do employees in this vertical find more opportunities with about 2-3 additional years of experience or do they switch industries?'
– In the services sector, over 65% of new hires quit in the first year. Does this highlight a difficult work environment, in the industry, or significant increase in career growth & salary opportunities when they switch jobs?
– In IT and Not-for-Profit organizations, there is a marked decline in exit rates as the employee tenure increases in the company. The industry certainly needs to do something to retain employees in the first year, to make the hiring process more productive.