What type of employees should HR hire to build a rapidly growing business? Is identifying and nurturing top performers an answer to increasing employee retention complexities? Let's find out.
A successful business needs high-performing employees who have the capabilities to get the job done right and continue the workflow seamlessly.
What's more important is the need to identify and nurture employees who are truly responsible for achieving business objectives. Those employees who willingly cover extra mile, exhibit leadership potential and out-of-the-box thinking are the right people to make your business successful.
Retaining top performers in an organization should be an HR's priority! But before implementing a retention strategy, it is necessary to identify traits of top performers and their needs.
How to Identify Top Performers?
High performing employees are always interested in seeing their world grow bigger. They are always in search of opportunities where their skills and caliber are challenged.
Experts claim that the top performers are self-motivated individuals who look forward to:
Make intelligent decisions regarding their work & team members.
Skill development opportunities
Do high quality work
Understand business needs
Meet employer expectations
Develop & implement new ideas
Nurture professional relationships
There's no good time to lose high performing employees. And the last thing you would ever want is to lose top performers to your competitors.
Tough… ah!
Therefore, we recommend you to identify these common traits in your employees and keep top performers around for the longest span. Besides this, two golden rules that strengthen the employee retention strategy for top performing employees are:
Keep challenging their capabilities and push them to their maximum limits
Give them ample growth opportunities and help them scale up their career path
Developing & retaining your best talent seems challenging, but actually, it is not.
Establishing clear SMART goals, collecting 360-degree feedback from multiple sources, evaluating employee performance transparently, encouraging training and development and rewarding top achievers, go a long way to build engaged and strong workforce.
How to Nurture & Retain Top Talent?
Nurture those employees who bring greatest value to your business. Mentoring, coaching and training top performers is a right way to nurture them. Every progressive organization should make it as a key objective.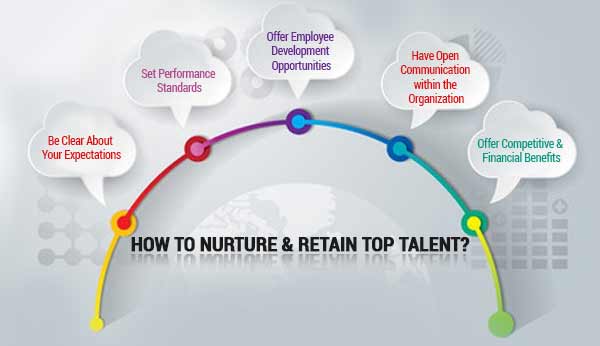 Besides, here are few suggested ways to increase employee retention rate in your organization. Take a look:
Be Clear About Your Expectations
Setting SMART goals is the basic thing one should understand and start with. Unfortunately, many small business organizations ignore the need to define clear objectives. Having a wide breadth of job responsibilities is not enough for your employees.
Give them a clear idea what you expect from them and how their significant contribution will add up in business success. Line up your expectations in terms of SMART goals for each individual in your team.
Set Performance Standards
Sometimes new employees, coming from different backgrounds, may have different benchmarks for standard performance. In a progressive work culture, keeping your workforce informed about the performance standards is a must.
Make it a point to set standards for excellent performance for individual employees in each job role. It makes performance evaluation easier, accurate and transparent.
Offer Employee Development Opportunities
Employee training and development opportunities may help to:
Train new employees with required skills to do a specific job
Upgrade skills of existing employees and prepare them for leadership roles
Advanced training opportunities prompt top performers to stay around and look forward to improve their skills.
Have Open Communication within the Organization
Most of the organizations promote open-door policy which encourages employees to keep their opinions upfront without any fear. Employees can also ask queries and share new innovative ideas that can benefit business.
Top performers appreciate open communication platform as it gives them the chance to
interact with employees other than their team members
have discussions on different topics
encourage exchange of ideas
Offer Competitive & Financial Benefits
Meeting employee needs is the best way to engage top performers and value their contribution. Health insurance, life insurance, flexible office timings, telecommuting, retirement savings plan, incentives/ bonuses and other financial rewards boost employee motivation and promote retention.
Gone are those days when annual performance appraisal was the only break to recognize top performers and reward them.
Today, employers are more demanding, and so are the employees. There's always a need to create meaningful employee retention strategies to recognize efforts of top performers who consistently work hard to add more to your company success.
Appreciate their efforts and actively take steps to retain top performers, before it's too late!