In the past few years, the term "Performance feedback" has become as important as Client Satisfaction. Feedback sessions are essential to keep employees informed about their strengths and weaknesses. Feedback provides guidance, lead people to perform better.
Providing constructive feedback is imperative. Having meaningful and insightful conversations with subordinates to discuss their performance and behaviour requires additional effort.
A Gallup survey found that 67% of employees whose managers focused on their strengths were fully engaged in their work, as compared to only 31% of employees whose managers focused on their weaknesses. As a manager, leading a team of talented professionals and keeping them motivated with positive, constructive feedback is perhaps the most important task. Managers who cover an extra mile are successful in building high performing teams.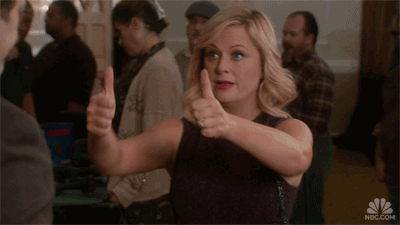 How to provide feedback to subordinates?
Each time you provide feedback, take some time to think and analyse how much your opinion matters. Does your team appreciate the way you evaluate their performance, or do they feel resentful? Does your feedback keep them focused on the pre-defined goals or is it disturbing them? Does it motivate them at all? If not, where do you think you're wrong.
Answers to these questions may somehow help you increase effectiveness of the performance evaluation and feedback conversations.
As one of the leading Performance Management Solution providers, we often meet managers who aren't clear about the significance of feedback and how frequently they must conduct feedback conversations.
Some managers believe feedback is effective when it's given annually, while others don't. Some of them believe talking over performance issues twice a month helps employees to perform better, while others think differently.
Everyone knows feedback is crucial for performance improvement. But the frequency of feedback conversations varies depending upon the team members and their needs. Every work culture needs to have continuous performance feedback as a ritual to win over all the odds. HR and managers need to take initiative to make it a reality.
Begin with continuously monitoring employees' performance and determining their progress against each goal. Feedback discussions can be made more meaningful, when employees have clear performance benchmarks. Never end the review process immediately after providing feedback and giving a corrective action plan to the team. Follow-up at regular intervals to find out the improvement in performance.
Mentoring and coaching employees is the best way to ensure performance improvement. Encourage employees to exceed performance standards, by guiding them on developing skills, building strengths, increasing confidence and knowledge. Try to understand potential performance issues and find out if the employees truly understand what is expected from them or what are the obstacles that prevent good performance, or whether there is a lack of motivation, skills or training. Guide them accordingly. Most importantly, create a culture of continuous learning to scale-up productivity.
Never underestimate the need to formally check-in with your employees, even if you provide them feedback every day. Once in a quarter is the best time to look at achievements, goal progress and review goals (if required). It entirely depends upon the type of industry and work you do.
Always remember, employee appraisal isn't meaningful if one-size-fits-all approach is applied. Understand needs of each individual and follow-up with them, once you're done with feedback conversations.
Here are few Don'ts that may help you to make an impact during performance conversations.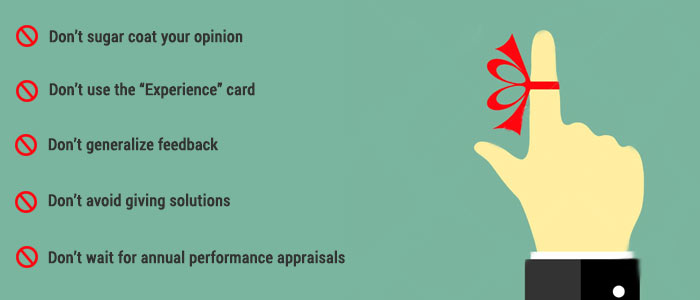 Don't sugar coat your opinion
There are times when managers are required to give negative feedback on an individual's performance or behaviour. It might be difficult to make an employee understand where they are wrong. But managers are suggested to not sugar coat their feedback. A negative feedback may not be well received by employees, hence choose your words wisely. Say things as they are! It will give a clear idea to employees about where and how to improve.
Don't use the "Experience" card
As a manager, you have got immense power and experience to lead your team in a better direction. Never play "Experience" card on team members to overpower them and impose your judgements on them. Encourage two-way communication.
Don't generalize feedback
Managers often generalize feedback without specifying instances that led them to a specific conclusion. In this situation, employees may think that they're being judged on the same lines and manager's opinions are too vague or unreasonable.
Don't avoid giving solutions
While discussing performance issues, you might come across several challenges that employees face while achieving their performance goals. Make an effort to understand their challenges. Suggest solutions and ways to improve.
Don't wait for annual performance appraisals
With so much performance-related talks in the workplace, managers shouldn't wait for annual appraisals to share their views. Collect performance reports throughout the year and take opportunity (whenever needed) to share your opinions.
In a TriNet survey, 85 percent of employees said they would feel more confident if they could have more frequent conversations with their managers.
A study from Robert Half, showed 82 percent of employees would like to discuss their career path 1 to 4 times a year. Perhaps, it's the right time that managers put annual reviews aside and replace it with something more valuable – that is continuous performance feedback and coaching!