According to a Harvard Business Review study, only 15% of the company's workforce are difference makers. That means, roughly only 1 out of 7 employees is a real player! Well, the "Star" employee is not the subject matter here, it's the remaining six!
Companies face various issues when it comes to overall company efficiency, and one of the reasons is – Employee's All-round Efficiency. Businesses want their employees to be at the apex of productivity, but no additional efforts are made in this direction! There's an interesting change of attitude in the way an organization manages its two key departments – Finance and HR.
"Money matters" are handled with utmost care. On the other hand, evaluation of human resource is not handled with undivided attention. Well, maybe just a few meetings in a year. There would be a considerate amount of change in overall performance if companies started managing employees the way they manage their money. Knowing the fact that there's a huge scarcity in terms of talent, companies should adopt evaluation methods to improve the productivity of both – employees and business.
Here is the process companies can follow to improve employee performance.
Determine the reasons behind the lack of productivity and rectify them:
According to a survey in 2014, less than half of US workers are satisfied with their jobs. There could be multiple reasons behind such a depressing ratio –
Lack of work direction in employees
Lack of skills or abilities in employees
Lack of assets or tools in the organization
Organizational structure and company culture, etc.
Find out the reasons and ask – "What can I do to eliminate this?"
Use tools/methods to check your productivity:
Using Performance Management Software with an approach of self-evaluation, you can make a lot of difference in your overall performance. When employees decide their own goals, they tend to be serious about it. If they lack in the desired performance, suggest them to be realistic and set achievable goals. Now, there are higher chances of achievement and when they do, motivate them to continue their performance.
Use Bain & Company's Productive Power Index, to analyze your organizational productivity. You can also compare your performance with top organizations like: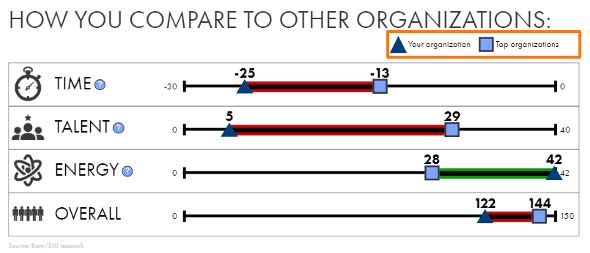 Monitor your time:
Even if you use multiple tools to manage your performance, if you don't monitor it, there's no benefit! The way, a company monitors the movement of money, the same attitude is needed in employee management as well. All you need is a sharp eye!
As we discussed, performance management tool gives you all the facilities to analyze and evaluate employee performance. But, the employee and the employer both should keep track of the time spent on tasks.
Every minute that you spend can be recorded, and you can analyze where you are putting your efforts. If you find any time-consuming activities, you can prioritize them according to your will. If you find time-wasting or unproductive activities, you must take measures against them.
The point is, to be aware of how you're spending your entire day. Awareness can be a huge helping hand in improving your performance, and in life!
Rewards:
Rewards and appreciation are two very effective tools for employee performance. Now, there are many theories regarding employee evaluation, and quite a few of them are effective. But, it varies from case to case. But, rewarding employees on a constant basis is definitely an effective one. Here's the reason why:
In many companies, employees are evaluated at the end of the year by giving them 5 stars or 10/10 rating. The 5 stars may be followed by a gift or a raise. But, the effect of such appreciation doesn't last for long. On the other hand, the effect of "on the spot appreciation" has a rooted effect!
Appreciate your employees publically or in front of all their team members. Send a message on your common communication channel like:
"Ralph has been working on a project for the past two months, and his hard work has finally paid off. The project is fully- approved by the clients. Ralph has set up a good example for all of us, and it would be great to see everyone grow in the same way! Thank you for your valuable efforts, Ralph.
P.S. Mr. Ralph also receives a family dinner at The Plaza on any date he wants."
Displaying your appreciation on a common channel will encourage your employee to continue to work harder. Furthermore, other employees will also get a positive push to perform better.
Conclusion:
Employee evaluation is a method accepted by a majority of Fortune 5000 companies. Because they know this simple fact that people are the real assets of a company.
Tools to evaluate your company performance will definitely work a charm for you. But, as individuals, the employees have to be more serious about improving performance, and as an employer, you have to be too.