HR meetings are the most effective way to exchange information, share feedback, communicate with team members, make decisions, establish work goals and create business plans. Even though employees spend too much of their time in answering calls and replying to emails, one-on-one meetings still hold the same importance.
Every individual has a different perspective to understand significance of meetings.
Some people think HR meetings are essential, others don't. Some find them productive, others consider them less-productive. Some people think HR meetings are constructive, others feel they are just another task in HR person's routine work.
Misunderstood Concept of HR Meetings
Typically, employees aren't happy being part of HR meetings because they tend to extend for longer time intervals and give very few productive results in the end. Employees exasperate hearing about meeting schedules as they feel meeting with HR may consume large part of their time and may add less value to their work.
Having said that, I know all of us can afford to spend considerable amount of our time in HR meetings and discuss our concerns. Keeping interests of employees, managers and HR folks, usually HR meetings are scheduled to discuss following:
» Employee performance
» Manager's feedback
» Annual/ half-yearly appraisals
» Disciplinary issues
» Introduce/ add new company policy
» Important company announcements/ news
» Training needs for individuals
» Appreciate employee(s)/ team efforts
Why do we Need HR Meetings at all? The answer is: Organizational Effectiveness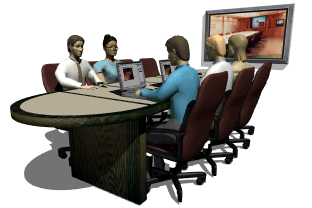 source
Value Employees' Opinions
HR communications give opportunities to employees to express their views on business matters. Sometimes, employees who undervalue their capabilities may or may not come up with their valuable suggestions in a workplace where there's no platform for one-on-one meetings. They hesitate in putting forward their brilliant ideas that can be positively affect important business decisions.
Conducting regular HR meetings encourage employees to present their opinions fearlessly. Valuable inputs from employees add more value to the business resulting in high revenues.
Discuss Employee Performance
Employee performance management is a crucial activity that involves HR, employee and manager. On one hand where managers are keen to know which employees have given maximum value to the organization; HR people are more focused on making the performance appraisals transparent and accurate.
And one-on-one HR meetings, no doubt, become the most helpful tool to monitor the entire appraisal process and manage good relations between employee & employer.
Strengthen Internal Communications
To keep any business running smoothly, HR people put in lots of efforts by internally communicating with employees and maximizing effectiveness. The sole aim to conduct seamless internal communications is – maintaining transparency between employees and different departments. HR meetings benefit employers in some way or the other making it easier for employees to know what, why and how of the business organizations.
Increase Employee Engagement
Employees are the most valuable resource for any organization. Their happiness and level of contentment reflects in the progress of a business. Employees who are engaged are more likely to perform well. That's why human resource professionals implement best HR practices to connect with employees and engage them.
One-on-one HR meetings give platform to take HR initiatives, like trainings and employee satisfaction surveys. In the long run, it boosts employee engagement and transform the workforce in a more productive team.
Find Solution to Employee Issues
One-on-one HR meetings are also conducted to deal with employees' disciplinary problems, training needs, employee complaints, etc.
HR people are responsible for making up the workforce of an organization and looking after their concerns. Therefore, they meet employees and listen to their apprehensions at regular time intervals. Suggesting effective solutions to employees builds strong bonds between employees and HR. It develops trust and builds a happy workforce.

HR Tip…
Human resource professionals should implement high-end HR technology tools to make HR meetings more effective and accurate.