There has been a lot of buzz on HR technology trends for 2023, and what the future of HR will look like.
The way we work and interact with technology has changed dramatically following the COVID-19 pandemic. Today, technology drives how we communicate and collaborate. This enables us to share ideas with ease, access vast information at once, and work in new ways.
However, as a result of this rapid transformation towards digital communication and collaboration, we are entering an era where traditional office-based HR is becoming less relevant. To survive in today's digital world, organizations are looking for ways to streamline operations and processes, and become more efficient, cost-effective and agile. These technological tools can have a significant impact on the work environment and employee experience, if used correctly.
The future of HR Technology will support self-directed teams, more flexible working arrangements, and AI that analyses employee performance in real time.
In this post, you'll discover 7 key HR Technology Trends for 2023 and beyond. We will examine how the ever-evolving HR tech landscape will assist in ensuring more effective HR processes. Keep reading to learn more about the implications of these shifts on today's HR practices and where they might lead us in the future.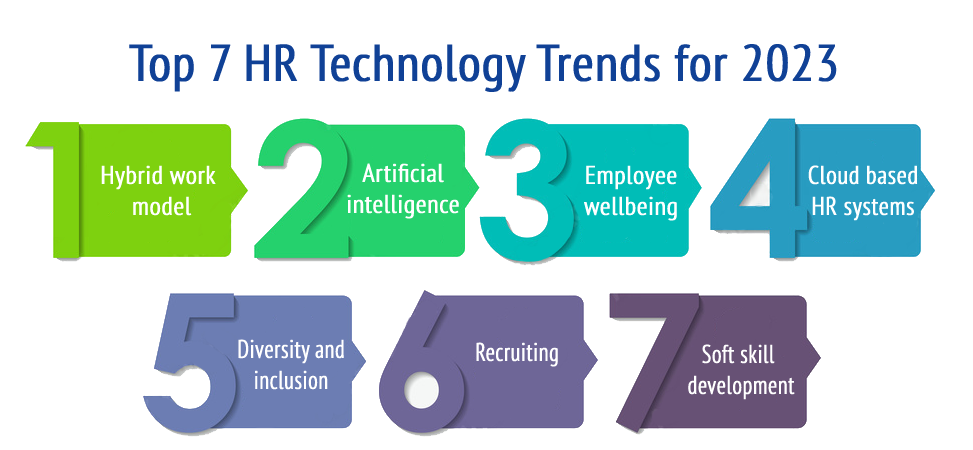 Top 7 HR Technology Trends for 2023
Hybrid Work Model is on the Rise
The most significant change caused by the pandemic is the rise of remote work. COVID 19 has forced organizations into remote and hybrid work models. The blended workforce includes onsite employees and those who work remotely.
However, the key is to maximize the benefits of hybrid working while minimizing the challenges.Creating a hybrid work culture involves mentoring, coaching, and supporting employees spread across multiple geographical locations. This is where technology is helping businesses in streamlining their processes and enhancing productivity across teams.
With the digital transformation, employees can now work remotely while remaining connected to their teams. Companies are also effectively managing hybrid work models, fostering team collaboration and providing the best employee experience possible.
As a result, many big enterprises such as Google, Facebook, Microsoft, Twitter and many others, have allowed the majority of their employees to work remotely, from the comfort of their homes.
Technology is thus becoming the intersection of an enhanced employee experience and proactive HR. It allows employees to have an engaging experience with coworkers, managers and the leadership, regardless of where they work from. Managers are able to track team progress and collaboration with the right set of technology tools.
HR technology now exists to assist organizations in becoming more agile and adopting the hybrid work era. This HR technology trend will continue to remain popular as one of the top future HR trends in 2023 and beyond.
AI Powered Data Analytics
The future of HR will be a blend of technologies.
In 2023 and beyond, Artificial intelligence will enable data analytics and recruiting trends.
IBM research predicts that the adoption of AI integration in commerce and manufacturing will increase from 40% to 80% in the next 3 years.
In the coming years, data analytics powered by Artificial Intelligence will be applied to various aspects in human resource management. Not just that, the future of work and HR will be based on these technologies.
HR is already playing a strategic role in many organizations. Data analytics and reports will help HR to become more informed and objective in future. For instance, AI enabled analytics platforms can help to identify employee leave trends, employees who are at the risk of leaving the company, and much more. The timely availability of data will surely assist HR and the leadership to make strategic decisions and mitigate potential risks.
In the future, artificial intelligence will also help in data-driven recruitment. Certain processes and communications will be automated, saving businesses time and money. Chatbots will be able to communicate with applicants and employees without human supervision. This will be a boon for both employees and recruiters.
Thus, embracing artificial intelligence powered data analytics is surely going to be one of the future HR technology trends for 2023.
Employee Well being is Employer's Priority
Today, employee wellness has become a top priority for employers. More and more companies are implementing technology and wellness programs to promote a healthy work environment for their employees.
Employee well being and wellness directly impacts team productivity and overall company performance. Hence, it is important to change workplace conditions to foster employee well-being and improve their performance at work.
The focus on employee well being is only expected to grow stronger as a current trend in HR technology. Companies will adopt ways to help employees in avoiding burnout and work stress, which will ultimately result in higher satisfaction levels and employee retention rates. In a way, we will see more personalized health and wellness systems powered by employee data in the coming years.
In 2023 and beyond, technology solutions will play a vital role in maintaining employee wellness. Gamification and wearable devices will continue to grow, and on-site health care checkups will become more important than ever. The wellness systems will improve the effectiveness of employee feedback collection, and help employers implement changes to improve their wellness initiatives.
The HR industry leaders are suggesting revamp strategies that can be implemented in organization by 2023 to support employee wellness at the workplace.
Cloud based HR Systems are the Future of Work
Today, employees are more connected than ever before and they expect their employers to keep up with the evolving needs. In order to meet this demand, organizations are implementing cloud based HR systems and human capital management (HCM) solutions. These HR solutions not only help in managing remote workforce, but also measure and improve employee productivity, collaboration with teams, and much more.
The use of cloud-based HR tools has become a norm today, as it allows HR to access employee data in real-time from anywhere, anytime and make well informed decisions.
According to the PwC 2020 Technology Survey, "Cloud users are more likely to report gains in productivity, improved employee experience, and better workforce insights compared to those using on-premise solutions." These self-service cloud HR platforms make it easy for globally distributed teams to work together seamlessly. In short, it will be the right investment for any fast growing businesses that manage core aspects of HR management, like payroll, benefits, time management, onboarding, hiring, appraisals, and more.
In order to create a data-driven work culture that focuses on actionable insights and informed decision-making, most businesses are using HR technology. Employees are provided with self service HR solutions that give them the right experience and allow them to accomplish their jobs in an efficient and effective way. In fact, cloud-based solutions such as Empxtrack, enable two-factor authentication that prevents sensitive information from data breaches. Hence, companies will continue to use cloud based HR systems and HCM solutions to build a highly productive and engaged workforce, in 2023 and beyond.
People Focused Diverse and Inclusive Work Culture with HR Technology
The emphasis will be more on people and on building a diverse and inclusive workplace culture in the future. Many worldwide organizations have already adopted the concept of diversity and inclusion (D&I), while some are making efforts to create a diverse and inclusive workplace where no one is left behind.
Inclusive workplace culture is a work environment that welcomes and appreciates employees of all backgrounds and diverse characteristics. Companies are now employing HR tech to create a diverse and inclusive workplace by removing bias, improving connectivity and by training employees. Overall, the aim is to provide a safe, secure and inclusive work environment for all employees coming from different backgrounds and geographical locations.
The expert Bernadette Dillon, inclusion specialist and director at Deloitte, reports that companies with an inclusive culture are "twice as likely to meet or exceed financial targets" and eight times more likely "to achieve better business outcomes."
To build an inclusive culture, it is important to bring transparency and fairness in all employee related processes, such as goal setting, performance appraisals, feedback, compensation management and more. Keeping your workforce motivated, engaged and empowered is equally crucial. This can be achieved with the implementation of the right HR technology tools such as Empxtrack. The software helps in building a holistic and inclusive work culture, where no one is left behind. It further assists in eliminating bias in managers, workflows, and talent management processes.
Clear and mutually discussed goals are set for the employees
Frequent and meaningful interactions are carried on
Feedback is solicited from multiple sources
Employee upskilling and development is promoted
Each employee is enabled to contribute meaningfully
Diverse talent is recruited and onboarded
Employees are energized and provided with rewards and recognition
Focus is on career path, transparency and risk management
A modern workplace uses 43% of D&I technologies for talent acquisition, including candidate sourcing and selection. This HR technology trend-D&I technology will stay relevant in the coming years.
Recruiting Technologies is Changing the Paradigm
The whole recruiting process is already being altered by technology. Everything is being digitized, from shortlisting resumes to conducting interviews to employee onboarding.
HR is mainly focusing on "experience" – whether it is employee or candidate experience. With the rapid development in technology, the recruitment managers now have the right tools to provide seamless candidate experience by implementing advanced recruitment solutions. You can speed up recruitment functions by sending the right message at the right time to attract top talent. You can further reduce time-to-hire and save additional costs. With these ongoing HR technology trends, new hires can expect a seamless connection to all the resources they need to make on-boarding a stress free and error free process.
In fact, a statistics by Glassdoor indicates that "86% of HR professionals surveyed indicate that recruitment is becoming more like marketing." Companies are focusing on employer branding – the best way to attract top talent.
Besides a great candidate experience, recruiters are also focusing on making data driven decisions while hiring people. HR and hiring teams that make data-driven decisions are more likely to be efficient and better. In the coming years it is expected that the use of chatbots will increase to communicate with candidates, without human intervention. From online employee onboarding to checking employee benefits and paid time off in just a click, these kinds of experiences with advanced technologies will be highly appreciated. This will be a win-win situation for both candidates and recruiters, since the recruitment experiences will become much better and faster.
In the years ahead, employer branding and the right recruitment technology is going to be extremely beneficial for employers. This HR technology trend for 2023 will reign in years to come.
Soft Skill Development Will be a Necessity in Coming Years
Soft skills are also referred to as "human skills"; these skills are related to the way employees work and interact with others. Skills are role-specific and they differ from technical or hard skills.
Soft skills focus on how people communicate and interact with each other. These skills are helpful for employees in identifying a company's value and culture.
According to Deloitte, "Soft skill-intensive occupations will grow at 2.5 times the jobs in other fields and account for two-thirds of all jobs by 2030". It is expected that in the coming years, automation of processes will replace human jobs and obsolete hard skills. Thus, it is necessary for the employers to improve the emotional and social abilities of employees that can't be replaced by machines.
Global giants such as Google and Amazon, are constantly emphasizing on the importance of soft skills. A study by Google indicates that its most successful teams consist of individuals who bring strong, soft skills to the collaboration process. Thus, the importance of soft skills should be in the DNA of today's forward thinking organizations. For the similar reason, developing soft skills of employees is a necessity. This is going to be a prominent HR technology trend in 2023 in the future.
In addition to soft skill development, employers are also focusing on internal mobility and are constantly investing in employee training and skill development. To maximize the outcomes, companies are implementing training software that simplifies the training management process with a well-defined workflow. The software also reduces the time and costs required to manage multiple training programs.
Considering today's competitiveness, employee training and development is not just an annual activity. Instead, employee skill development and training has become a business priority to improve employee capabilities and increase employee engagement. This is one of the HR future trends that will become stronger in the coming years.
The final thoughts…
Technology is ever-changing and evolving. New innovations are constantly coming up, and it's only a matter of time before they become the new standard in technology. Some future HR trends will stick around for decades while others will exist for a short period of time. It's hard to say which ones will be the most important trends, 10 years from now. But in 2023, HR departments will have to analyze and understand the impact of technology before embracing the changing industry standards.
The future of HR is certainly driven by HR automation and innovation, with little human intervention. Thus, it is important to implement best HR practices and be informed about HR technology trends for 2023 to build a progressive workplace for the future.
Frequently Asked Questions
Q1.

What are HR technology trends for 2023?

Ans.
In 2023, HR will see rapid development in technology and innovations. Many HR technology trends will be embraced by employers. Some of them are:

Hybrid work model
Artificial intelligence and machine learning
Employee wellbeing
Diversity and inclusion
Recruiting
Soft skill development

Q2.

What will be the role and focus of HR in 2025?

Ans.
The role of HR has completely transformed post-pandemic. Technology has helped HR to manage workforce and people-centric processes.

In the future, HR departments will focus on how technology is changing to embrace industry changes. Human involvement will be less in administrative tasks in future. HR automation and new innovations will drive future HR.

Q3.

What are the future trends in HR?

Ans.
The top 10 future HR trends that you need to keep an eye on as they develop over the next few years are:

Work from anywhere
Multigenerational workforce
Digitalization
Employee experience
Employee wellness
Inclusive culture and gig economy
All-in-one employee management apps
Data driven recruiting
Analytics
Employer branding

Watch out for these current HR trends in the coming year and embrace them to have a competitive advantage.
A self-service portal at no cost
Conduct appraisals at no cost
Conduct 360 feedback at no cost
* No credit card required