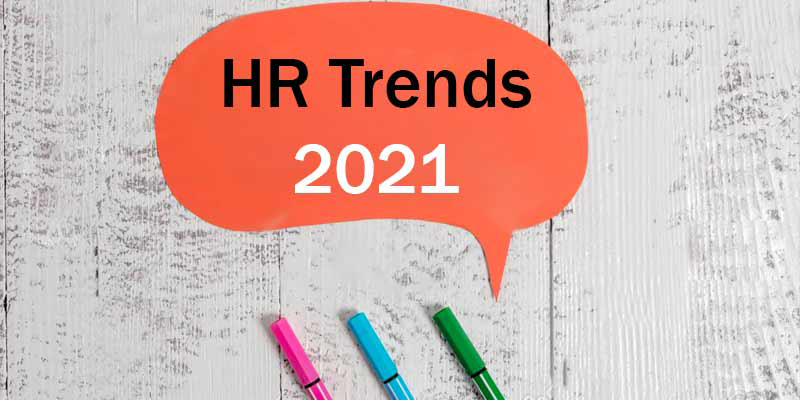 This article highlights the HR trends in 2021 that will reshape the HR world and influence the way businesses operate. To know the future HR technology trends 2023, click on this link.
With the fall of 2019, many HR trends were predicted that would have reigned in 2020. But there were no predictions about the global pandemic and the disruption it would cause to the way we work. Hence, all hopes died when the year did not go as planned. The uncertainties in 2020 brought a rapid shift in the working model.
The experts are now predicting that COVID-19 will permanently change the way people work. Helping employees stay healthy, engaged and productive will be amongst the top priorities for every HR professional.
The following concerns have been raised:
What should be the top HR strategies to ensure business continuity?
How to maintain the company culture while employees work remotely?
How to manage remote workforce while keeping them engaged?
What should be the right HR technology tools to embrace the new work approach?
What measures to be taken for employee well being while they work from home?
Here is a list of top 8 emerging global HR trends in 2021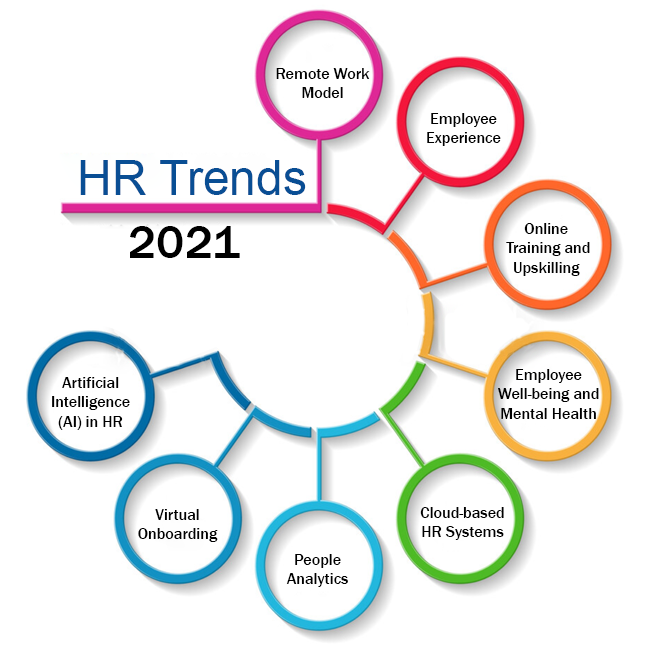 Remote Working is Here to Stay
With the onset of COVID-19, work-from-home has become the 'new normal'. The coronavirus crisis has forced employers to switch to a remote working model to keep employees safe while ensuring business continuity.
Evidence suggests that remote work has been a boon to many due to its advantages like flexible working hours, saving time and cost on commuting etc. One of the most valuable benefits to employers is the access to a broader talent pool.
A survey of just under 1,000 firms by the Institute of Directors (IoD) shows that 74% plan on maintaining the increase in home working.
If Remote Working is here to stay, then why not remain prepared to do it the right way!
It is expected that remote work model will remain, and this trend will continue in 2021 and beyond. Though some organizations may adopt a combination of remote working and onsite work, where employees may have to go to the office only on specific days in a week.
With more and more people working remotely, companies will have to rethink their strategies on maintaining the company culture, team collaboration, technology infrastructure and work-life balance.
With remote work the focus on Performance Management will change too.
The focus will shift from calculating employee work hours to the total productivity and quality of work done. There would be a rapid increase in adoption of HR technology to create a sustainable remote work culture where teams are highly productive and engaged.
As lack of physical presence may significantly impact individual and team performance, companies will be emphasizing more on agile goal setting, continuous feedback, ongoing performance reviews and continuous employee development.
Reinventing the Employee Experience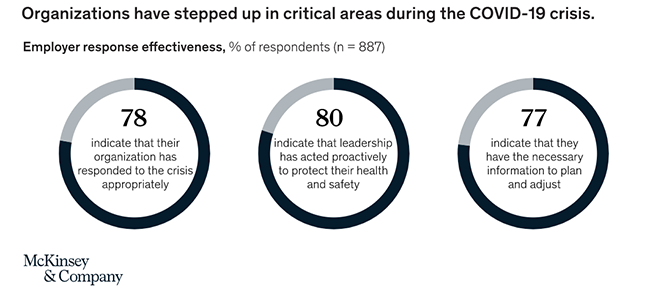 Much prior to the pandemic, employers have been paying attention to employee experience.
But COVID 19 has forced HR teams to redesign employees' journeys while measuring the virtual employee experience – right from hiring the employee to their exit. It will not just be about managing the employee experience but also looking into personal lives of employees while they work from home.
Giving feedback and mentoring employees will be part of the new improved employee experience.
An emerging HR trend 2021 would be visible towards mature employee experience (EX) strategies, such as flexible remote working policies, 360 pulse surveys, assuring employee wellbeing, learning and skill development, self-service portals and more.
Online Training and Upskilling
A report from McKinsey stated that "almost 90% of executives reported that they were currently experiencing a skills gap, or would be soon''.
Job uncertainty in 2020 has made it necessary for people to learn additional skills. Companies too are planning to upskill their workforce with the right training and knowledge needed to meet the challenging job requirements.
Employers are taking initiatives to connect with employees and provide virtual learning experience, with a focus on creating a culture of continuous learning and growth. HR tools are being used in identifying skill gaps and suitable training and development programs.
The importance of providing training and development opportunities to employees:
Expand employee skill sets and enable them to take up challenging tasks
Improve employees' work efficiency and performance resulting in profitable gains
Build happy, satisfied teams that focus on customer retention and profitability
Empower employees and keep them prepared for unannounced layoffs or replacement
Reduce attrition rate, increase engagement and boost employee morale
Improve innovation in services and products of the company
Outperform competitors in the industry

Employee Wellbeing and Mental Health

Physical health is very important, but now it's time to ensure mental well being of employees as well. And undoubtedly, HR has a unique role to play in this.

Employee well being is going to be one of the top HR trends in 2021.

Organizations are already rethinking holistic ways to recreate employee wellness programs and benefits, including physical wellness, mental health, flexible work schedules, child care, elder care, paid time off and more.

The trend to maximize employee safety will continue in 2021 with employers investing in employees' well-being initiatives.

Cloud-based HR Systems

Since COVID-19 crisis started, companies have made huge investments in HR technology, with a focus on cloud-based HR systems that can be easily accessed anytime, from anywhere, with complete privacy of data.

With organizations working remotely, there is a need to:

Remain connected and updated with employees
Access employee data in real time
Track employee schedules
Smoothen virtual communication, collaboration and engagement
Set agile goals, monitor employee performance and provide feedback
Implement right performance assessment and compensation systems
Focus on workforce planning for uncertain situations
Implement suitable training programs for employee development
Provide solutions that balance employee productivity and wellness
Implement employee-self-services portals to empower employees
Provide reports, dashboards and analytics to managers and HR for informed decision making
Automate recruitment and onboarding seamlessly to improve candidate experience

HR technology has become more important for human resource professionals than ever before with a win-win situation for both the employer and employees.

Staying up to date with the latest cloud-based HR systems for smooth running of your business is the demand of the day.

People Analytics

The data driven method of studying people and processes will continue to reign in 2021.

A Deloitte report shows that 71% of worldwide organizations consider people analytics a high priority for their companies as it would allow them to not only provide good business insights but also deal with what has been known as a 'people problem'.

People Analytics will soon become an absolute essential for any organisation. Data-driven insights will be used for better hiring decisions, improving engagement, effective performance management and reducing employee attrition.

Research at Insight222 has found that people analytics will continue to grow, investment in analytics technology will increase and leading people analytics teams will reorganize themselves to focus on business demand and delivering value at scale.

People analytics will continue to drive value for organizations and optimize processes based on data. CEOs and the leadership will be able to measure HR effectiveness, revenue per employee, new hire attrition rate, loss of training costs and much more, and take actionable insights leading to informed decision making.

Virtual Onboarding

38% of companies have an online onboarding platform and larger companies are more likely to utilize technology solutions.

Attracting and hiring top talent has always been a priority for HR.

In 2021, the goal remains the same – attract, hire and onboard the top talent in the most efficient way. The only difference is that employers would focus more on remote recruiting and virtual onboarding with access to a wider range of talent pool.

Rise of virtual hiring will give a complete digital experience to candidates. Hence, employers need to remain prepared with modern recruiting tools to provide best candidate experience and effective onboarding or offboard employees.

Artificial Intelligence (AI) in HR

It is expected that adoption of AI enabled software will continue to grow in 2021.

Oracle and Future Workplace conducted a research that revealed that 50% of employees already utilize some form of AI at work, which is a huge increase from the 2018 figure at 32%.

AI has transformed our lives at home and at work and has become an essential part of the technology industry. Multiple HR practices have benefited by integration of Artificial Intelligence in HR technology, right from recruitment to engagement to employee development.

AI would continue to enable HR in:

Identifying potential causes for high employee turnover and exits
Accelerating employee training and skill development through augmented and virtual reality
Identifying high performers and suitable development needs and positions for them.
Finding most suitable keywords for advertising open job positions
Speeding up the recruitment process by spending less time searching for candidates while increasing the quality of new hires
Enhancing candidate experience and engagement
Enabling HR to track the pulse of employees by using employee engagement surveys, chatbots, etc

AI offers a platform to engage employees as co-creators of a strong, smart and advanced workplace culture. It will continue to play a vital role as a strategic partner in the organization.

Conclusion

It is right to say that the Future of Work has finally arrived. 2020 saw organizations embracing new ways of working and this model will continue in 2021.

HR will continue to evolve best practices to enhance employee experience and to meet the existing business requirements.

If there are any more trends that you would like to add to the list of these emerging HR trends in 2021, please share your thoughts in the comments section below.

A self-service portal at
no cost

Conduct appraisals at
no cost

Track clearance and exit
at no cost

*No credit card required