Abstract
This paper illustrates strategic HR processes across industries/organizations and highlights the use of technology to manage these processes more effectively.
Understanding Strategic HR
Organizations base their growth objectives primarily on the vision of their top leaders. These objectives are achieved through a set of strategic initiatives that can be long or short-term and are mostly driven by the business environment.
Implementing these initiatives requires people with high leadership skills, who are capable of driving performance towards goals which are fairly stretched.
Strategic HR is aimed at managing talent in an organization; talent being the sum total of performance and potential.


Managing talent means developing greater skills and competencies in existing employees with a view to improve their capability profile, thereby preparing them for new or higher level job positions.

Hiring the right people, with the desired competencies and leadership potential, is another dimension of talent management.

In brief, maintaining talented people in an organization, who can fit into new roles arising out of strategic moves such as mergers, acquisitions, diversifications, expansions etc. is vital to business growth.


Strategic HR, therefore, places its emphasis on processes such as recruitment, development of skills and competencies, aligning goals to strategic objectives, performance management, and evaluating leadership potential in employees. All this results in the creation of a 'talent pool' in the organization.
Entry/exit of employees from this talent pool is regulated by a set of filters which are designed on the basis of performance standards and acceptable shades of leadership potential.
Technology Interface
Companies could only maintain talent pipelines by tracking the performance and potential of a number of employees, year after year. This is a gigantic task, difficult to be managed manually. Use of technology not only adds speed and accuracy, but helps create transparency in HR processes through the uniform screening of employees against pre-set standards. It helps in building trust between the employees and the management, thereby enabling people to deliver their best to the organization.
Software systems helped align employees to the organization goals through processes such as goal setting, tracking employee performance, evaluating competencies, identifying talent, and creating employee development plans etc are the tools needed by progressive organizations. These tools can be integrated to create Information Dash Boards which, can provide an online decision support system to manage people and processes.
Concept Epitomes
Managing strategic HR through the use of technology has been illustrated through self explanatory concept diagrams shown below. Organizations can steer themselves to speedy success if they consider the deployment of technology in their HR domain as a strategic initiative.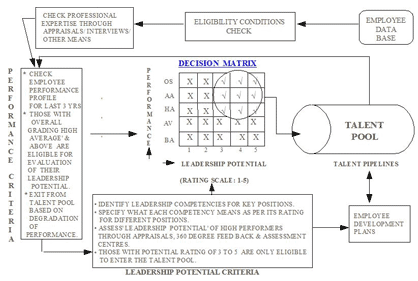 Figure 1: Talent Management Process
| | |
| --- | --- |
| Performance | To be consistently AA during the last 3 years Never below HA during last 5 years |
| Leadership Potential | None of the competencies required for higher level jobs should have been rated below HA Current potential may be evaluated through '360 Degrees Feedback or the Assessment Center' |
| Professional Expertise | Domain knowledge to be consistently AA for the last 5 years Applied skills & cross-functional knowledge not to be below HA during the last 5 years. |
| Experience Profile | (Current experience + 6 years) should be >/ = the minimum experience required for higher level leadership positions |
Table 1: Sample Conditions for entry into Talent Pipeline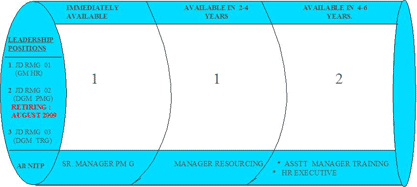 Figure 2: Talent Pipeline Sample
Note: NITP means present incumbent not in talent pipeline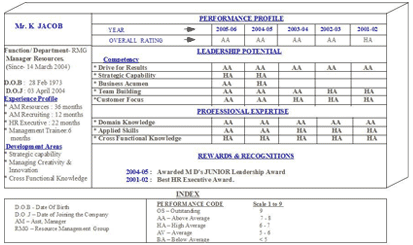 Figure 3: Employee Dashboard
Technology as an Integrator
Technology enabled integrated HR helps in creating a single data base that is shared by all HR processes in an organization.
This dispenses with the doubled effort required in maintaining multiple data bases, with the associated problems of mismatched data (due to stand alone updates) leading to faulty/ delayed decisions.
All information is available online simply by pressing a few buttons: the automated work flows bring up forms, reports and messages while the system provides a quick reference to the past details of an employee.
All these aspects cannot be managed adequately even with the best manual/paper based system designed by the most versatile HR staff.
Conclusion: To manage human resources qualitatively, both for strategic and operational needs, integrated HR solutions need to be implemented as soon as possible if the company wants to retain its competitive edge.