Excessive Leave of Absence Disrupts Business Performance & Profits
What does an employee's absence from work cost to your company? If you do not have an answer to this question, you're not alone!
Canada Newswire stated on May 23, 2008 that absenteeism translates into losses of over $16 billion in salary expenses. Due to an employee absence, a business may miss out important project deadlines, reduce team performance and drop motivation as available employees struggle to manage extra workload. Not only financial implications, but employers face multiple challenges when dealing with excessive employee absenteeism.
The Challenge
Usually, managers are seen suspecting real reasons for short-term absences of an employee, especially when it becomes a recurring event. Managers are often unsure to approve or reject leave request when an employee takes leaves repeatedly.
Analysing leave information in detail may help managers to understand leave patterns and problems which need to be addressed. Availability of detailed leave records support manager's practical decision(s) before approving a leave request.
For making better decisions, managers would want to know:
» Leave balance of each team member
» Leave frequency to measure absenteeism for individuals
» Availability of their team members
Managing employee absenteeism for a manager could be a difficult task, but it is not impossible. Let's consider a situation…
John, the manager, has 5 members in his team. Two of his team members, Janet and Catherine are found taking leaves repeatedly. Whereas Jolly, Sam and Lina plan their leaves in advance. Now each time when a leave request from Janet and Catherine pops up, John finds it difficult to approve or reject the leave request without having leave data.
The problem is –
How can John deal with a situation when his team member takes frequent leaves?
Can John identify an employee's leave frequency or balance?
Is it possible for John to identify employee leave patterns?
Can John know the availability of his team members and take advantage of smart resource planning?
I wish John had an automated system where he could view and manage employee leave data in just few clicks! Well… Empxtrack leave management software allows managers, like John, to know answers to all the above questions.
Leave Management Made Easy!
It is time-consuming and cumbersome for managers to handle employee's leave of absence and ensure adherence of the company leave policy. Managers must handle leave requests invariably on daily basis. Before processing and approving employee leave, managers need to consider an employee's leave history and balance.
Getting a cloud-based leave management system is a faster way to make employee leave tracking easier for managers and HR. With an automated leave tracking software, approval and denial of an employee leave is a click away. Online leave tracking gives transparency to the leave management process where employees, managers and HR can log planned & unplanned leaves and track their leave balances regularly.
Here are a few promising reasons that would urge to use Empxtrack leave management software:
Instant Access to Leave Data: A cloud leave management system gives instant access to accurate and precise leave transaction information. It eliminates the need to turn pages of an attendance register; thereby making it a single-step procedure to make decisions on approval or rejection of leave requests.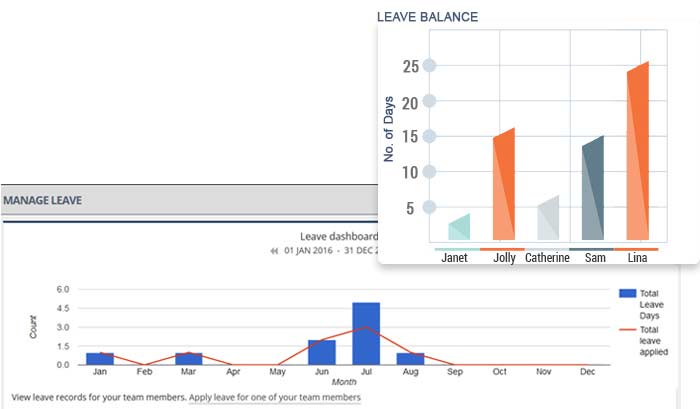 Quick View of Leave Patterns: Dashboards and reports give a bird's eye view to all leave records, transactions and leave balances for all team members. It helps managers to view and understand leave patterns and allows them to take effective steps in resource planning.The reports & dashboards give detailed leave information where managers can view the number of employees who are on leave, present, have a holiday etc.
Transparent Leave System: Leave management becomes more transparent when employees and managers can view leave history and balances. This transparency helps managers to take decisions on approval or rejection of a leave request, without giving any justification. Leave balance also helps employees to plan their leaves wisely.
Ensure Compliance: An automated employee leave tracking system like Empxtrack can be customized considering a company's leave policy, thus ensuring compliance. It uses inherent leave rules that prohibits manager or employee to evade the leave policy guidelines or let favouritism be an obstacle when approving or rejecting or applying leave request.
Accuracy in Payroll Processing: Accurate payslips are generated easily, when an online leave management system is integrated with payroll software.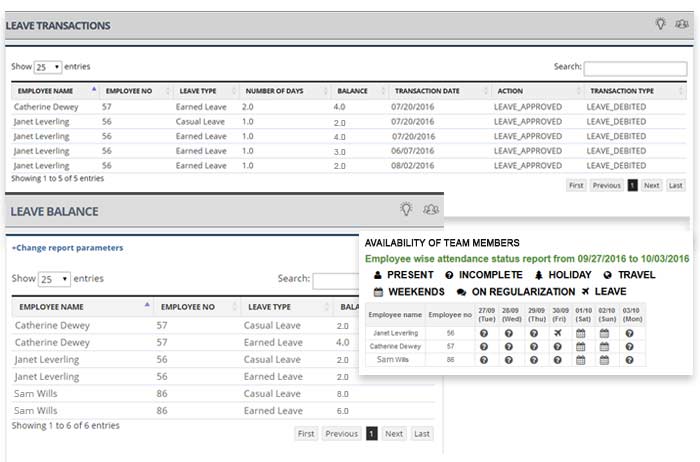 Quickly Identify Availability of Team Members: Knowing availability of team members is extremely important for a manager to meet project deadlines and do resource planning.Managers can use employee-wise attendance status report to get consolidated leave data and know availability of each team member on a specific date. With this information, managers can smartly plan resources and allocate work to the available employees, if a project deadline reaches closer.
Manage Excessive Absenteeism Wisely and Maintain Discipline: With Empxtrack leave management software, managers can make absences visible to all the team members. This may alarm some employees who, until they don't see leave records, do not realize how frequently they are taking time off.
This can be a 'wake-up call' for them to not act against disciplinary rules due to excessive absenteeism. This updates employees about the consequences of not adhering to a company's leave policy.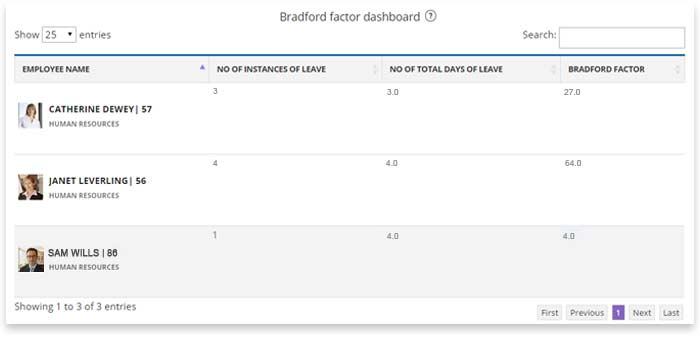 If a manager has an issue regarding recurring short-term absences of a team member, he may need to view detailed leave analytics, including Bradford Factor.
The Bradford Factor score shows unacceptable levels of an employee's absence. In cases when employees exceed this score, managers need to proactively deter absence and take effective steps to manage short-term employee absenteeism.
Author's Take…
The advancement in HR technology has eliminated the need to maintain spreadsheets or registers for tracking employee leaves and attendance. Today, the modern online leave management software rule over complex traditional leave systems as they are useful in saving time, money and efforts.
An online leave tracking software helps managers to reduce employee absenteeism, and subsequently, reduces the effect of excessive employee leaves on business. For managers, the first step before approving a leave request is to identify an employee's leave frequency, leave balance and availability of other team members. In absence of an automated leave management system, managers lack visibility to employee leave patterns and are unable to address these problems.
Managers and employees today expect to easily access information as quickly at work as they can do it in their personal lives. Placing an effective, modern cloud leave management software that allows them to check leave entitlements, review holiday calendar, log leave requests and refer to company leave policy could be a great start for everyone.
Haven't invested in an automated leave tracking software? Don't wait further and list down all your requirements to place a cloud-based leave management system in your organization. Feel free to explore functionalities and workflow of a leave tracking system, before making a final decision!