Talent management is all about finding new talent and nurturing existing employees to boost organizational performance and engagement.
Over the years, the approach to conduct business and manage workforce has changed vastly. To meet strategic goals and achieve high profitable margins, it is required to align talent management with organizational needs in terms of resources, manpower and capabilities. Most of you would agree that organizations transforming their HR functions to talent management are focused towards building a strong business and developing future leaders.
Irrespective of the size of your organization, every employer must follow talent management strategies to build high performing and sustainable organization. After all, meeting end-to-end operational and strategic objectives is a key role of any organization.
Talent management becomes successful when each individual process is designed and implemented carefully to attract, develop, engage, motivate and retain high performing employees. Interlinking and mutual dependence of each talent management process, like applicant tracking, recruitment, performance management, succession planning and others, strengthens its impact on the workforce.
Let's take a quick look at how these processes benefit an organization when clubbed together as a unified group.
Talent Management Elements – Mutual Dependence of These Processes Impact Employee Retention & Engagement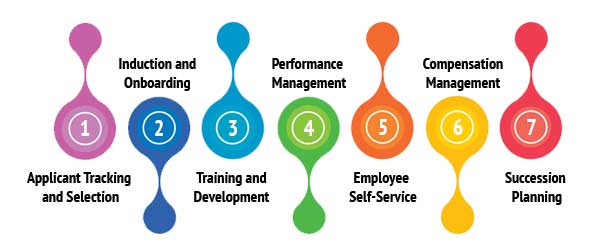 Applicant Tracking and Selection
With continual shortage of talented professionals, it has become extremely challenging to find right people for right jobs. Recruiters need to carefully take every move while shortlisting and recruiting new hires. The employee retention strategies of an organization are sidetracked if the hiring team makes wrong selection and recruitment decisions. Therefore, HR experts recommend online HR tools that can help recruiters to implement well-defined applicant tracking strategies and select only high performing employees.
Implementation of a professional applicant tracking system simplifies sourcing of internal and external candidates to fill vacant positions. Hiring managers can simply review high volume of job postings and resumes from one location without manual intervention. It also cuts down additional recruitment costs, training expenses, loss of time and lost competitive advantages. An automated tool filters applicant tracking and selection process to get highly deserving people on the right jobs. It boosts talent management in an organization where the key positions are occupied by top talent.
Induction and Onboarding
Induction and onboarding programs are conducted to help new hires to adjust in new work culture, understand new job responsibilities and recognize the impact of their job role on business strategy.
Most of the employers are often found complaining about employees who leave their jobs within 4-6 months of their joining. Reasons are very clear – poor onboarding and improper induction programs. Believe it, a good onboarding program is definitely a main reason for majority of engaged employees. That's why many employers are now-a-days implementing well-designed onboarding strategies and online onboarding tools to reduce discomfort of their new hires, enhance productivity and improve employee engagement rates.
Training and Development
Talent management also promotes training and development opportunities among employees. Effective training experiences boost employee development and support each individual to give best performance.
Considering current competitive state of business world, it is important to identify scope of improvement in employees, mentor them with right guidance and help them to develop their skills. Giving them best opportunities to enhance their capabilities and prove their caliber is the best way to nurture and retain top talent. It also helps in building a strong talent pool of capabilities required to meet future needs and on-going business changes.
Performance Management
Consistent performance management process helps in identifying performance level of individual employee at every step of their career path and it also boost confidence in them to do better each day.
Performance evaluation and appraisal steps hold high importance to motivate high performers and marginal contributors. Performance management system should not only be limited to appraisals, but it should have a clear vision to impact every single process that is related to employee development.
No doubt, transparent performance management systems should be correlated with training, recognition and compensation systems to increase employee engagement and retention.
Employee Self-Service
Employee portals allow employees to access needful information anytime without taking help from HR people. Organizations using employee self-service tools find it easier to bestow employees with frequently accessed information, including personal information, leave balances, salary updates, pay slips, etc.
The availability of these information repositories on one interface encourages employees to find answers to their queries on their own. As a result, it enables employees to make quick decisions and boosts employee engagement.
Compensation Management
Compensation management streamlines and automates compensation process which helps in encouraging top performers. When an automated tool streamlines compensation management process, it gives visibility to compensation guidelines and various plans.
Compensation planning allow managers to closely manage the process and ensure that top performers are awarded suitably. Employee rewards and bonuses magnify motivation in the workforce.
Succession Planning
Well, when all aspects of talent management, including recruitment, onboarding, training, performance management, compensation management, workforce planning, fall in the right place, it creates leaders for tomorrow.
Succession planning has a direct connection with employee retention. Employees admire to associate with work cultures where their opinions are valued, they are trained to work better and are guided at every step to excel in their career paths. Succession planning not only helps in hiring the right candidates and filling key positions in an organization, but it extends to more than this.
Succession planning gives a sense of job satisfaction to employees. Besides, it also gives them ample reasons to work hard every day because they know better work opportunities are waiting for them.
Author's Take…
My years of experience in HR industry determines that small or medium business organizations ignore the need to look for strategic talent management solutions till the damage is done. To continuously maintain the operational efficiency of a business, it is extremely important to give value to talent development and employee retention.
Those businesses where talented people govern strategic and operational processes are more successful, than those who miss out to appoint right people on the right jobs. Make sure you do not ignore the need to interlink all people-related processes to make talent management a big success!