HR department is responsible for the maintenance and upkeep of employee data – what we call the transactional role of HR. They manage employee personal files, leave and attendance, salary data, promotions, travel and expenses, benefits enrollments, timesheets and performance records. All this data has to be combined together in various ways, queries answered, reports created and a strategic direction has to be thought of.
No wonder, the HR department has a lot to do!

What happens in a typical Employee-HR engagement?
When an employee wants to make an update, say change their personal data or apply for leave etc. the employee wants to know the existing state of their data. Assuming its non-availability in a shared database, the following sequence of events happen
» Employee contacts the HR department
» HR looks up the employee files and provides the answers (say existing address, leave balance etc.)
» Employee makes the request through an email (and may involve other stakeholders such as their supervisor for approval)
» HR department(and/or supervisor) approve the request
» HR updates the data
In many cases, the supervisor may request the data from the HR as well before approving the request.

Our Approach to Measure HR Department Workload
To identify the workload on HR, my analytics team analyzed employee engagements using our product empxtrack for the processes listed above. We analyzed over 2.8 million approvals across multiple parameters.
Each approval would require at least one interaction between HR and an employee (whether through phone, F2F or email) and the insights that we gained tell us the significant workload HR has to handle.
For this blog, we ignored data for recruitment, manager services, payroll processing (and related query handling) since these don't typically require employee involvement. This is not to say that these activities use up a significant part of HR time.

Quantification: Employee-HR interactions
In any organization, a small part of the total employee population interacts with the HR department in any given month. Using our data, we found this percentage to vary between 22% and 31% and is dependent on seasonal activities such as performance appraisals, summer-time (when people take vacation and apply for leave), etc. You can click on the links to view earlier blogs discussing more on these variations.
What this means is that if your company has 100 employees, there would be at least 22 employees and as many as 31 employees who would interact with the HR department in any given month for data updates.

How many requests do employees generate?
For each month we analyzed how many employees were generating requests in the given month and the total number of requests getting generated. We divided the two to identify the average number of requests generated by an employee in a given month.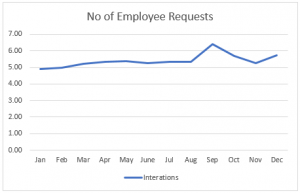 If we apply the above statistics to a 100 employee company:
» 22 to 31 employees would generate a request in any given month,
» There would be 110 to 200 requests generated with an average of 135 requests on a monthly basis,
» Assuming 22 working days, the HR Department handles between 5 and 9 requests on a daily basis
» No wonder the HR department is overwhelmed with query handling!
Break-up of Employee-HR Interactions
Analyzing the requests further, based on their types we found that Attendance regularization and Leave constitute the largest percentage of requests at 30% and 32%. This tells us that many large organizations still use attendance data for payroll processing and employees end up correcting their time often.
Help Desk (that included requests for inventory, benefits changes, letter of recommendations and so on) and Data Updates (such as address changes, dependent addition, qualification updates, etc.) were 12% of the total requests generated.
Performance management and timesheet being focused on white-collared workforce (and being biweekly/monthly activities) constitute a lower percentage of the total requests but if we break up the data by industries, we may have different insights. More on this in a subsequent blog post.