Employee engagement and satisfaction play a vital role in determining the success of an organization. Out of numerous factors that improve employee engagement, the hassle-free process of leave application and receiving its approval on time makes a significant impact.
It has been normally seen that in the traditional system of leave applications, delays in acknowledging the application followed by its approval, and sometimes rejection without specifying reasons, are bound to happen.
One of our Sales representatives recently faced a related situation where employees of an organization were trying hard to effectively manage their leave application process. It was challenging for the organization to eliminate unexpected delays in granting leave approvals, reduce inefficiencies in leave transactions for the team members, and avoid financial leakages due to unnoticed leave transactions.
Our Sales team had multiple discussions with the client to understand their issues. The organization had 3 main challenges at various levels in the company hierarchy.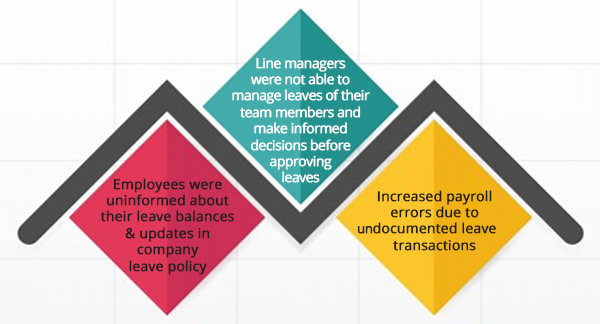 Challenge 1: Employees were uninformed about their leave balances and updates in company leave policy
HR department received more than 100 queries each week about employee leave balances. It consumed a lot of time and kept HR away from focusing on core business activities that mattered the most.
On the other hand, employees had to wait for long to know their leave balances and access leave & attendance details.
Not receiving timely updates on leave policy documents and other compliance issues gave a sense of dissatisfaction to employees. A continuous pattern of delay in the leave approval increased frustration amongst employees.
Challenge 2: Line managers were not able to manage leaves of their team members and make informed decisions before approving leaves
The company reported that their managers often face difficulties in the process of leave approval.
The line managers were not able to:
identify the patterns of leave requests of employees who take undue advantage of the leave policy.
get insights about the availability of the team members in a specific time-period.
to make well-informed decisions on approval/ rejection of leaves.
Challenge 3: Increased payroll errors due to undocumented leave transactions
Paid Time Off from work significantly impacts a company's bottom line.
The company faced inefficiencies in managing leave transactions efficiently for each department.
Leave without pay (LWP) is a leave type that may cause payroll errors if it isn't tracked properly. HR was not able to manage leave transactional load and reduce manual errors in calculating LWP and paid leaves taken by employees. This caused excessive financial leakages in leave, attendance, and expense related transactions.
Empxtrack leave management software: One-stop-solution!
Despite being an important aspect of a business, leave and absence does not get the kind of attention it should.
Managing leave transactions of employees is quite a big challenge for small and mid-size organizations, and therefore, they overlook the need to track employee absence! Disgruntled or inefficient employees do not make a successful company. To overcome leave compliance issues, human resources department in each organization is constantly taking measures to have a robust, reliable leave management process.
Most of the companies are giving high transparency to employees in their leave management process with the use of cloud-based leave management software.
The leave and attendance management software maintains centralized data repository for keeping leave records and other necessary attendance details. It facilitates users to:
» Submit the online request for leave application
» Check the applied leave status and the Leave Balance
» View the list of holidays updated by the company
» View attendance records
» Prevent leave compliance issues
» View non-availability dashboards to plan team allocation and make informed decisions before replying to leave requests
» Regularize their attendance to cut down time spent on queries post salary pay out
» Take control over team's leave transactions
» Reduce leave transactional load and manual errors during data entry
An efficient system of managing the leave requirements of the workforce is a key to operational and administrative success. An online leave management software, like Empxtrack, keeps track of employee attendance and effortlessly manages employee time. Transparency in leave management increases employee satisfaction and engagement, thereby reducing the attrition rate.
A self-service portal at no cost
Process payroll for 25 employees at no cost
* No credit card required