How long will the orientation process take?
Am I too busy to on-board new hires in my organization?
Can I really afford to take out some time and help new employees settle in their new job role?
These thoughts surely go through the minds of hiring managers when they think of employee onboarding process for new hires.
Managing a team leads to a lot of responsibilities and challenges, and scarcity of time keeps managers away from onboarding new hires. On the other hand, these managers expect their newly hired team members to be productive quickly and start contributing in achieving team goals as soon as possible.
So, even if managers accept 'a prolonged nurturing period' for each new member that joins their team, things don't work out the way they should.
Putting together our years of experience and detailed analysis, we would like to suggest a few important tips that would help your organization to streamline employee onboarding process and enrich the new employee experience.
Automate the employee onboarding process
All of us know that the new hires go through a lot of paper work before taking up actual job responsibilities. Asking new employees to complete multiple forms and sign on several documents is an old-school approach. It takes too much of their time, and often results in low engagement on day 1.
For maximizing the time spent in discussing the topics that really matter and making formal orientation session more meaningful, it is required to reduce the paperwork and utilize time wisely. Introduce an online employee onboarding tool to manage newly hired employees documentation process and assigning compliance documents.
The automated tool provides e-form submissions which automatically route to HR for orientation and joining purposes. It reduces administrative overhead and make paperless employee onboarding error-free.
Get ready with an employee onboarding checklist
Employee orientation requires planning to ensure HR and hiring manager cover all key areas with the new hires. Employee onboarding process may take several hours or even days and may involve one or more stakeholders in the process, depending upon the size and workflow of your organization. Therefore, having an onboarding checklist mentioning all the necessary onboarding tasks enables managers and HR to facilitate the process.
An employee onboarding checklist keeps everyone on task (even better when these tasks are followed according to a timeline) and gives consistent experience across the organization.
Even if you haven't tried any of the above mentioned tips, it's never too late. Implement an online employee onboarding tool to make onboarding more effective. A well-planned orientation process will enable new hires to feel valued, comfortable, and welcomed in the organization. It will in turn result in improve engagement, productivity, and high performance outcomes.
Benefits of well-planned employee onboarding in an organization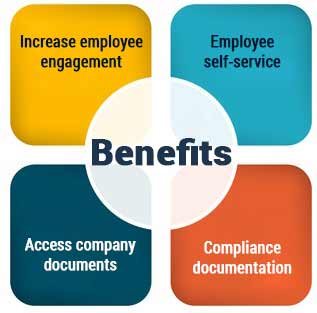 Increase employee engagement: Stay connected with your new hires even before they join your organization and initiate onboarding process.
Employee self-service: New hires can easily fill in their own information, leaving no chances of errors.
Access company documents: Important company documents containing workplace regulations and policies can be uploaded online. New employees can easily review employee handbook online whenever they want.
Compliance documentation: Time is saved when state and federal compliance forms like W-4 are conveniently filled and reviewed by administrator online.
You can also view this presentation to understand how effective employee onboarding leads to improved employee engagement.
If you think this post can be helpful for others as well, be kind and share it!