The HR Function
Human resource is the backbone for a successful business organization.
The HR, in any small or large business organization, is not limited to managing employees' timesheet, schedulers and payroll or onboarding new hires. An organization with competent and high performing workforce is more capable of increasing ROI. Hence, HR people go an extra mile to encourage workforce to take steps towards achieving business goals and create strong employee-employer bonds. It simply means the multitasking professional HR takes care of everything related to an employee's lifecycle in an organization. Managing multiple HR processes manually cost heavily to an organization and it lowers the productivity.
According to conventional data management approach, the necessary data is stored in paper files in the cabinets which results in longer access time, cumbersome data modification and improper management.
A quick look…
Imagine your cabin filled with thousands of files all loaded heavily with hundreds of papers.
Then, what flashes next in front of your eyes is a well-organized desk that is paperless and has a desktop/ laptop with all the important data stored in it.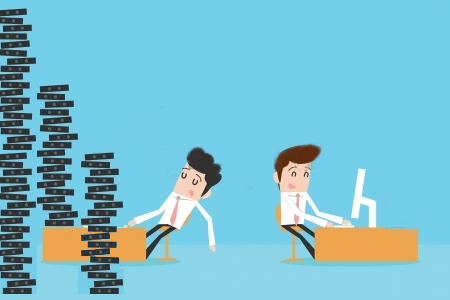 If given a choice, what would you choose? The latter one… right??
That's where the need of an automated HR software falls in place.
Automated HR System Pushes Back Paper-Based HR Documentation
In today's world fast pace digital age, paperless HR is no more a choice, but a demand!
Going away from manually managed paper file system results in improved efficiency and convenience. Besides, there are many other positive considerations to justify this demand.
» Save Infrastructure Cost: Paper files occupy a large portion of company's infrastructure that costs too high.
» Easy Storage and Access of Files: Redundant data files are eliminated from the storage. The electronic file system allows HR to access and manage data files conveniently.
» Less Risk: Electronic files are not never lost or damaged irreparably because they're stored at multiple locations.
» Long-Term Planning: Adopting electronic file system symbolizes the inclination towards effective, long-term and successful business practices for a better tomorrow.
Can you now understand the reason of different efficiency levels of HRs working manually and digitally?
Now, let's take a step ahead.
When it comes to manage hundreds or thousands of employees, it becomes necessary to own right HR tools meeting comprehensive needs. The most crucial part is – the choice.
Depending upon the resources, most of the employers prefer using in-house HR software whereas others find it easy to implement cloud-based HR software solution. Each of these has its advantages, yet there are few important considerations that make an online HR software stand apart from the crowd.
A Glimpse at Advantages: Online HRMS vs. On-Premise HR Software

» Affordable: A cloud-based HR software needs small initial investment to run a business effectively whereas in-house HR system needs a huge sum of money to integrate.
» 24×7 Availability: On-premise software comes with a limitation of access. Employees are unable to use them anytime anywhere. In contrast, an online HR software is available round the clock and employees can use them whenever required.
» Easy Integration & Use: There's no need to worry for installation while going for SaaS HR system.
Today, the HR software industry is flooded with numerous human resource tools, you can pick whichever meets your requirement. Empxtrack is one of those world-class, reliable and highly responsive next generation human resource software that meets end-to-end needs to build a competent workforce. Affordability, flexible implementation, comprehensive functionality, excellent customer support, complete data security and highly scalable features are some of the advantages of this highly competent product.
So, what are you waiting for? Take a free trial to understand how Empxtrack is a perfect SaaS HR system and how it can benefit your business!