What does a payroll administrator do? He ensures that people are paid on the right date and their salary accounts are credited with right figures.
That means his job is to pay salaries correctly and on time… Oh, I see! But ..Is that all?
No. There is a lot more to it.
If you'll ever look into a day in a payroll administrator's life, you will realize the difficulties of his job.
A payroll administrator juggles too many tasks at the same time. The person is responsible to perform multiple duties before and after processing the payroll. The job of a payroll clerk is to manage end-to-end tasks associated with payments and withholdings. In fact, the professional is needed to be trust-worthy, well-organized and should have strong eye for all the details. These qualities help in accomplishing comprehensive payroll tasks correctly.
Here's a list of everyday jobs managed by a payroll administrator.
» Update and modify employee details
» Update salary details
» Capture employee's attendance & calculate working days
» Capture and verify employee leave records
» Process sick, maternity and (or) paternity expenses
» Calculate overtime, pay increases, bonuses, reimbursements,
» Deduct loan returns and taxes
» Process monthly payroll
» Generate pay slips and send them to employees
» Update accounting system
…and the list goes on.
And yes, there is a lot of time-consuming paperwork that goes behind managing all these tasks.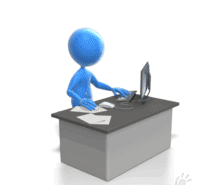 Sounds tiring! Isn't it?
To reduce the immense pressure from payroll administrators during the monthly or bi-monthly payroll cycles, we recommend you to introduce highly functional integrated payroll software.
The modern payroll systems make it extremely easy to do all the calculations and generate reports. The hour long tasks can be completed within few minutes. Just few minutes. It's true, believe us! The major benefits of replacing these manual tasks with the payroll software are: time-saving, speeding up processes and implementing a systematic work approach.
Still unsure?
Let us tell you how an integrated payroll software can reduce burden of the person designated at this job.
Read out the popular advantages of using a payroll software.
01. Manage employee calendars
The payroll software solutions provide employee calendars which is the easiest and an interesting way to manage employee's absenteeism, overtime, leaves and keep a record of everything. All the details related to leaves and employee's schedule are mentioned in this calendar. The clerk can pick details from here while calculating employee's salary.
02. Cut costs
Most of the employers hire third party to look after their payroll processes. However if an organization owns a software, it gives complete control to manage their payroll activities without making investing externally.
03. Automated pay slips
Every month payroll professionals spend heavy hours on creating pay slips and emailing them to employees. This manual activity consumes a lot of time. A LOT!
On the other hand, payroll software quickly generates pay slips and fill those details in the templates. The automated pay slips are uploaded on the employee portals for the convenience of the employees.
04. Increases security
When payroll is managed in-house, employee's personal data is in no way shared with third party and it is always secured. Make sure you choose a reliable payroll software which is integrated with high IT security standards.
05. Avoid mistakes
Comprehensive validation procedures make it almost impossible to enter wrong information. The chances to make errors are reduced by 99%.
Besides all these benefits, customer service is also one good thing that all respectable payroll software providers give. Empxtrack payroll management module easily integrates all aspects of payroll processing to avoid data entry errors and save time.
So, what are you waiting for?
Use Empxtrack Payroll for Free and realize its benefits. Let your payroll administrator spend more time on the core activities and work efficiently with an advanced payroll system!
Process payroll for 25 employees at no cost
* No credit card required