Changing human resource management to a data-driven mindset can be challenging. After all, HR intends to deal with people, not with numbers. However, being data-driven is vital for a forward moving business. Data analytics measures success of HR initiatives and helps in making well-informed decisions. 77% of managers regard people analytics as a key business priority.
According to a study by Deloitte University, 3 out of 4 companies believe the use of people analytics is important, but only 8% believe their organization is "strong" in this area. Relying on "gut feel" to make important business decisions and competing in a marketplace isn't an ideal thing any more. Organizations need data to back up even the smallest decisions.
But is it meaningful to make decisions about employee behaviour from a bunch of data points?
Yes!
And HR departments are realizing its importance.
People Analytics – A Need for Every Business
People analytics, also known as talent or HR data analytics, is the use of data to improve effectiveness of people-related processes. Analytics provide data-driven insights to the HR, manager and the leadership.
The power of people analytics is unimaginable. And the use of employee-led data and data analysis has made it possible to explore answers for common queries like: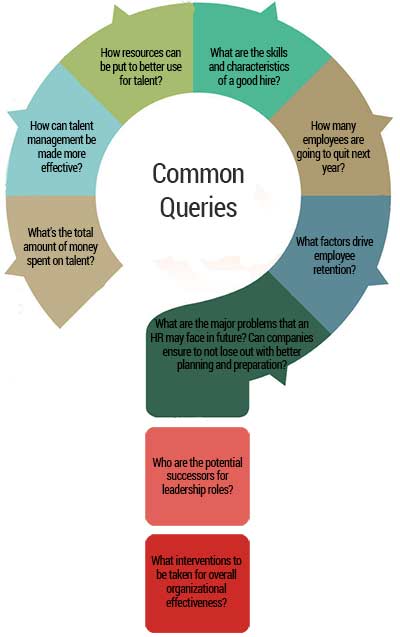 Be it recruitment, performance management or employee engagement, people analytics allows HR to play an effective role in planning and meeting organizational goals.
Analytics in Recruitment
Businesses are now focusing on data-driven tools to not only understand their existing employees, but also recruit the right kind of people. HR data analytics tools give a broader view on a candidate's skills and potential.
A survey finding highlights 27% of employers believe that a single bad hire could cost them over $50,000.
HR reports and analytics support workforce planning. It helps predicting when the company needs more hands-on board, based on previous year's data, and thus recruit accordingly and maintain a balance between cost-per hire and time to hire.
Analytics in Employee Engagement
Just recognizing the rate of employee retention or attrition isn't satisfactory. With HR data analytics, organizations can do a lot more than this.
It makes easier to pull off data points and get information on employee behaviour. And by identifying the traits of committed employees as compared to employees at-risk of leaving, HR can predict if a specific employee will continue or exit.
To avoid high employee turnover, timely actions can be taken by HR and the leadership using evidence-based insights.
Analytics in Performance
What else can be better than identifying employees who need training to optimize their performance and contribute to company's success!
Data analytics provide insights into HR initiatives (like training, reward and recognition programs) that hugely impact a company's bottom line. For instance, if your sales team is facing performance challenges, use data to understand what helps your team to meet and exceed performance targets.
A final thought…
Organizations that do not use analytics capability are already at a disadvantage. Data-driven insights enable decision makers to take measures for reducing attrition, increasing employee engagement and improving overall business effectiveness.
Today, businesses can't afford to have lack of analytics expertise in HR. Adoption of upgraded technology platforms and use of analytics tools is becoming extremely crucial.
The advantages of people analytics are very clear. And the data is here. The only challenge is to make right use of it!
Use data analytics to make well-informed decisions and avoid any slip-ups that detain your company's growth.