CFOs estimate that ineffective performance management processes result into thirty percent loss of company's performance potential. And only 8% of organizations drive high value from these processes.
In Brandon Hall Group's 2016 Performance Management study, 72% of organizations found their performance management process to be "some – what effective" or "not at all effective". [Source] In these organizations, employees as well as employers both found performance management systems to be difficult and ineffective.
It has been found that 30% of performance reviews end up in decreased employee performance and 2/3rd of performance management systems misidentify high performers.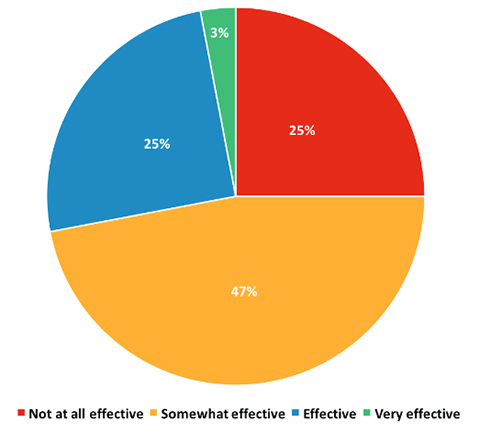 Figure: Organizational Effectiveness of a Performance Management Program (in percentage)
An ideal performance management process
Performance Management process can be effective and impactful, if a people-centric approach is implemented. As stated by TalentManagement360, 58% of companies rate their PMS as "C grade or below" due to their process-oriented approach.
Have an ongoing performance management process, that inspires and develops employees' performance through clear work expectations and opportunities to work and grow.
To build a motivated, productive and engaged workforce, organizations need to re-engineer their performance management process in such a way that it addresses the following challenges:
» Can employees' goals be aligned to company goals?
» Can managers track employee performance in real-time?
» Can managers quickly view of an employee's year-round performance during appraisals?
» Can performance appraisals be more transparent?
» Can we find out how an employee's performance and behaviour is perceived at the workplace?
» Is it possible to identify training needs of each employee?
» Can we identify top performers and high potential employees?
Incorporating these questions into your next performance management conversation will allow you to improve organizational effectiveness and have advanced HR tools that support a culture of collaboration and continuous coaching.
Why organizations need changes in their performance management initiatives?
To create a performance-driven work culture and achieve maximum number of high performing employees.
Having a reliable, fully-functional performance management software can support organizations to:
» Create SMART goals, based on Balanced Scorecard
» Link goals to job descriptions and assign weightage to them
» Access previous year's appraisals to measure an employee's performance progress
» Send automatic reminders to employees for completing their appraisals
» Create customized questionnaires for self-appraisals and manager reviews
» Run different appraisal plans for different group of employees
» Cascade personal goals from department and company goals
» Get a holistic view on an employee's performance with multi-rater feedback.
» View dashboards and reports to check appraisal status, goal achievements, goal status, identify top performers & high potential employees and more
» Configure pay and increments for different group of employees
» Compare employees on specific attributes to make better decisions in job allocation, training and leadership development
Have a performance management system that improves the quality of work and productivity. A well-structured Performance Management system assists an organization to align employees, monitor their goal achievements in real-time, guide and mentor them continuously, and reward the top performers through an easy to use process – all in a transparent and objective manner.
Developing an effective performance management system
Employee performance is a critical factor in organizational success. And employee development is the key to improve performance.
Ongoing employee development should be an integral part of an organizational philosophy.
Managers take the responsibility to guide, mentor and inspire employee performance, and the leadership provides advanced tools to enhance manager's abilities to fulfil these responsibilities. This facilitates functional shift from performance management to performance development within an organization.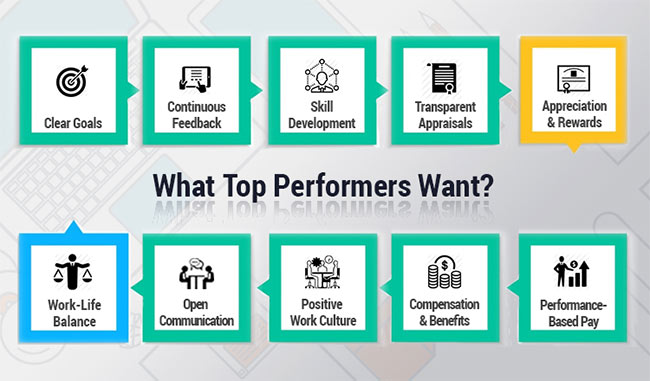 Empxtrack can help you to build a world class workforce, through a set of configurable and scalable tools that integrate with your performance management process seamlessly.