Today, when online shopping has become a prevalent trend, retailers try hard to defeat cut-throat competition and retain customers. Performance of retail employees play a significant role in improving operational efficiency, building customer loyalty and boosting profits.
Expectations for better services and excellent customer experience are escalating with each passing day. Offering great shopping experience to the customers is a priority for retailers. A retail manager's goal is to build a team of highly motivated, engaged and productive employees who can ensure that customers have satisfying experience.
According to Bureau of Labor and Statistics, "Nearly 14.8 million people were employed in retail trade in 2011 – about 10% of the total U.S. labor force. Cashiers and retail sales persons were the most common occupations in the entire economy in 2011, employing 3.3 million and 4.3 million people respectively, and representing nearly 6% of total U.S. employment."
Gibson stated that Wal-Mart is the sector's largest employer that employs nearly 10 percent of the total retail workforce, or approximately 1% of the nation's workforce.
The statistics clearly show that Retail Industry employs the largest percentage of the workers.
Managing and improving performance of employees is a common challenge for managers. Clarifying job responsibilities and expectations, aligning their goals with the business priorities, developing talent to offer exceptional customer service, and keeping them motivated to increase business profits are some other issues that the managers face every day.
Retail managers need effective strategies for improving employees' performance and the sales revenue.
Performance Management – A Tool to Improve Staff Performance and Boost Sales
It is a well-known fact that retail employees have a major impact in driving sales revenue. Retail businesses face high competition and deal with large numbers of full-time and part-time employees. It is essential to have a systematic performance management process to achieve business goals and sustain for long run in the market.
Today, many retailers are establishing 'Performance Culture' incorporated with strategies to develop individuals' and supporting their contribution towards organizational objectives.
According to a Gallup report, retailers can increase store performance in four ways:

1. Define an employee's role
Due to unclear performance goals, employees often face difficulty in justifying their performance during evaluations.
Clarity on performance goals, responsibilities and priorities give employees a definition of success, and increase their productivity by 50%.
For instance, if a sales person in the retail store spends majority of his work hours in filling out reports and complying with procedures, he gets less time to spend on customer concerns. But if the priorities are set right (good customer experience being one of his goals), he could possibly get more time each day to work with customers rather than completing store operations.
Setting up of SMART goals, tracking and reviewing goal progress periodically goes a long way in evaluating employee performance accurately.
2. Optimize employee performance
Whether it is an operational efficiency or a sales problem, retail managers often face challenges in identifying performance issues in real-time.
Absence of data and reports on employee performance and behavior leads to multiple issues. Employees' performance gaps remain unrecognized. Root cause of overall low business performance remains unidentified.
With a well-structured performance evaluation process, managers can document yearly performance of employees and help them take corrective actions quickly.
3. Develop skills
A study by Business Training Experts showed that companies with comprehensive employee training see a 218% higher revenue per employee.
Identify employees' areas of improvement and develop their skills continually by providing skill development opportunities.
Investing in employee development is as important as having the right talent onboard. This can be a driving factor for employees' career growth.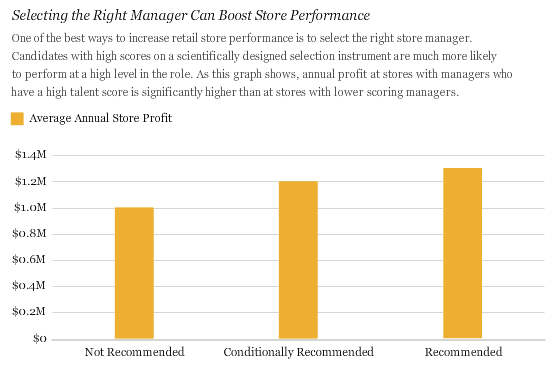 Figure: Importance of finding right talent [Source Gallup]
4. Maximize strengths
Retail Managers often make sales as a major parameter for employee performance evaluation, and customer experience remains underestimated.
Value Sales and Customer Experience equally. Conduct customer surveys and gain insight into customer expectations.
An ideal performance review process must have multiple parameters for evaluation, including employee skills, behavior, strengths, weaknesses and more.
Allow multiple stakeholders (peers, customers, supervisors and other people involved in immediate work circle) to provide feedback on an employees' performance, behavior and skills. A well-rounded view on employees' performance helps in making informed decisions during their evaluations and promotions.
A Tip
An effective performance management process aims at building high-performing workforce that can offer better customer service and improve overall business performance. The system can help retailers to overcome performance gaps, develop skills, maximize employee productivity, and boost store sales.

A self-service portal at no cost
Conduct appraisals at no cost
* No credit card required