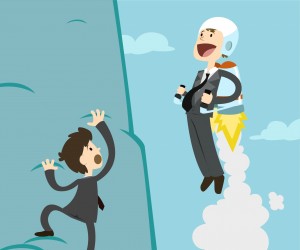 Those in the Millennial (born between 1980 and 2000) talent pool are notorious for having a mind-set that seeks continuous validation and is easily distracted, while on the other hand celebrated for being immensely social, thirsty for knowledge and technologically savvy.
With millennials set to form 50% of the global workforce by 2020, organizations will now have to learn how to recruit, grow and retain this uniquely categorized sub-set of workers; or face an inevitable decline.
The concept of gamification at workplace may appear counter-intuitive to an organization focused on the retiring 'baby boomer' talent; but is the perfect fit, in a set-up keen to engage the highly creative and willful workforce of today.
According to a report by MarketsandMarkets, a U.S based global market research and consulting company – "Gamification Market is estimated to grow from $ 421.3 Million in 2013 to $5.502 Billion in 2018." The report also suggests, 'the gamification market has significant potential that can change the dynamics of employee engagement, rewards and recognition and customer loyalty, globally".
Benefits of Gamification at the Workplace
Thus a well-designed enterprise gamification model, tailored to fit the individual company and its millennial employees, can:
Make work highly stimulating and interactive for Gen-Y employees –Imagine if your work was exciting and engaging like your favourite game! In games, the tasks are repetitive but full of fun, the goals are clear, rules are transparent, obstacles are intentional, and promotion to next level is strictly on merit basis.There is a lot to learn from games. Simple game mechanics can be applied to work to redesign the mundane tasks and make the work environment more interesting and engaging.These are the factors that companies should seek to bring into their work modules for engaging the Millennials.Playing and winning games is addictive, especially among today's youth, and can be successfully used in an organization to mix fun with work. What's more – this sort of engagement directly affects the company's bottom line positively!
Help your millennial employees set achievable workplace milestones and receive instant feedback -A recent global survey by PriceWaterhouseCooper (PwC) points to the fact that the Millennial talent appreciate honest feedback in real time – also something that gamification of work can deliver.Target, a major Canadian retail chain, has developed a cashier game that checks the cashier's performance. The cashiers are supposed to scan items and collect payments without slowing down their performance. The game displays a big 'G' in the middle of the screen to indicate that the cashier has met the speed requirements for his/her transactions. The yellow and red color shows slow and no performance respectively.It is a good system to keep cashiers working and the whole performance management system feels like a game that constantly tests and maintains score of the employee performance.
Encourage your young workforce to keep their ambition alive, while cultivating a healthy competitive spirit –
RMH Franchise Corporation, which operates more than 130 Applebee's restaurants in the United States, is an example of a company whose gamified website is used to engender competitive spirit within its workforce. Here, employees can manage their profiles, review their performance-related data and participate in automated challenges broadcast in real-time via "Bee TVs" placed strategically throughout restaurant workstations. This tactic has allegedly resulted in a resounding 20 percent reduction in employee turnover!Similarly, SAP Streamwork introduced gamification into its brainstorming sessions to have ideas generated grow by 58%. These examples are further proof of how gamification can keep the competition crazed Gen-Y workforce motivated and loyal to the company.
Help Millennials learn and grow -Over 65% business leaders believe in non-financial rewards when considering a reward strategy for the future; and the millennial workforce agrees with this way forward.Also, over 22% feel that training and development tactics are what will keep them most engaged. Gamification of work allows managers to identify talent among its millennial talent pool based on performance, and provide them with the requisite training and support.
Canon, a corporation known for its imaging and optical products, provides training to its employees through gamification. The company uses virtual software that simulates a copier. The trainees drag and drop various parts to the virtual copier to learn the working and repair mechanisms of a copier.
And that's how the brand kept it simple and intuitive, while ensuring that learning technical aspects of the company's product was made enjoyable for employees.
Ensure that the HR team get full and voluntary participation in its processes –Spotify have gamified their annual review process, and made it mobile compatible, to witness over 90% of employees participating voluntarily! Such solutions inspire the millennial workforce to be motivated enough to contribute in the company's growth and evaluation processes.
Technology paving the way
78% millennials believe that access to the technology, that they like to use, makes them more effective at work. So it would be fair to say that Millennials take to all things technology, like the proverbial fish to water.
By gamifying their work on a technology platform like the mobile phone or computer, and by maybe adding a social media angle to it, you have a sure shot at gaining their attention and interest.
This space of workplace gaming is growing in adoption, across multi-nationals and SMEs to aid in Gen-Y talent management. Companies that don't take cognizance of the potential of gamifying their workplace stand to lose talented employees, from a set of what could be the most productive generation.