Predictive HR analytics is all about analysing current human resource data to gain insights into patterns and make predictions about the future. Best companies progress continuously by understanding the significance of HR data analytics and consequently making well-informed decisions using this data.
Predictive analytics identifies trends related to excessive employee absenteeism, employee performance, attrition rate, identification of low performers, return on investment on talent management, compensation strategies, employee engagement and many other aspects related to employees.
According to a CEB report, "Only 12 percent of organizations currently use predictive analytics for talent decision making. However, 49 percent of organizations plan to do so in the near future." Today, HR departments are producing more data than ever, but they struggle to convert this data into valuable insights.
So far, very few organizations have been successful in taking advantage of predictive analytics with the help of existing HR systems that they have been using for years. CEB reported that only 5 percent of organizations feel that they are effective in tracking and using analytics. This happens due to a number of reasons.
» Lack of skilled personnel who can use data reports and dashboards (provided by HR systems),
» Inadequate understanding to use valuable data insights to their advantage,
» Complex HR analytics tools, or in some cases,
» Organizations underestimate the need to analyse real-time predictive analytics.
In a recent post HRKatha stated that, "Existing HR systems are weak on data and analytics capabilities". This weakness hampers adoption of predictive analysis for many organizations and restricts them to use technology to their benefit.
Further, a 2017 KPMG HR Transformation Survey, where nearly 900 executives from 48 countries participated, found that nearly 46% of organisations struggle to use predictive analytics for HR and business.
As a leading HR and Performance Management Solution provider, we don't agree on the findings of the survey. Before questioning existing HR systems on their data and analytics capabilities, one needs to answer the following questions:
Are organizations really prepared to embrace technology and make data-based decisions?
Have organizations recognized the importance of talent-related analytics in managing employee retention, talent acquisition, performance, turnover and more?
Does HR have data-driven mindset at all?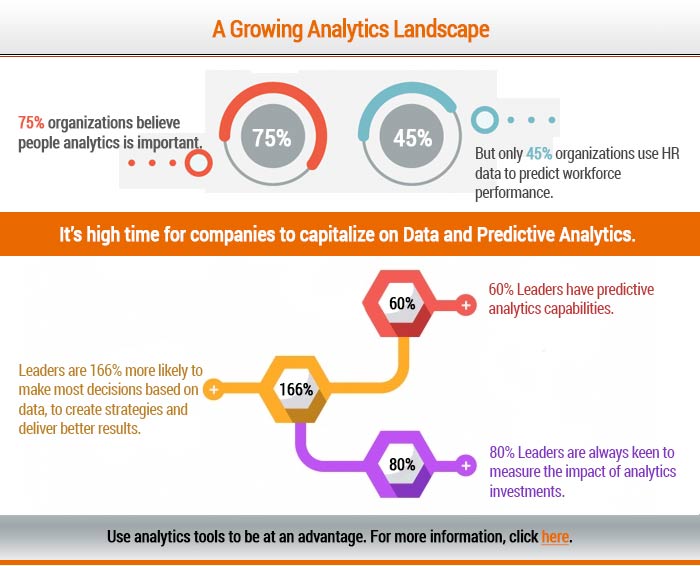 HR Analytics Is a Game Changer
Analytics have played a significant part in adding predictability to many aspects of a business and typically you will find Finance, Sales, Customer Support and even Demand Generation having sophisticated analytic modeling. Human Resource departments appear to be still catching up in this area. HR Analytics provides insights into each process by using data to make informed decisions, improve the processes and operational performance to achieve a competitive edge.
Advent of advanced HR technology tools is rapidly transforming human resource departments into a data-driven mindset. Though the technology adoption rate is low, but most organizations are taking a step ahead to deploy HR analytical tools. HR is in a better position to make informed decisions, if decisions are based on accurate insights.
The HR analytics tools enable HR departments to measure inefficiencies and identify blind spots. A survey by MIT and IBM reported that companies with a high level of HR analytics had 8% higher sales growth, 24% higher net operating income and 58% higher sales per employee.
Analytics provides useful insights on employee's personal information, performance, compensation, behavior, benefits, risks to leave the organization and more, from time to time so that the data is interpreted to spot the future trends and quick and timely action is taken instead of a reactive action when the event happens.
Predictive HR analytics is useful
» Identify the factors responsible for employee satisfaction and engagement
» Find primary reasons for increased attrition and exit of top talent
» Forecast future workforce requirements and ways to meet those demands
» Analyze factors affecting employee performance and utilize data insights to improve business performance
» Determine the impact of individual KRAs on the business
» Measure business outcomes
Use Predictive HR Analytics to have a clear framework to develop HR strategies. Identify the root cause of various employee issues. In the coming year, expect predictive analytics to rule HR by using employee data in recruiting, retention, engagement, performance reviews and more.