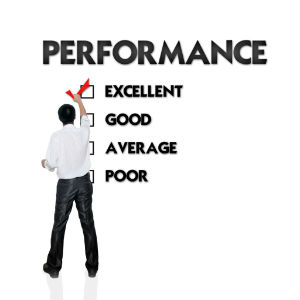 Start of an employee evaluation raises mixed emotion in employees, managers, and the HR of a company. While the employees expect positive feedback and increments, the managers worry about bigger budgets approvals and feedback sharing, both of which are not pleasant tasks, especially in the tough environment of today.
The HR managers have a significant administrative overhead where they have to push employees and managers to complete this task in a time bound manner.
"Performance appraisals have a huge impact on the human happiness in an organization", as rightly quoted by Dick Grote, founder of Grote Consulting Corp. in Frisco, Texas.
In this series of blogs, let us understand how Empxtrack, with its Performance Management modules can assist managers to quickly complete an employee evaluation in a timely manner with minimal disruption.
Empxtrack Assists Managers to Quickly Complete Employee Evaluation
A manager's ability to conduct a fair and honest assessment of an employee largely depends on their experience in such activities and the training that has been provided to them in conducting periodic performance reviews. However, it is not always possible for small and medium sized companies to train managers in this area. In such a scenario, a good automated performance appraisal system can be of great help.
The Empxtrack Performance Management modules help experienced as well as inexperienced managers to conduct an effective employee evaluation quickly. It assists managers by:
Capturing Feedback Continuously through employee evaluation:
A Performance appraisal may be conducted only once an year but employees need continuous feedback on their performance. Empxtrack Performance Management modules assist in managers to track the achievements of employees through goal tracking as also a manager diary. At the time of performance appraisal, the goalsheets and achievements are automatically imported to the performance appraisal and the manager can use this to rate the employee in a fair and transparent manner.
Performance Comparisons through employee evaluations:
While rating employees, it is very important for a manager to compare the performance of all the team members to find out how each one of them performed.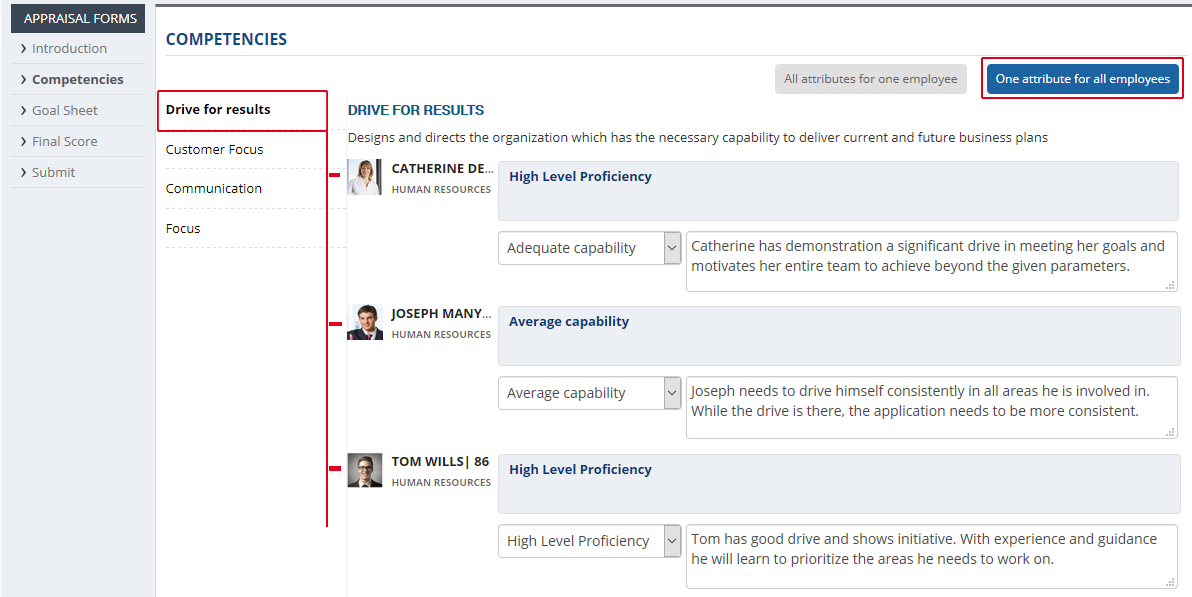 Empxtrack allows managers to do employee evaluations of multiple team members on the same parameter. The managers can view how each member performed on an attribute and rate them relatively as shown in Figure 1. The manager is comparing the performance of 3 employees by selecting a specific competency and viewing this for all the employees who are being rated. The help associated with the competency can assist them in giving the correct rating and comments.
Figure 1
Help for Appraisal Ratings: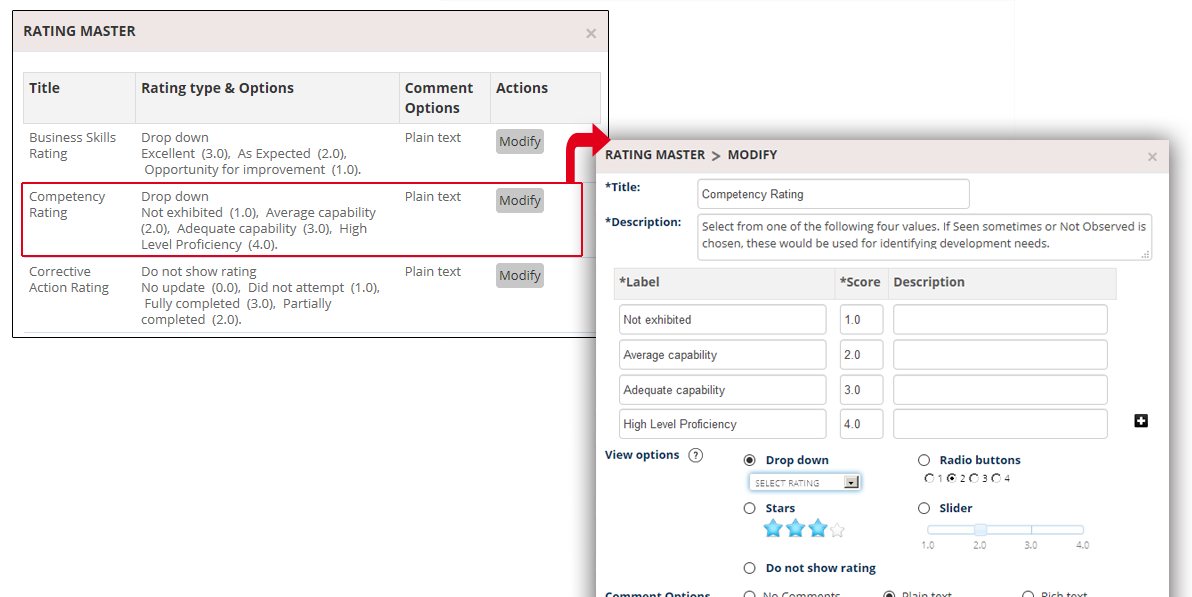 Selecting appropriate ratings is very important. The managers should know when to give which rating and when the highest or lowest rating should be given to the employees for an attribute in the performance appraisal.Empxtrack allows managers to view a detailed description for each rating to help them pick up the most appropriate rating that maps to the performance of the employee. The ratings are fully customizable based on your organization requirements and a detailed description can be provided for them, as shown in Figure 2. Empxtrack maps to your specific needs with an easy to use configurable system.

Figure 2
Self-Evaluation: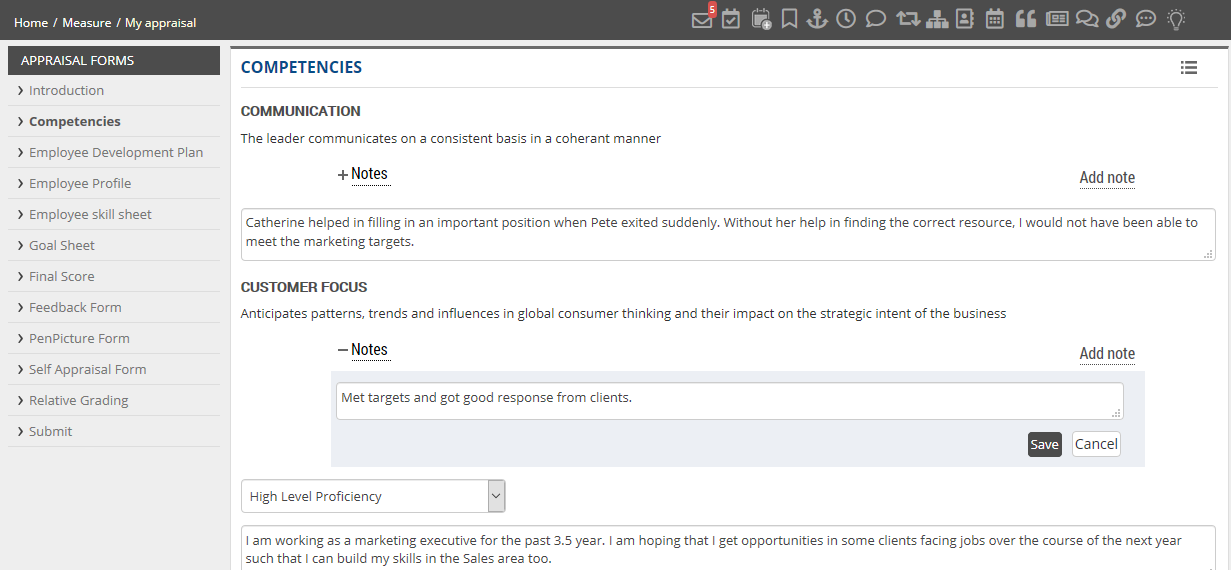 The self-evaluations in employee evaluation forms help managers to understand how the employees perceive their performance, what trainings they believe they need, what are their career aspirations and factors which impeded (or helped) in the achievement of their goals. Empxtrack allows an self-evaluation options on each employee evaluation forms, as shown in Figure 3. In addition, it provides a ready-to-use Self-Appraisal template that allows employees to specify comments on various parameters that affected their performance.
Figure 3
Thus, through continuous feedback, comparative performance views, rating description, and self- Appraisal Empxtrack Performance management modules assist managers to perform fair and honest performance appraisals with ease.
Read more about the Performance Appraisal module and details of Empxtrack Performance Management modules. You can also view tours of Empxtrack Goal Setting and Empxtrack Performance Appraisal by clicking on the links.
In the next blog we will discuss how Empxtrack Performance Management modules assists HR managers to conduct timely employee evaluation with minimal disruptions.