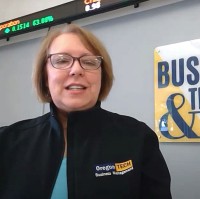 " All current employees were put into the system (Empxtrack) and we went live within a week of completing the project. Excellent turnaround time.
We made the decision to roll this out without any training. Our employees took to it without any effort. They all found it easy to manage and intuitive.
We are very happy with the end result."
Sharon Beaudry | SPHR, Director of Human Resources | Colby-Sawyer College
About the Case Study
Benefits of Web 2.0/SaaS-based Performance Management System for Educational Institutions
Inside This Case Study
» The need for performance management in educational institutions.
» Challenges of implementing a performance management system in educational institutions.
» Superior technology for performance management by Empxtrack.
» Implementation of Performance Management System.
» Experience of Colby-Sawyer College with Empxtrack PMS.
Performance Management for Educational Institutions
As the need for talented workforce grows worldwide, so does the need for faculty and staff with the necessary skills to identify and retain such a work force. Businesses are continuously demanding fresh talent which can meet new challenges through innovative and out-of-the box thinking. Business leaders are counting on educational institutions: schools, colleges, universities and other training establishments for infusing well-qualified fresh talent into the industry.
In turn, educational institutions are continually striving for improving their output both in terms of numbers and the quality of talent offered for varying jobs in different types of organizations. The excellence of output from an educational institution depends on the quality of their faculty, support services and infrastructure. To achieve higher levels of excellence, institutions need to set high performance goals for their academic and non-academic staff. These goals should be effectively measured at frequent intervals to bridge performance gaps, if any. Institutions which can effectively manage the performance of their faculty and other employees can offer the best employees and establish a reputation in the business world.
Thus, using the best of class performance management system is not only the need of the hour but an enabler of excellence in an educational institution.
Challenges of paper-based (document/spreadsheet-based) systems
Many institutions have a paper-based evaluation system in place for their academic and non-academic staff. However, these systems are no longer capable of meeting the daunting challenges faced by educational institutions. Some of the challenges are:
» Paper-based systems are not integrated with employee databases, so they require significant amount of rework every time the appraisal process is set in motion.
» In paper-based systems it is difficult to calculate evaluation scores and consolidate data for employees across the organization.
» Having a consistent work-flow for the evaluation process remains a big challenge.
» As data is spread across papers/files, it is difficult to analyze/compare performance of various work groups.
» HR has to spend significant time to collate and consolidate reports for the management.
» With paper- or document-based system, it is difficult to track the status of appraisals.
Special Needs of Colby-Sawyer College
» Superior web-based technology.
» Simpler approach for performance management.
» Flexibility to change competency and skill sets for different employee groups.
» Multiple work-flows for employee evaluation.
» Maintenance-free system due to their smaller IT department.
» Secure access to the performance management system.
Superior Technology for Performance Management by Empxtrack
Empxtrack performance management system with its large pool of competencies, skills and work-flows has emerged as one of the best options for educational institutions worldwide.
The features available in Empxtrack Performance Management System are comparable with large-enterprise solutions such as SAP, Oracle and PeopleSoft with added advantages of Web 2.0/ SaaS architecture.
Another advantage of Empxtrack over large ERPs is the minimal need for customization, as the large number of configuration options available in Empxtrack help in reducing customization efforts.
Educational institutions require web-based system with user-friendly, intuitive interface and a large amount of flexibility to change appraisals. As Empxtrack meets all these needs, it has been opted by many educational institutions across the globe (Asia, Africa and United States).
Implementation of Performance Management System
After Colby-Sawyer decided to use Empxtrack for its employee performance management solution, Saigun's technical team worked in tandem with the HR department for a streamlined implementation.
» Empxtrack team first talked to Colby-Sawyer's HR department to understand the specific needs and challenges of the system.
» On the basis of the requirements gathered during the discussion, Empxtrack team configured the system.
» The reconfigured system was provided to the HR department for initial review.
» After initial review, users gave their feedback about the system. They also provided a change document with 10–12 minor changes in text, workflow and the set of competencies and skills for staff in various departments.
» These changes were implemented within 1–2 days and the system was sent to client for the User Acceptance Test.
» When users were fully satisfied with the Empxtrack Performance Management System, Saigun was able to upload existing data and then proceed to meeting the security needs of the client.
» Within two weeks, the Performance Management System was delivered to the HR department of Colby-Sawyer College.
» After a few web demonstrations to the HR department, the system went live and employees were able to initiate appraisals using the online tutorials without needing any formal training.
The Benefits of SaaS-based PMS
Educational institutions have multiple benefits for using a SaaS-based performance management system:
» Quicker than paper-based or document-based employee evaluation.
» Easily accessible anywhere with usable and intuitive interface.
» Easy to compare or consolidate evaluation data for different employee groups.
» Easy and configurable reports.
» Access appraisal history.
» Get performance reports for comparison and analysis.
» IT has no added worries in maintaining the system; all support comes from the Empxtrack team.
About Colby-Sawyer College
Colby-Sawyer is a dynamic and innovative liberal arts and sciences college located in the scenic Lake Sunapee Region of central New Hampshire. In its first two years, its students choose from an intriguing and stimulating selection of interdisciplinary courses called Pathways rather than enrol in a host of core requirements.