Earlier, Empxtrack brought to you Top 8 HR Trends that are expected to rule in 2018. Today, you will read about most expected innovations and trends to reign in recruitment.
Technology has left a lasting impression on the Recruitment space in the years gone by. Advances in technology has simplified recruiting and hiring processes. The use of recruitment tools has enabled recruiters to speed up the process, improve candidate experience and even manages to attract top talent.
Let's take a look at what will be the trends and strategies to attract, hire and retain top talent in the year 2018.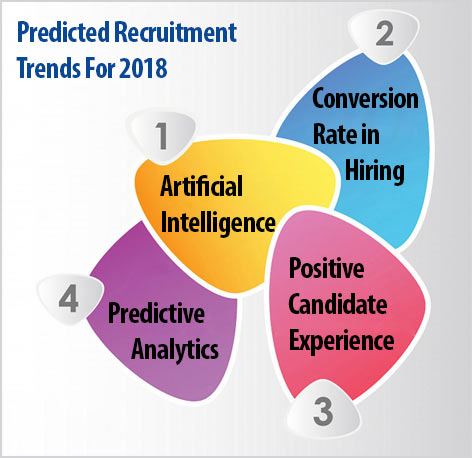 1. Artificial Intelligence
There's no doubt that Artificial Intelligence has greatly impacted all aspects of our lives, including workplaces.
According to a Pew Research survey, U.S. employees prefer to apply for a vacant positions in an organization that uses computer algorithm to select resumes and make candidate selection decisions than those who don't. Employees believe that use of technology and AI in the hiring process gives fair and less biased decisions, as compared to humans.
AI is a great asset in the early stages of recruitment, like shortlisting resumes, matching applicants to job specifications, and more. AI will continue to serve the purpose of speeding recruitment process and eliminating bias.
2. Conversion Rate in Hiring
A recent survey by Indeed found that hiring volume will continue to increase in 2018. 61% of recruiters expect to hire more people in 2018 than they did in 2017, while 29% expect to maintain current headcount, and only 10% are planning to reduce their hiring.
Increased hiring volumes clearly means that recruitment teams will remain busy and completely involved in the process. To lessen the burden and pressure of hiring top talent within projected deadlines, there will be a need to invest in recruitment technology and get online HR tools that can simplify the process. This will help meeting hiring goals achievable.
Another challenge would be to implement the right ways to optimize conversion rate in hiring.
Experts believe that top performing recruiters are 150% more efficient. How? The answer is – their hiring conversion rate is high. Top performing recruiters sources 91 candidates on average for one hire for an overall conversion rate of 1.0%; on the other hand, an average recruiter sources 225 candidates for a single hire for an overall conversion rate of 0.4%, as found by Social Talent in a Global Recruiting Survey.
Taking help of recruitment software for smart automation will reduce time-to-fill vacant positions and outperform competitors in finding & hiring top talent.
3. Positive Candidate Experience
Candidate experience is a perspective of the job seekers about an employer's sourcing, hiring and onboarding process.
Cost of poor candidate experience is always higher. As a professional, facing unfriendly experience when going through hiring process is the last thing a job seeker would expect.
In 2018, recruiters will have to make positive candidate experience a priority. This will be a key differentiator for employers.
Recruiters can put in more efforts to update candidates on the status of their job applications, without letting them wait for long. Adoption of recruitment chatbots can be an added advantage for organizations that are looking forward in making a difference.
Initiating an employee onboarding process even before the first day of a new hire is a great engagement approach. While many employees prefer human touch in the hiring and onboarding process, it is good to communicate to candidates through technology/ tools and stay in touch throughout.
4. Predictive Analytics
Data-driven recruitment was one of the most popular trends in the last year. Experts are expecting the similar trend to be on top in 2018 as well.
The reason to adopt analytics in recruitment is because the level of accuracy that analytics provide for making right recruitment and hiring decision is incomparable. Data driven recruitment transforms candidate sourcing and makes a major impact on hiring process to deliver better quality of new hires.
Which employees are "most likely" to quit the organization in the coming months? What would be the future workforce requirements? Who amongst the 10 shortlisted candidates would be the best fit for a company's culture?
If recruitment teams use predictive analytics, they would easily get answers to questions mentioned above. 95% recruiters believe that access to analytics for predicting candidates' performance and on-the-job success would be helpful. However, only 35% says that they're using data analytics to hire employees, and only 44% are using that information to create employee development plans. There is a massive disconnect between the way companies carry out recruitment processes and use analytics.
Focusing more on actionable analytics and implementing data-driven recruitment strategies can be a great way to succeed.