2018 has brought a change in the recruiting landscape. Recruiters and hiring managers are now more focused than ever; trying every possible way to retain talented candidates.
The post highlights 9 recruitment statistics that may inspire recruiters and hiring managers to change the way they recruit and hire. It also cites the challenges and trends faced during the recruitment process.
Recruitment Statistics that Inspire Change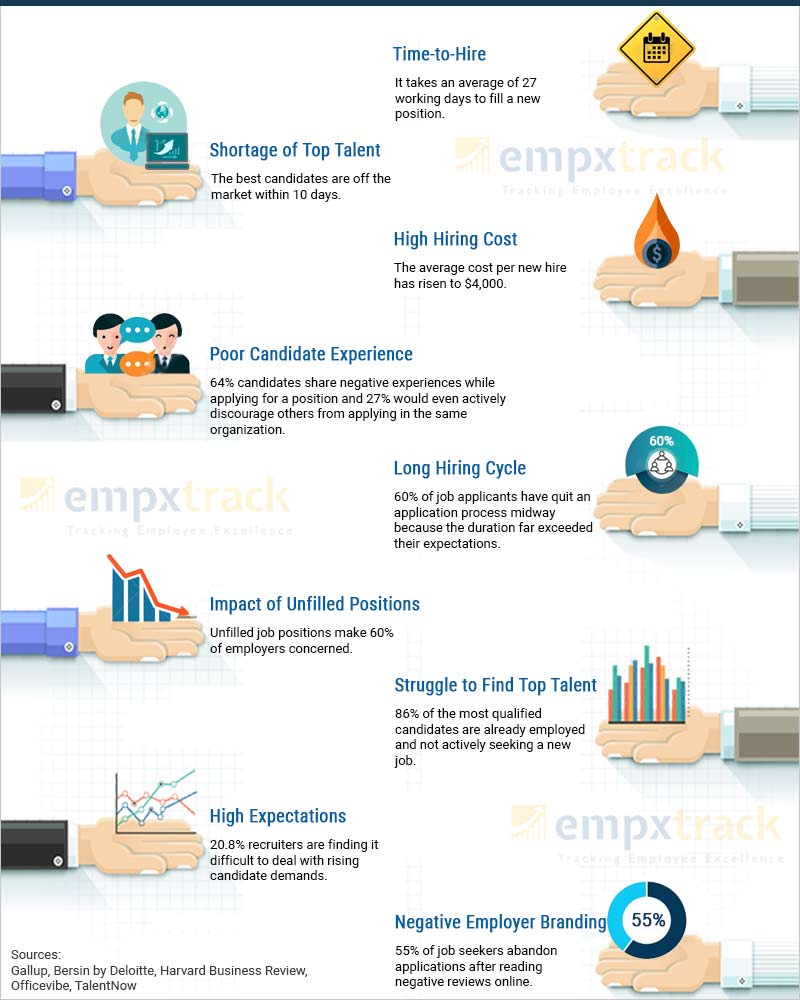 The above recruitment statistics are alarming and highlight the challenges faced in attracting suitable candidates, reducing the time and cost of hire, building employer brands and increasing efficiency and speed during the recruitment process.
Optimize your recruiting strategy by identifying the issues faced in your recruitment process and create a talent pool proactively to assist in meeting your business objectives.
A Global Recruiting Trends Report presented by LinkedIn, highlights 4 hiring trends that may go a long way in transforming the recruitment process.

Attract Diverse Candidates

A recent survey by the Society for Human Resource Management (SHRM) has found that 57% of recruiters state that their talent acquisition strategies are designed to attract diverse candidates

Diversity in workplace is becoming a hot topic. Hire people from all walks of life, irrespective of their gender, caste, color, skills, disabilities, culture, age, etc. Research indicates that a group of diverse problem solvers outperform a group of high-ability problem solvers with limited diversity.

Embrace HR Technology with Data Analytics

Use advanced technology tools to recruit, hire and onboard talent. Improve candidate experience, create fun filled skill-based tests, use gamification, and clearly demonstrate to candidates that you are on the cutting-edge of innovation.

Create a database of job postings and optimize your recruiting processes by managing resumes, short listing candidates, scheduling interviews and sending offer letters through a smartly designed applicant tracking tool.

Data is the basis of such technology tools and data analytics helps employers in finding and retaining suitable talent.

According to a research by Deloitte, companies that use analytics in recruitment have two to three times better results in the quality of hire, time to hire, and employee turnover.

Adopt Artificial Intelligence

52% of talent acquisition leaders say that the most difficult part of their job is to screen candidates from a large applicant pool. Recruiters are asked to do more with less, and hence (Artificial Intelligence) AI comes to the rescue.

AI is enhancing talent acquisition processes by significantly reducing the time to hire and is assisting in recruiting top talent.

AI based tools provide candidates with updates and feedback thus improving the communication between the employer and the aspiring job applicant as also building relationships with candidates not currently in the market.

With the improvement in engagement, the overall experience for the candidate turns out to be an enriching one.

Gain insights through the above-mentioned recruitment statistics and trends and bring a transformation in your recruiting and hiring processes.