Is your team facing challenges in achieving performance goals?
Are your team members aware of the skills and behaviours desired in an organization?
If so, a 360 Degree assessment can be a powerful tool to bring positive change within your organization.
360 review or multi-rater feedback as it's commonly known, solicits feedback from multiple sources on employees' performance to identify their areas of strengths and weaknesses and prepare development plans.
When introduced and implemented correctly, this multi-rater feedback provides a well- rounded, holistic and unbiased view on employees' skills, encourage their development and increase productivity of a team.
A 360-degree performance feedback process increases employees' self-awareness, develops clear understanding of work expectations, and facilitates transparent communication within the team.
The need of multi-rater feedback has increased over the last decade with the emergence of flat organization structures. Many software providers have integrated 360 review tool with performance management system to enhance the ease and efficiency with which 360 assessments can be developed and deployed within the organization.
Integration of 360 Review Tool with Performance Management System
360 Degree review is undoubtedly a positive addition to the performance management process.
Managers and HR can use the results of this assessment in a formal employee appraisal process to give fair ratings to the team members.
According to the American Society for Training and Development (ASTD), 75 percent of companies provided individual development plans, and 33 percent provided 360 degree feedback for most of their employees in 1998, compared to 50 percent and 10 percent in 1997.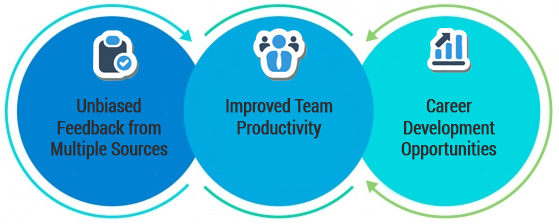 Over the period of 20 years, the inclusion of multi rater feedback in an ongoing performance management process has become more promising. A well-planned, perfectly integrated 360 feedback process offers:

Unbiased Feedback from Multiple Sources
A well-rounded feedback gathered from supervisors, peers, subordinates tends to average out the possible biases of any member from the group of raters.
Getting feedback from multiple sources not only helps the employees to capitalize on their strengths and improve their weaknesses, but also allows the managers to provide important developmental feedback to their teams.
The employees can identify their hidden strengths (where others rated them higher than their self-rating) and blind spots (where others rated lower in comparison to their self-rating) and setup training plans and cross-functional changes that adapt to their natural abilities.
Conduct appraisals at no cost
Conduct 360 feedback at no cost
* No credit card required
Improved Team Productivity
A well-structured feedback process improves accountability, open communication and team performance.
In an organization where 360 review is practiced, team members feel more accountable towards each other as they share the knowledge and provide input on each members' performance.
This establishes better work relationships among team members and encourages them to work more effectively. Happy and engaged team members give better performance and increase team productivity.
Career Development Opportunities
Collecting 360 Degree feedback makes the performance appraisal more accurate and meaningful for employees.
It is more authentic as compared to the feedback that comes from a manager alone. It supports the career development of employees by providing them insights and offering a chance for improvement.
360 reviews give rewarding experience and they're a win-win for employees and employers.
Implementing a 360-degree assessment in performance management process solicits feedback from all directions in the organization.
360 reviews foster a culture of continuous improvement that leads to a stronger, more engaged and high performing workforce.