I stepped in the corporate office of Book Cafe, one of the largest chains of niche book stores, hoping to talk to some editors and publishers.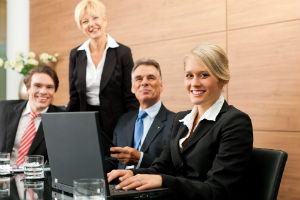 Against all odds, while sitting in the lobby next to a training room, I saw a very smart guy conducting a training session – on sales etiquettes, sales strategies, motivation, and many other strategic issues related to the publishing business. In the course of the discussion, he also discussed the personal problems of employees and gave suggestions to resolve them at an organizational level, giving reference to some third person, who faced a similar problem.
After the training session, the guy sat at a table under a signboard that said 'Human Resources Department'. Being an HR analyst myself, I could not resist the temptation of meeting him.
After confirming that he was indeed from the HR department, I quickly introduced myself and told him about my immense interest in HR best practices.
During this conversation, I asked him how he manages HR at Book Café and what were some of the challenges he faced? "
He replied, "I believe that unless HR operates in the middle of hard realities, understands business challenges and makes strategies to meet them, it cannot connect to the grass root level workforce. Without knowing real business objectives and strategies, you merely remain a Personnel Manager, whatever designation you hold."
I continued with another query, "You have around 40-50 stores across the country. How do you stay connected to people across so many locations?"
He replied, "Technology enables it. I communicate through e-mails, SMS, phone, chat, etc. We have a HRIS system too. Continuous communication with employees is the main strength of HR at Book Cafe – both at professional and personal level."
"What are your prime tasks as an HR manager?" I asked.
"Apart from the usual tasks, HR at Book Cafe handles training and performance appraisals etc. We have regular training sessions on sales, personal etiquette, communication skills, systems training (like billing software, accounting, etc.) for employees at all levels."
"How do you manage performance of your people?", I continued.
"We have bi-annual appraisals in our organization. We evaluate our people on many criteria. By merely getting the sales figures, we do not consider someone a leader. To be a leader one needs to train and develop other team members, create new business strategies and manage funds in an appropriate manner. This helps us prepare new leaders who can take Book Cafe's business further."
Lastly, " what are your best HR practices? What are your Success Factors?"
"We know everybody here by name. We know their personal problems, the problems at a grass root level and how to resolve them. We respect individuals. We follow these values to the letter", he concluded.
"Even the guys at remote locations?" I inquired.
"Yes! We give a name to every face", I could see the sense of pride on his face while he continued. "We have a flat organization, no hierarchies and an open door policy. Indeed, we are the only organization in this business who can train a new guy into a professional retailer".
The guy I met at Book Cafe and who knows everybody by name is Sarfaraj Bora, Corporate HR Manager, Book Cafe. And I am Gireesh, HR Analyst for Empxtrack. I learnt an important HR lesson today – know everybody by name! It pays!
As he said, Sarfaraj relies on the latest HR technology and their HRIS systemsfor managing people, which is the same as many matured organizations. The growing client list of Empxtrack customers, and of other HR technology solution providers is enough evidence to prove that HR is embracing latest technology to manage talent and performance of their people. To know more, read the article Interfacing Technology With Strategic HR by Major General B K Bhatia.
Do you have the technology that can leverage your HR? Click here to know more about our Performance management software.