Saigun sponsored, Nurturing Geniuses: Thinking with Your Hands, an event held on Saturday, 4th May at the SAP campus, Whitefield. The event, one among several leadership development initiatives that MTHR is holding across cities, was a big success.
At the event, Ankur Arora our VP for Sales presented the EmpXtrack solution – including details of the new self enrollment feature – to the assembled HR delegates. The topic of Saigun's presentation was Today's Employees, Tomorrow's Leaders and we capped it off with a video featuring the best that EmpXtrack has to offer.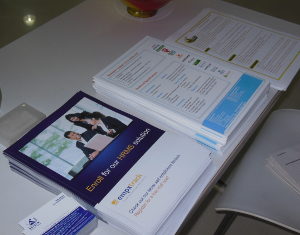 This was followed by an interactive and engaging session with Leonardo Previ, Founder & President, Triviquadrivio and Anirban Bhattacharya, Founder & Director, The Painted Sky. Using sketch pens and paper, they were really able to involve the audience and get them into the theme of encouraging leadership with out of-the-box techniques.
Overall the event proved to be quite the learning experience and networking opportunity as it was attended by more thana hundred HR delegates. In addition to Ankur, we also had our CEO Tushar Bhatia at the venue to meet the delegates and explain the benefits of using the EmpXtrack solution.
For more photos of the event, please visit Visist us on Facebook
Take advantage of our easy-to-use self enrollment version by checking out our free offerings.