Is your nonprofit organization competing hard to recruit top talent?
Are you concerned about increase in employee turnover rate?
Due to limited financial budgets and manpower, nonprofit organizations face a unique set of recruitment challenges.
Recruitment Challenges for Nonprofits
Unable to Streamline Effective Recruitment Process
Nonprofits raise limited funds from donations, government funding and individual contributions. Budget constraints get in the way of efficient recruiting and hiring processes.
Job requirements are not appropriately advertised, resulting in smaller candidate pool. This compels hiring manager to recruit professionals who may not have suitable skills required for the vacant job position.
Insufficient Compensation and Benefits
With smaller budgets, not-for-profit organizations are not able to offer competitive remuneration and benefits to employees as compared to their corporate counterparts.
This leads to employee dissatisfaction and disengagement. Besides, budget restrictions limit the ability of hiring managers to negotiate with desired candidates.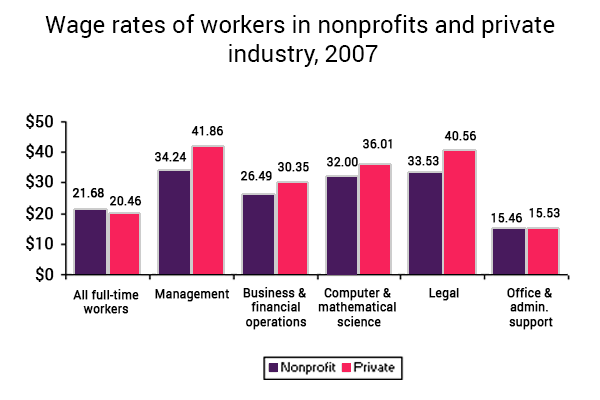 Lack of a Formal Recruitment Strategy
With limited budget and staff`, more than 50% of nonprofits are unable to execute formal recruitment strategies for hiring the best talent.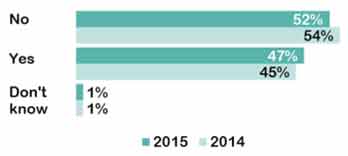 Over half of nonprofit still report that they do not have a formal recruitment strategy

High Employee Turnover Rates
In recent times, employee turnover rate in nonprofits has gone too high. Nonprofit organization with tight budgets have minimal hiring possibilities for recruiting new employees. This creates a problem when the existing staff needs to manage newly established programs and initiatives to meet existing demands.
Increased workload for the existing staff often contributes to exhaustion and stress leading to premature turnover.
According to a study by the Center for American Progress, the average cost to replace an employee is 20% of annual salary for mid-range positions (earning $30,000 to $50,000 a year). Also, employee turnover costs are often estimated to be 100% to 300% of the base salary of the replaced employee, depending upon the job role.
With limited resources, recruitment for nonprofits has become quite a challenge. To meet staffing needs, recruiters and hiring managers should adopt best-in-class recruiting practices. And give stress-free hiring and onboarding experience to the new employees. Employee turnover rate needs to be controlled, as the cost of losing an employee and hiring and retraining a new one is very high.
High recruitment costs obtained due to selection of unsuitable candidate, increased employee turnover and hiring missteps give enough motivation to get the process right. So, how can managers and HR save high recruiting costs and avoid hiring missteps?
Tips for Recruitment Success for Nonprofits
Attract candidates having strong belief in the mission of your organization.
Plan recruitment requirements in advance. This can help in saving money, which may be used to offer higher compensation to desired candidates.
HR professionals may offer other benefits such as Flexible work hours, professional development and succession planning to attract the right candidates.
Not-for-profit organizations may like include social media sites in their recruitment strategy.
Most importantly, automate recruitment process by using a well-defined workflow. Cloud-based recruitment software allows recruiters to create a customized set of steps to track all applicants as they pass through the different stages of your hiring funnel.
How Does an Online Recruitment Software Serve a Nonprofit Organization?
Recruitment and selection requires a lot of effort, energy and time. To meet staffing needs and reduce recruiting stress, HR should use automated applicant tracking and employee onboarding tools. A user friendly online recruitment software allows full control over the recruiting process. It benefits users with the following high-end features:
Integrates with your website. Publish job vacancies on company's career webpage, multiple job boards and recruiting portals automatically.
Search previously submitted resumes. Recruiters can track applicants (using applicant tracking software) and inform candidates, if their candidature is suitable for any open position and not just the current one.
Ask candidates to fill in questionnaire's which can be used for shortlisting the right candidates.
Accept, review and manage high volume of resumes and job postings.
Manage candidate interviews process by assigning an interviewer. Automatically setting up reminders on the interviewer's calendar to block time.
Connect with the candidates easily on email and use pre-formatted templates for quick communication.
Send offer letters to the hired candidates using pre-formatted templates.
Allow new hires to fill I-9, W-4 and state tax forms online with electronic signature capture.
Cloud-based recruitment software can save over 16 hours per new-hire in employee orientation activities. With on-boarding tool, you can acquaint new hires with your company's work culture and make a perfect first impression. That's what is needed!
If your not-for-profit organization is struggling to recruit top talent and onboard new hires seamlessly, it's time to look out for an online recruitment software.
And yes! You can definitely try online recruitment software for nonprofit, before you buy.