Talent management, training and development, and mobility/succession planning emerged as top three HR priorities worldwide, in a new study by Michael Page. The study also validates the strategic importance of HR within the organization and observes that an impressive 80% of HR leader respondents are engaged in strategically important works, such as talent management. In a separate press release, the surveying organization specifically talked about the trend in South East Asia region where 45% of senior HR leader respondents directly report to the highest levels of management. With this information, the study inferred that even in South East Asia region almost half respondents are engaged in strategically significant works. Top HR priorities in this region are same i.e.
– Talent management: 53%
– Talent acquisition/recruitment: 33%
– Succession planning: 32%
This study, also known as 2015-16 Michael Page HR Barometer, is based-on an online survey, conducted in 65 countries and comprises information on 2572 organizations.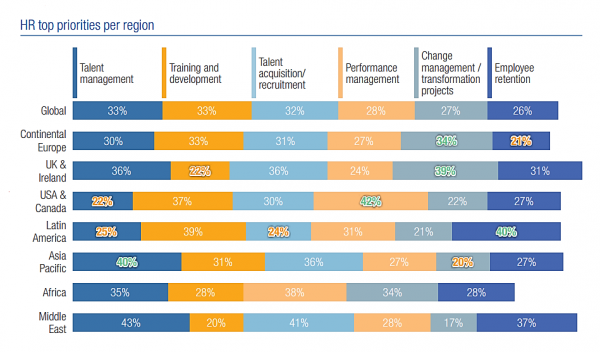 Other Important Findings
Size matters: Companies with over five hundred employees voted talent management as their top HR priority, significantly more often than their smaller counterparts (36% compared to 30%). Further it was interesting to observe that larger companies (with over 5000 employees) systematically track employees' competencies and count training programs as a top priority while this trend was not seen in smaller companies.
HR Priorities are not uniform: For technology companies, talent acquisition is the most important HR priority and employee retention is the second most important. On the other hand, for public sector companies, the most pressing HR priorities include 'compensation and benefits'.
Author's take
As a follower of HR technology trends, I suspect that in coming days, the most important HR challenge is going to be Big Data Analysis on holistic employee data. This will give many new insights that will allow organizations prioritize their HR operations.