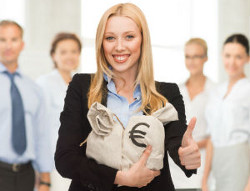 Remember the last time someone told you "Job well done!". Didn't it feel great? Sincere and honest praise of your work makes you feel good about yourself and your work. Successful leaders use rewards and recognitions effectively to motivate their subordinates.
The recognition of performance motivates the employees, helps them to take pride in their work, heightens their level of commitment, and gives them more enjoyment in their work. This recognition not only reduces the daily stress of employees but also helps them when they are attempting challenging and not-so-rewarding tasks. A timely recognition in the peer group is as rewarding as a large financial handout in most cases.
Unlike popular thought, you don't need a huge budget to introduce or manage this initiative.
Types of Rewards and Recognitions
Recognitions should not be a one-off activity but should be a part of normal day-to-day people management processes. Some commonly used rewards and recognition that can be used in your organization include:
Customer service recognitions: The employees who sell products and services to customers can be provided customer service recognition awards if they have provided high level of service to their customers. A good customer service may result in repeat business and increased sales. Many times customers themselves appreciate employees for their service. Such recognitions should be made public and can be put on records to be used at the time of performance appraisal.
Employee of the Month: This type of recognition award can be used by almost all kinds of organizations to recognize individuals in specific groups of employees. The recognition can be linked to customer service, sales, attendance, good performance, and for being a good team player. If your organization is large you could have an Employee of the month for each department in your organization.
Most Innovative: You can award employees for being innovative if their ideas and feedback have contributed to improve the productivity of their teams or your offering. The employees who not only come up with new ideas but are also ready to implement these ideas should be recognized to encourage innovation.
Exemplary performance: You can provide exemplary performance award to employees for their outstanding performance. This sets an example for other employees. The exemplary performance award can be given to employees for their leadership, mentoring, problem solving, teamwork and participating in activities beyond their job role.
In addition to these types of awards you can provide recognitions for helpful employees, CEO nominations, best fresher, most regular attendance etc. You can create a project photo collage and display the photos of the employees of the week, create a "Bravo" bulletin board, distribute appreciation certificate or mention the names of the employees who performed well in an article about staff members or newsletters. In addition, the rewards and recognitions should be available in employee profile so that managers would know about their performance during performance appraisal.
Empxtrack Rewards and Recognitions module allows your organization to allocate reward budgets to departments and managers and view the utilization. Managing the nominations in a transparent and objective manner builds trust in the process and its success. An orientation towards recognitions and rewards increases employee engagement, motivation and performance.