The role of a manager has always been demanding and ever evolving. Managers enable their team members to achieve their goals, maintain high levels of productivity, and ensure a focused and aligned effort. Multiple responsibilities and continually changing workplace trends, make the work of a manager more challenging than that of an employee working for the manager.
Along with managing a wide variety of tasks, managers are expected to also put in efforts for speedy decision making, time management and strategic thinking.
After going through multiple survey results and research papers, we have documented a list of five major challenges that managers face today.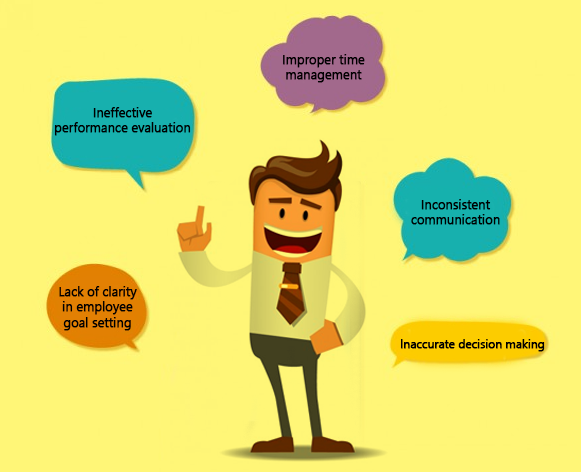 Lack of clarity in employee goal setting
Clarity in work goals is a big driving factor for employee performance. It becomes difficult for employees to remain motivated and focused on work, if their goals are not clearly defined. Managers' ignorance towards employee goal setting may lead to disappointment for both employees and leadership.
Employee performance goals need to be clear, time-specific, challenging, yet attainable. When employee goals are aligned to company goals and linked with manager goals too, it gives a sense of accountability to employees to work hard and perform better each day.
Ineffective performance evaluation
Absence of a well-structured appraisal process leads to ineffective performance evaluation. Lack of managers' feedback and inability to make appraisal meetings meaningful results in low employee performance.
Traditional ranking system, absence of performance feedback and lack of communication defeat the purpose of conducting an evaluation. A manager should lead a team in a way that makes each member as productive as possible. Reviewing employees' performance regularly and providing ongoing feedback is the right way to track employee achievements.
Using automated tools that make performance evaluation more transparent can also lead to a quick win.
Improper time management
As managers are involved in many strategic and functional tasks, proper utilization of time can be challenging for them. Lack of availability of employee data – such as employee capabilities, training, background, interests and experience leads managers to put square pegs in round holes – leading to frustration, lost time and opportunities.
Improper time management affects performance and work relationships.
Using automated manager services tool can be helpful to access employee data, make informed decisions, and manage team effectively.
Inconsistent communication
Inadequate communication results in unclear work expectations and workplace conflicts that adversely affect an organization's effectiveness. When communications are not clear and repetitive over time, it causes project delays, dissatisfaction amongst employees, and uneven teamwork.
Communicating effectively is important for managing a team and resolving workplace crises.
Inaccurate decision making
Whether it is about appraisal or goal achievements, managers often face difficulty in making accurate decisions. Some managers tend to make decisions based on their gut-feeling or on things they already believe. It makes difficult to prevent mistakes in the first place.
Secondly, not able to identify the real cause of a problem also pertains to making wrong decisions.
Managers need data analytics to make right decisions based on facts, and not just instinct.
How to Succeed as a Manager?
Managing people is a rewarding experience – especially as an employee grows in the organization. A smart manager is one who takes up the challenge and makes their teams highly productive and engaged.
Be a role model to your team. Treat employees as valued human capital. Clearly outlining well defined goals, rewarding top performers, aligning team goals with company's objectives and employee skill development are some of the areas that will make you succeed as a manager.
How can an employer help managers to ensure organizational effectiveness?
An organization can assist managers to track employee excellence by automating their HR processes and sharing employee data with managers.
Managing managers well and increasing their productivity, leads to overall organizational effectiveness and an effective workforce.