I was at the recently concluded HR Tech Conference in Las Vegas and with 100s of HR Tech vendors, all the leading consultants and senior HR practitioners, it was quite an event.
On speaking with a number of vendors and viewing product demos, I was pleasantly overwhelmed with the features and depth and breadth of the offerings in the market. The customers were spoiled for choices and would "finally be able to derive" great benefits from their HR tech implementations.
On the other hand, CHROs when questioned – "What is required from HR Tech?" replied in unison that "they would prefer HR software which maps to their business needs! They were not looking for new technology for the sake of technology."
Really! With all the innovation in HR Tech and the 100s of millions of dollars in investments, have we still not met business needs?
With various reports and surveys claiming that over 90% managers are dissatisfied with their performance evaluation process and over 50% organizations looking to explore other options – there appears to be a large disconnect between market needs and vendor offerings.
Based on my discussions with multiple senior people, a few more observations were there
While HR Software is the most pervasive tool in an organization, which can potentially touch every employee, its utilization is not as much – especially in areas of people development and employee engagement
HR software is not used sufficiently for cultural transformation and strategy
These thoughts prompted me to design a model explaining what HR Technology should be about. This is based on my experience of working with 100s of customers and over 20 years of experience in this domain building products and solutions.
HR Technology Model
HR Technology rests on 4 areas, each of which is equally important. Unless the technology or solution adequately covers each of these areas, the implementation will have gaps. The 4 areas that I could identify include: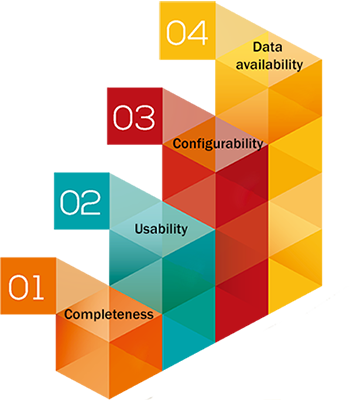 Completeness: Should cover all the essential functions without a user remembering multiple logins
Usability: Should be extremely easy to use on a variety of devices
Configurability: Should allow for easy setup and be adaptable to change
Data availability: Should assist managers in decision making by providing them ready to use content and data
Completeness
This feature indicates that the software contains all the essential functions related to people management.
Many vendors offer all in one products, such that customers use just one product for all their employee related functions. Alternately, vendors such as ADP (through their marketplace) are offering integration options with other vendors to provide best-in-class systems.
Availability of various integration options and maturing APIs is making the marketplace approach more likely to succeed and is becoming more popular.
Usability
Employee experience, user interface, ease of use, mobile access and features that allow easy use of the software with limited or no training are all important for high software usability.
Can the HR software be as simple as google search? Can it provide deep and meaningful insights such as google analytics? Can it make employees productive from the first login?
Besides being easy to use and engaging, products have to encourage the right behavior and to assist employees when required. AI chat bots, unstructured data analyzers and many other tools are evolving rapidly.
Configurability
Since HR processes are complex and can evolve rapidly, configurability is an important yardstick in measuring the adaptability of the product to change. And ideally, the product should be configurable by people who have little or no knowledge of programming.
HR should be able to try different scenarios and tools and see what succeeds in their organization. If continuous performance management is required or a variable compensation process is being discussed, HR should be able to start the process for a small group of employees, gather real-time feedback and if it shows promise, quickly roll-out the process across the organization.
Steven Goldberg, a leading HR thought leader and our advisor has written an insightful article Where configurability matters most in the HR Technology area.
Data availability
Back to the HR Technology show. Many products claimed they were complete, offered a great user experience and were configurable. Yet customers were not happy!
Do the different people processes not succeed as much because managers
Did not know what questions to ask during an interview
Were not aware of the required skills, competencies and proficiencies for jobs
Did not understand what were the trainings that could develop employees
Most managers will not be great at the people function unless we provide the right tools and data to help them!
Data such as employee historical data, skills and competencies, coaching ideas, development plans, trainings and interview questions need to be provided in HR tools for managers and employees to partner together in development and growth.
While many HR products allow these to be input into the system, in my opinion, this approach doesn't succeed as much because
Junior HR resources or interns are expected to create these data banks
Line managers are expected to provide this information and they either do not have the time or insights to create this data
Companies buy pre-developed libraries which are made accessible through shared drives, web-sites or as a printed literature. Most people are not excited using these because of integration challenges
Conclusion
Each of the 4 areas discussed above – Completeness, Usability, Configurability and Data availability are equally important for your HR software initiative to succeed.
Empxtrack has integrated multiple products and offers an HR solution with a focus on completeness, great user experience, high configurability and data availability and security, to help organizations achieve increased employee engagement, higher productivity and managerial competence.
Further, empxtrack is deeply integrated with IBM Watson Talent Framework and offers over 3500 ready to use job descriptions and related competencies, skills, training references, coaching statements, interview questions and proficiencies for each role. This is readily accessible to employees, managers and HR for career planning, training, coaching, development and hiring and can help significantly increase employee engagement in your organization.
To know more contact us.