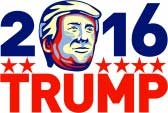 Love him or dislike him, but you can't ignore him. Yes! We are talking about the most powerful man in the world, the newly elected U.S. President, Donald Trump.
All of us witnessed the happenings of the U.S. Presidential Election that took place in last few months. Not only Americans, but people around the world were glued to the latest updates on U.S. elections and prayed for the victory of their favourite candidate.
The President-Elect Donald Trump came out as the winner after putting back all the criticism. He is now in power to make the most influential decisions that will reshape the future of USA and impact world economy.
During U.S. Presidential Election process, Trump expressed his views on many issues like infrastructure development, Affordable Care Act, trade deficit, workforce regulations, and more. Surprisingly, Trump's ideology may impact the future of workplace regulations and employment laws.
Let's take a quick look at how America's newly elected President Trump is supporting regulations and deregulations in some areas and how it may bring change in the workplace.
Trump has a plan to reduce tax rate on the businesses from 35% to 15%. He assured Americans for the rise of new businesses and jobs in the coming time.
He supports up to 6 weeks of paid maternity leave and encourages employers to provide child care at work. He unveiled a plan to improve unemployment insurance (UI) that would include six weeks of paid maternity leave.
Supports nationwide E-Verify. Trump suggests employment eligibility verification system (known as E-Verify by all employers) is a stance that resembles the federal government's mandate. There are 22 states that require E-Verify for some or all employers.
Trump calls for an increase in the prevailing wage for H-1B visas. He favours the need to hire Americans first, before making any visas available. This initiative may be good for fixing what's wrong with H-1B. He would like to challenge employers to reach out to professionals who have the expertise to fill requirements of STEM jobs.
Many small business owners can't afford to pay entry-level managers' overtime dues above the new exempt threshold. Trump favours an exemption from the overtime rule.
Well… a lot has been said and heard. Workplace regulations that do not benefit employees and employers should be scrapped. Hopefully, Trump's new workplace regulations would change and improve the lives of working-class Americans. Can organizations easily manage these changes in the workplace policies and practices? Managing workforce and workplace rules is not as easy as it sounds. However, having an automated HR software in place will help!
Significance of an Integrated HR System in Managing Change in Workplace Policies and Practices
Human resource professionals are always burdened with multiple people-related processes that takes up major portion of their work hours. Businesses opt to manage their HR functions with the limited HR resources they have. As a result, they may face difficulties to efficiently manage workplace changes and this may affect overall workplace productivity.
On the other hand, a professional all-in-one, configurable HR software can be extremely helpful for organizations to transit from old policies and practices to the new ones. There could be nothing better than relying on HR technology platforms when organizations want to ensure that they are complying with newly introduced workplace rules. A cloud-based HR software can easily cater to following company requirements:
» Manage overtime rules and process employee salaries accordingly
» Handle taxation rates and regulations as per government norms in your country of operation
» Send notifications to all employees informing about the newly introduced company policies and rules at the same time
» Update female employees on the maternity leave policy, if any changes take place
An automated tool, like Empxtrack self-services portal, enables HR to share employee handbook with the employees and make it accessible for them to view and download. The configurable and customizable features of this HR product allows HR and managers to easily make required changes in the new, unambiguous policy and approval rules. Isn't that great?
So now, take a moment to think… Does your organization have upgraded HR tools and systematic workflow that can quickly map to the newly introduced workplace policies?
If not, feel free to take a product trial of an HR software that can be useful for you!