For organizations with existing ERP systems (such as SAP, Peoplesoft, Oracle, and otehr) and that are looking for a specific combination of additional features for their HR automation needs, the EmpXtrack Custom edition offers you the choice of modules, integration options and custom features at very competitive costs. Our sales and support teams will work with you to evolve the exact products that you require and help integrate it with your existing applications. We have done this for many enterprise customers.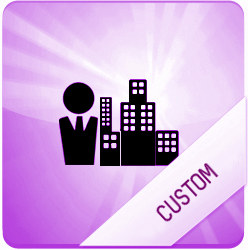 Custom Edition
This edition allows you to get exactly the system you want.
You can choose the specific HR modules for your current needs.
Custom functionality can be designed and delivered using our rapid development process.
[tabs_empx titles="Modules;Additional Features;FAQs"]
[tab_empx index="1″]
Following modules are available in Custom edition
[/tab_empx]
[tab_empx index="2″]
Additional Features available in the Custom Edition
[/tab_empx]
[tab_empx index="3″]
[toggle title="What does Custom Edition offer?"]EmpXtrack Custom Edition contains full range of modules required for complete automation of HR function. It provides you the option of selecting modules as per your requirements. If required, it can be installed behind your firewall too. Using the development workbench gives you significant choices for customizations and tailoring of the product.[/toggle]
[toggle title="What is the catch?"]We don't provide monthly upgrades to the software. Because of the availability of significant customization options through the Development Workbench, it is more expensive than the SaaS based version of the product.[/toggle]
[toggle title="Is my data secure?"]Yes – we have extensive security policies that guarantee data security in the cloud. EmpXtrack has multiple security levels built into the product and these include the following:
Secure access (HTTPS 256 bit encryption)
Encrypted database
Multiple rules on password setup that are configurable by the end user
Role based access points that allow/disallow user access based on the role (Manager, Reviewer, Head of Department, CEO, HR Manager). This can also be fine tuned fairly granularly.
[/toggle]
[toggle title="Does EmpXtrack provide support in customization of the application?"]Yes, we can provide support during customization and implementation at a small hourly cost.
[/toggle]
[/tab_empx]
[/tabs_empx]