Empxtrack Workflow Management Software – Automate Your Processes with a User-Friendly, Intuitive and Accessible Software
Empxtrack meets workflow automation needs of organizations. Use unlimited pre-defined or customized workflows to manage employee performance, paid time off, attendance, compensation, recruitment, travel reimbursement, payroll, succession planning and other processes with workflow management software.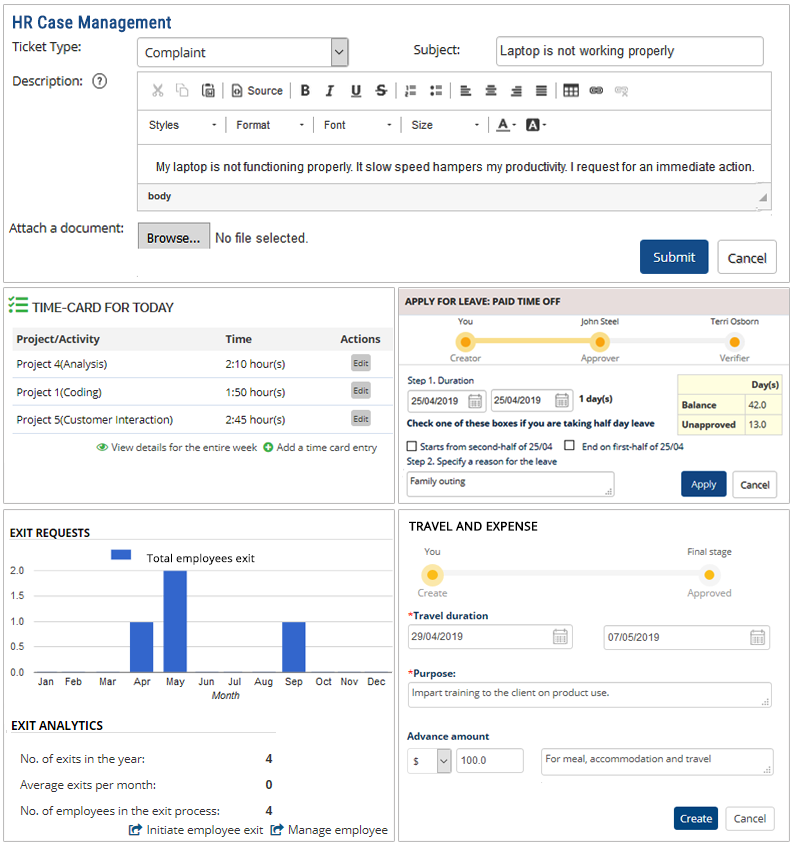 Paid time off
Manage Paid Time Off
Customize time-off policies that accrue leave balance automatically to manage paid time off. Empxtrack leave management captures time-off requests, carry-overs, supports multiple approval processes and reduces leave transaction time.
Secure
Streamline Travel and Expenses Approval
Speed up expense reimbursement with Empxtrack Travel and Expense module. Calculate and analyze company's total travel expenses, and control overall spending on business travel with Empxtrack.

Exit process
Professionally Manage Exits
Capture resignations online and manage the exit process efficiently by simplifying clearance from multiple departments and full and final payment. Speed up exit interview and exit surveys with analysis on attrition rate.
QUERY MANAGEMENT
HR Case Management
Employees can submit queries and tickets to HR for timely action. Empxtrack case management handles comprehensive requests, complaints, issues and more. It improves employee-HR interaction in an effective and transparent way.
Time Utilization
Optimize Time Utilization
With Empxtrack timesheet, gather accurate information on the projects and activities of employees and align employees to activities that are important to your organization.
Custom Workflows
Build Custom Workflows
You can build your own workflows in Empxtrack to map to your existing processes. Empxtrack workflow management software gives you the flexibility to apply rules to different employee groups.
To request a no obligation demo, connect with us today. Automate transactions with Empxtrack workflow module and reduce costs
More reasons to choose Empxtrack software

Integration
Seamless integration
You can easily integrate empxtrack with other HR and management tools, through Web API.
This ensures a single system of records and data that is always current.
Read more about the product architecture

Secure
Completely secure
We have all your data protected with 256-bit security, and many advanced security features. All your data remains encrypted in our data centers. We provide two factor authentication to prevent sensitive information from data breaches.
Get the most secure employee self service portal now. Your privacy is our priority! Read our Privacy Policy

Support
24×7 Support
We are always available to support you. Reach us anytime for
Online help
Product guide
Self-training tutorials, and
Any other kind of support requirements
Read what our customers say about our commitment to supporting them

Reduce gaps
Eliminate bottlenecks
Integration with email and mobile friendly application ensures that approval do not get blocked when your managers are traveling or on vacation.

Reports
Real Time Reports
Check status of activities in real-time and analyze response time for approvals. Increase responsiveness and employee satisfaction.

Dashboards
Dashboards and Analysis
View dashboards and run analytics such as Bradford Factor to project trends and any sudden changes in employee activities.