Make Employee Satisfaction a Priority by Soliciting Employee Feedback and Building a Better Workplace
Gather data on employee compensation, benefits, work culture and more with Empxtrack Employee Satisfaction Survey. Use the data to measure employee engagement, satisfaction and identify key employee drivers to build a happy and engaged workforce.
Maintain anonymity and receive unbiased and honest feedback from your employees. A survey that your employees can complete quickly and efficiently.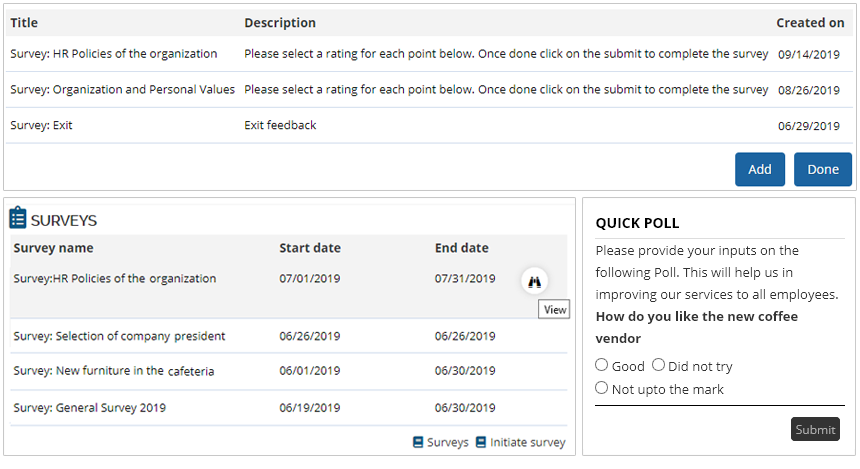 Employee Engagement Index
Measure satisfaction levels
With Empxtrack, solicit employee satisfaction rating and workforce engagement index. Automation of employee satisfaction surveys helps an employer to measure the impact of current policies and practices, and identify areas of improvement in an anonymous yet systematic manner.
Employee Polls
Count employee opinion
With Empxtrack, create polls and publish them in less than 2 minutes. Analyze poll results and identify employee satisfaction level with the existing workplace practices and take initiatives to improve their work experience.
Pre-configured Survey Templates
Survey templates and dashboards
Use pre-configured survey templates or create customized survey forms in just a few clicks.
Empxtrack employee satisfaction survey tool speeds up the process of soliciting real-time feedback from employees and gain actionable insights through reports and dashboards.
More Reasons to Choose Us!

Integration
Seamless integration
You can easily integrate empxtrack with other HR and management tools, through Web API.
This ensures a single system of records and data that is always current.
Read more about the product architecture

Secure
Completely secure
We have all your data protected with 256-bit security, and many advanced security features. All your data remains encrypted in our data centers. We provide two factor authentication to prevent sensitive information from data breaches.
Get the most secure employee self service portal now. Your privacy is our priority! Read our Privacy Policy

Support
24×7 Support
We are always available to support you. Reach us anytime for
Online help
Product guide
Self-training tutorials, and
Any other kind of support requirements
Read what our customers say about our commitment to supporting them

Invite respondents
Invite respondents via email
Allow HR managers to invite survey respondents using the built-in email invitation tool. The auto-reminder functionality and integration with the employee portal gets higher percentage of responses.

Analytics
Data export and analytics
Availability of sophisticated data download options and ready to use reports to analyze results on the click of a button.

Leadership effectiveness
Measure leadership effectiveness
With Empxtrack, design surveys to measure efficiency of people working in the leadership roles.
To request a no obligation demo, connect with us today. Focus and act on employee feedback to engage and retain top talent
Empxtrack Strategic HR Products