Inside Employee Satisfaction Survey Module

Measure Employee Satisfaction
Compute an employee satisfaction rating as well as employee engagement index with Empxtrack's Employee Satisfaction Survey module and export this information in analytical diagrams.
CXOs can use this analytical information to understand company performance at different functional levels and use it in the process of change.
Count Employees' Opinion
Create quick polls and share with employees to understand what your Employees truly WANT.
Managers can use this information to take the timely employee initiatives.
Feedback for End-to-End Business Development
If you want to connect with your employees in ways that promote engagement and profitability, you can rely on our Employee Satisfaction Survey module.
Our module allows you to get actionable insights and export employee satisfaction reports and get way ahead.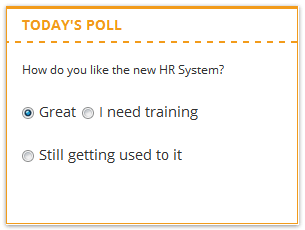 Accumulate objective data with employee satisfaction survey and develop a meaningful dialogue to motivate your workforce
More Reasons to Choose Us!

Create Survey Form in
Minutes
You can create a survey form in minutes using our Employee Satisfaction Survey module. Simply give it a name and start typing in the questions and select the response type. When you are done designing your survey form, publish the survey on your website or invite respondents through the email.

Customizable Survey
Forms
You can either pick our sample survey form or customize your survey questionnaire forms using our preconfigured templates, and HTML/CSS files.Empxtrack allow setup of unlimited forms.

Invite Respondents via
Email
Our module allows HR managers to invite survey respondents using the built-in email invitation tool. The auto-reminder functionality and integration with the employee portal gets higher percentage of responses.

Data Export and
Analytics
Availability of sophisticated data download options and ready to use reports to analyze results on the click of a button.

Leadership Effectiveness
Measurement
Surveys can be designed to invite response on leadership effectiveness and can be used in leadership development.

Access Support
Anytime
User friendly software with online help, self-training tutorials, and easy to use interface.Our teams are available 24 x 7.
All Strategic HR Products