Managing human resources with HRMS
Empxtrack HRMS module is one of the best Human resource management systems and a sophisticated employee database solution that helps your HR team in managing human resources with ease, consistency and accuracy. Our HRMS module will offer a clear insight into organizational resources, minimizing the time spent by your staff on day-to-day administration.
With our HRMS module, your HR department can obtain deep insights with an interactive team dashboard that lets you see member profiles, leave and other requests, expenses claims, promotions and transfers.
Empxtrack HRMS provides all relevant employee data in one place
Basic profile
Salary details
Goal Sheet
Appraisal information
Reporting structure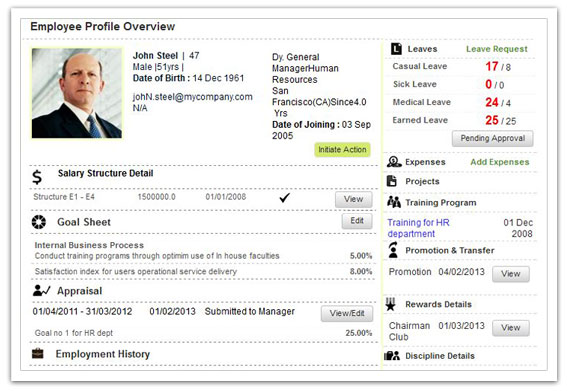 Benefits of Empxtrack HRMS Software
Acts as a central hub of all HR data including creating and storing of comprehensive employee records, with a variety of user-definable information fields
Improves monitoring of HR process ensuring timely handling of tasks
Enhances employee interaction by fostering team spirit
Helps map employee skills and competency records to better fill in gaps that may arise
Captures expense and salary details
Generates customized reports and dashboards according to HR requirements and helps in managing human resources
Ensures that your employee data is safe from any security breach or hardware failures with regular back-ups and secure servers
Also find out how Empxtrack Payroll, Workflow Software and Employee Satisfaction Survey, work as part of Empxtrack HCM, solution makes your employee management process painless and reliable, in addition to trying out our HRMS software.