Empxtrack Pay for Performance – A Motivation and Retention Tool
Establish a fair compensation system to reward employees for their exceptional performance. Align employee goals with the incentive plans.
With Empxtrack Pay for Performance, automate calculation of variable pay based on employee's goal achievements. Incentive based goals keep the workforce aligned to business objectives.
Create Different Plans for Different Employee Groups
Your workforce has many different types of employees with different types of targets.
With Empxtrack pay for performance module, build different kinds of variable performance schemes and include attributes such as sales performance, attendance, goal achievements, organization for recognizing and rewarding employees.
Link Employee Performance to
Compensation
Empxtrack pay for performance allows HR teams and managers to accurately compensate employees for their performance.
Proper calibration of these two builds trust and increases engagement levels within the workforce.
Maintain and Reinforce Critical
Business Goals
Critical goals (such as profitability, revenue growth, market share) can be included in variable pay plans for all employees. This encourages accountability among employees.
View how Pay for Performance works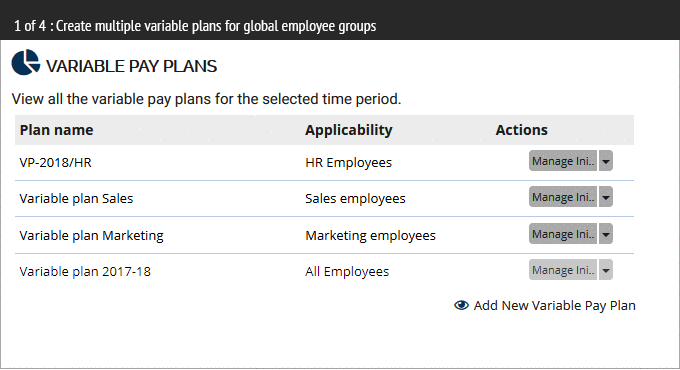 MORE REASONS TO CHOOSE US!

Manage Performance Sheet
Create performance sheet for each employee by setting relative weights for multiple performance metrics.

View Variable Pay Targets
Send messages to employees to allow them to view their variable pay targets.

Performance Matrix
Provide a matrix to map Performance Achievement with Performance Score for each employee.

Automate Compensation Updates
Automatically calculate performance bonus for each employee and notify them to review details.

Export Bonus into Payroll Software
Provide hassle-free mechanism to import Variable Pay data to external payroll software.

Access Support Anytime
User friendly software with online help, self-training tutorials, and easy to use interface. Our teams are available 24×7.
ALL PERFORMANCE MANAGEMENT PRODUCTS