Team work and team spirit is a buzzword these days. Organizations talk a lot about the advantages of working in teams because organizations that have good and established teams operate more effectively. But are you actually heading teams and encouraging the team culture in your organization or are you just heading a group of people?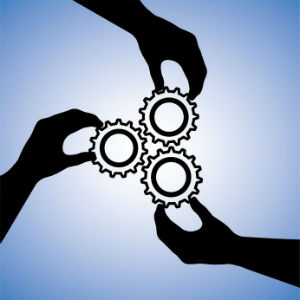 Just because a group of people work together, they cannot be called a team. Its important to understand the important elements that identify a team and then nurture them to avail the benefits of a team.
A team is a group of people working interdependently and communicating effectively to achieve a common goal. In a team, all members are allowed to communicate their ideas and share decision making and often build consensus. There is two way communication between the team leader and the team members. There are joint work assignments and the team members are accountable for their work both at individual level and at team level.
Although, there is nothing wrong in working in work groups, where the manager is the decision maker and each team member is individually accountable for his/ her work, it has become important in today's competitive global marketplace to build teams that work autonomously without manager's direction and support.
Building an Effective Team
Its important to build effective teams because how well your people work together is the key to your growth. To build an effective team, you need to believe that your team members can work independently as well as interdependently and then encourage the team spirit by ensuring:
Decision Making: Uplift the skill and motivational level of employees, by allowing your team members to make decisions that impact their work, when there is a need. Your trust on your team members' decisions and your flexible attitude can help you achieve more than what you have ever thought.
Clear definition of goals and responsibilities: Allow your team members to grow and prosper and come out with their comments and thoughts by allowing open communication and providing them clarity of goals. All team member should know their key result areas as an individual and as a team.
Rewards and recognition: Sustain high level of performance in your team by providing timely rewards and recognitions to the team members for their efforts. The ongoing recognition of work and constant reminders to team members that their work is appreciated can bring wonderful results.
Try using Empxtrack Performance Management System (PMS) to build effective teams by providing clear goals and responsibilities to your team members. Ensure that the team members participate fully in identifying their goals jointly with their managers with personalized Goal sheets. Track performance and achievement of the goals of employees constantly and reward employees appropriately through Performance Appraisals.