Think about it. Do you know what will be your organizational goals over the next few years? What kind of skills and employees will be needed to achieve those goals? Are you aware of existing performance gaps in your workforce? Do you have well-defined strategies to fill those gaps?
If you do not have answers to any of these questions, you're not alone!
By Wikipedia, Workforce Planning is defined as a continual process to align the needs and priorities of the organization with those of its workforce to ensure it can meet its legislative, regulatory, service and production requirements and organizational objectives.
While many organizations understand the significance and value of workforce planning, they are unable to implement it effectively. A business can achieve success only when it determines its goal and identifies the amount of talent needed to reach there. Identifying and filling gaps between existing and projected talent needs make all the difference. This is where workforce planning comes in as it encourages efficient staffing of skilled employees who can competently execute business strategy for meeting organizational goals.
Need of Workforce Planning
Businesses periodically face ups and downs. The fluctuating business budgets and manpower requirements not only impact business operations, but unfortunately affect the HR department as well. In the absence of strategic workforce planning, HR finds it difficult to meet sudden talent requirements.
A business needs workforce planning to:
» Create a talent pipeline to meet an organization's increasing talent needs
» Reduce the impact of inadequate manpower on business operations
» Avoid unpredictably high-volume of hiring and retention issues
Workforce planning enables organizational growth through optimized use of available talent pool.
Benefits of Workforce Planning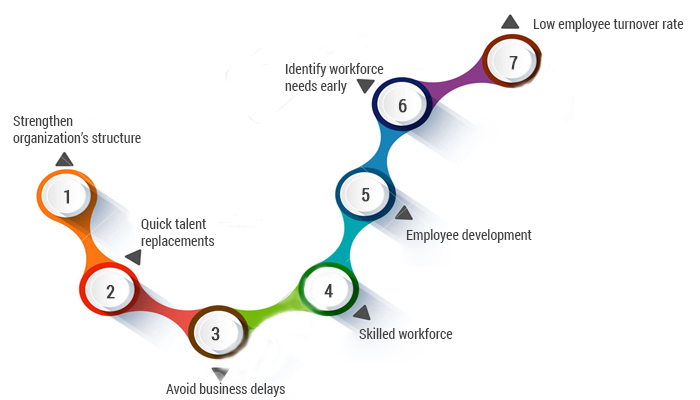 Strengthen organization's structure
Each employee in an organization has specific roles and responsibilities. Workforce planning caters to changing talent requirements in a well-planned and systematic way. It gives opportunities to define career plans for an individual and fill open positions with the most suitable employees.
Quick talent replacements
Workforce planning gives the ability to rapidly identify and fill positions found vacant due to sudden rise in employee turnover rate. Current employees with relevant skills are promoted to fill open positions and new talent is found to strengthen organization's talent pool.
Avoid business delays
Organizations that implement workforce planning can be sure of meeting business goals by employing suitable employees with right set of skills and competencies.
Skilled workforce
If an organization is aware of its upcoming business needs, workforce planning can help it to find skilled employees who have the expertise to manage required business processes.
Employee development
Human resource management focuses on multiple strategies that help in employee development. Training and development enable employees to develop skills needed to meet changing business needs. Workforce planning encourages well-trained employees to ramp up quickly on new projects and fill performance gaps.
Identify workforce needs early
Having a strategic workforce plan in place enables human resource professionals to identify manpower needs at the right time. It gives time to HR to find suitable employees for the vacant positions.
Low employee turnover rate
Employees are given training and development opportunities that help them to improve their career path. Many other opportunities, like employee satisfaction survey, multiple feedback and transparent appraisals, build a highly engaged workforce leading to high employee retention.
Aren't these benefits amazing?
Let's look towards the future…
No doubt, workforce planning helps an organization to meet talent needs of today and tomorrow. If it is done well, an organization enjoys high employee performance, reduces labor costs and saves time.
To give competitive edge to their counterparts, most of the organizations implement workforce planning software that helps HR and managers to meet increasing talent requirements. Workforce planning is successful because it gives a chance to be prepared for future, without underestimating the value of existing resources!