Is it possible for a boss (or manager) to succeed without building three strong HR leadership pillars, including teamwork, communication and people management?
….No!!
At times, managers only worry about taking up urgent team tasks and finishing them right before the deadlines. All they care about is meeting the KRAs (key job responsibilities) and completing the assigned projects. In such critical situations, no attention is given to boost team moral and spread positivity among team members. And somehow, the moral responsibilities of the manager are kept on the back burner.
That's where the difference between a leader and a boss disrupts!
If things are to be streamlined rightly, it is necessary for a manager to lead his colleagues as a leader and not just a boss!
Read, Understand and Follow these HR leadership guidelines:
A Manager Instructs, But A Leader Guides.
Each day brings a new learning experience for the team and the manager. Though taking up new tasks, facing issues, correcting them and getting the job done… gives valuable experience to the doer. Yet the boss must take complete control to execute the process flexibly and smartly.
Usually, a manager focuses on 'what to do' rather than paying attention on 'how to do a particular task'. On the other hand, a leader believes in the concept of 'giving brief on daily work tasks' and explains the instructions to complete a job.
A good leader understands the work challenges and always proposes solution to them.
A Manager Focuses on Urgent Tasks, But A Leader Focuses on Important Tasks.
In today's competitive era, there is a need to show extraordinary skills and do best at the job. But at the same time, there is a need to give importance to what truly matters.
A manager creates pressure on their juniors and team members to complete specific tasks, without giving importance to the learning experience of the employees and the quality of project deliverables. However, a leader is not bothered about daily reports and project figures, but he/ she concentrates more on the quality and learning experience.
Therefore, a leader always succeeds with right knowledge and managing skills.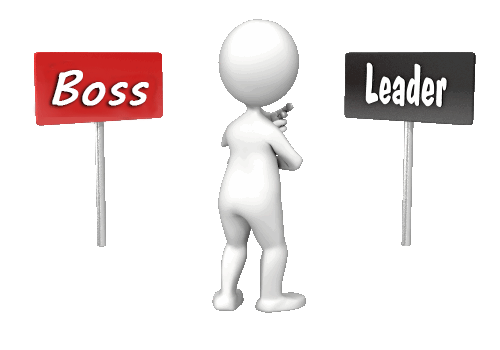 A Manager Appreciates Secrecy, And A Leader Appreciates Honesty, Dedication and Transparency
When it comes to team goals, the boss and the team members work together to gain success. However, the perspective of a manager and a leader differs on the grounds of qualities they wish to promote.
The manager aims mainly on the end results and conceals a lot of essential information from the team members. He does not entertain team members while giving details of the project. He feels insecure of his position and do not appreciate the efforts of his subordinates.
However, a leader always believes in working hard, maintaining transparency at work and is not fearful about losing his position.
This is why a leader is always respected, but a manager is merely liked (or disliked) by the team members, peers and colleagues.
A Manager Manages, But A Leader Leads
A boss never takes the blame of someone else's mistake, whereas a true leader has the patience and understanding to take the blame and correct the mistake. In short, a leader acts as a torch bearer and becomes the backbone to his team members without expecting them to do any favors for him.
Therefore, a leader always succeeds in managing people because he/ she concentrates more on what matters the most for employees and not just him.
Last say…
Developing HR leadership skills is not an impossible task. It all depends on one's determination.
If a manager possesses excellent management skills and has strong will-power, then their transformation from a mere managerial post to a great leader becomes easier. Putting efforts in the right direction, optimistic approach, ability to listen to others and learning skills from past experiences – that's all what is needed.
More than strength of character and personality, HR leadership is a matter of choice, learning and determination.
Then, why only be a boss when you can be a great leader!