When a business is failing who do you blame – and is any of it HR's fault? This topic is trending on LinkedIn currently and the discussion is apparently yielding interesting, and useful insights about HR practices. The whole discussion looks biased with two old clichés.
HR controls the hiring process, and is also responsible for training of resources. That's why, they are the culprit!
Managers cannot manage competent resources although HR is finding the best people. Therefore, managers should be responsible for the downfall
Evolution of HR practices
Before drawing any conclusion, we should acknowledge that the concept of HR model has evolved a lot. Now, HR is more than an administrative support department. It has become a strategically intertwined function catering to different businesses needs. Almost all organizations acknowledge this new notion about the HR department. That's why they have high expectations from their HR teams. They believe that their HR team members should be highly observant, and aware of the organization's strength, and weaknesses and work accordingly
Undoubtedly, it is high time that HR should learn how to influence the leadership. They should know how best to guide the emerging pool of new workforce. If they observe that change is necessary, they should be proactive enough to take tough decisions. At the same time, they should also be creative enough to bring changes without disturbing the existing workforce structure. A LinkedIn post by Mr. Mark Berry and a blog post by Tushar Bhatia eloquently establishes this fact. They state that an evolutionary HR model can be represented as: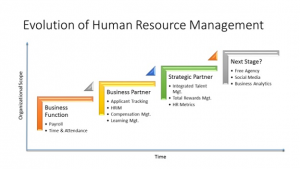 HR should be willing to quickly move from a Business Function to a Business Partner to a HR Strategic partner for them to contribute towards the organization growth.
In addition, it would be pertinent to mention here a bit dated comment by Mr. Jack Welch, former CEO of General Electric. He had stated that HR managers have the most important job in America and CEOs should value their HR managers as much as their chief financial officers. He had added that HR must create an atmosphere of growth and excitement, to make the organization "vibrate so people feel the excitement of tomorrow instead of the pain of today."
So, who's responsible for a failing business?
If we hold HR responsible for a failing business then who should get credit for its success? In the said LinkedIn discussion, Andrea Anderson – Director at Red Office Chairs Pty observes, "To blame an individual or a department, who are merely cogs in the wheel, is ignorance." Fiona Draper – HR Advisor at Northern Rail comments, "Strategy guides the business between success or failure. If the strategy is wrong you can have the best people doing the wrong things…and the business fails."
Author's take
Every employee plays a significant role in the success or failure of their organization. While the strategy is driven from the top, the leaders are not supermen. They need the right tools to define and manage the roles and responsibilities of each department and each employee. Empxtrack is one such solution that can address this issue by providing real-time analytics and decision capabilities to the leaders, and help make sure that your business is on the path to success.